Mike Perrin '71 Honored With Texas Exes Distinguished Alumnus Award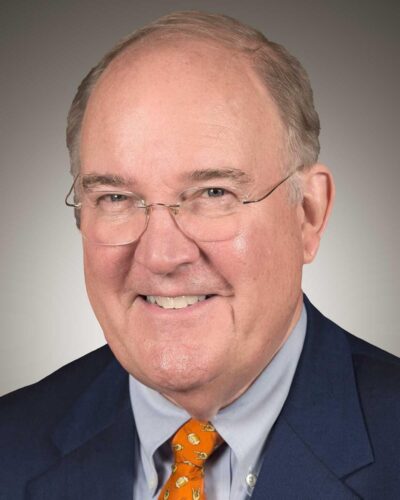 Michael W. "Mike" Perrin '71 has been selected to receive the 2022 Texas Exes Distinguished Alumnus Award, continuing a long tradition of representation from Texas Law alumni.  The Distinguished Alumnus Award—the highest recognition bestowed by the university's alumni association—was created in 1958 to honor alumni who have distinguished themselves in their profession, community, and through service to the university.
A lifetime Longhorn and veteran trial attorney, Mike Perrin is Of Counsel at Winstead PC in Houston where he works closely with the firm's practice and industry groups as a senior advisor. Previously, he returned to The University of Texas at Austin to assume leadership duties as the Longhorns men's athletics director, serving in that role from 2015-17. Perrin gained prominence as a partner in several Houston law firms before landing at Winstead.
In addition to earning his J.D. from Texas Law, Perrin received his Bachelor of Arts degree from the College of Natural Sciences in 1969. A three-year football letterman, Perrin was a starting linebacker on the 1968 Texas team that began the 30-game winning streak that still stands as the longest in UT school history and one of the longest in the modern era of the NCAA.
Throughout his career, Perrin has remained active in various roles for Texas Law, Longhorn Athletics, and other campus academic areas. He served as president of the Texas Law School Alumni Association in 2003, has led fundraising campaigns for Texas Law, and was on UT's Council for Intercollegiate Athletics for Women. He has been honored with the university's Presidential Citation in 2015 and was inducted into the Longhorn Hall of Honor – Texas Athletics' highest recognition – in 2010.
"It is humbling to be recognized as a Distinguished Alumnus, which I view as being based on lifetime involvement with the University of Texas and not as a one-time event," said Perrin. "The University of Texas has been a wonderful part of the lives of Melinda and me, who I married after graduation in 1969. Law school was hard work, but also a lot of fun. I had outstanding professors and made many life-long friends.
"One of the most powerful aspects of attending UT is becoming and remaining part of an incredible network of interested and supportive people," he continued. "Virtually everywhere I have gone it seems that I knew somebody, through my undergraduate years or law school, or athletics. I could always draw on the strength of those connections."
Perrin is the 86th Texas Law alumnus to receive the Texas Exes Distinguished Alumnus Award, dating back to the 1958 award presentation to one-time U. S. Secretary of the Treasury Robert Bernard Anderson. In the history of the award, 86 of 322 total recipients have been Texas Law alumni. In fact, Texas Law has been represented by at least one of the six DAA honorees every year for the past decade.
Other 2022 Distinguished Alumni Award recipients are Thomas Dunning, Gay Gaddis, Albert Hawkins III, Jeffery Hildebrand, and Myra Liza Lio.