Chancellors for the Class of 2023 Recognized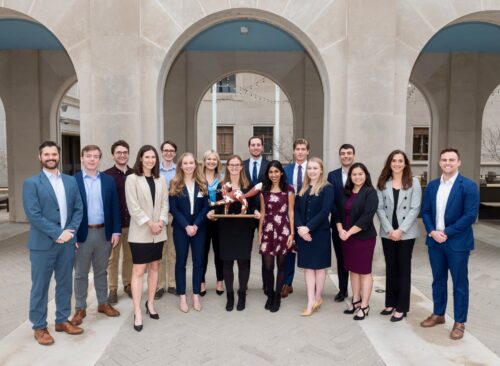 Sixteen members of the Class of 2023 have been installed as Chancellors, joining Texas Law's most prestigious honor society. The students, who are chosen for having the highest grade point averages in the class, were recognized at a ceremony on January 20 in the law school's Sheffield Massey Room, an intimate event attended by a small group of family members and friends, along with members of the faculty, Dean Bobby Chesney, and special guest, Ambassador Kristen Silverberg '96, herself a Chancellor.
The Chancellors Society was founded in 1912, and the list of distinguished alumni who are members of the society is long and varied. It includes litigators Stephen D. Susman '65, and Harry M. Reasoner '62; politicians Lloyd Doggett '70, and Ralph Yarborough '27; Texas Law School Dean W. Page Keeton '31 and Stanford Law School Dean Charles Meyers '49; and Senior Judge of the U.S. Courts of Appeals—and newly elected Director of the American Law Institute—Judge Diane Wood '75.
Many current Texas Law faculty members are also Chancellors, including, among others, David Anderson '71, Kamela Bridges '91, Edward Dawson '00, John Dzienkowski '83, Lori Mason '94, Scott McCown '79, Thomas McGarity '74, Heather Way '96 (Grand Chancellor), and Jay Westbrook '68, as well as adjunct professors Brian Rider '72 and Stacy Rogers Sharp '06.
The original charter of the society described its mission thusly:
"The Purpose of the Order of Chancellors is to honor, and reward by election, those law students who, by consistent scholarship, ability, and achievement have shown themselves likely to succeed and become a credit to their profession."
"We are all so proud of these students," said Dean Bobby Chesney. "While grades themselves are decidedly not the most important thing in law school, hard work and commitment are incredibly important to success here, and in life. I am delighted to be part of honoring these students for the investment they have made in their Texas Law experience, and in themselves."
At this year's ceremony, as at every Chancellors installation going back more than a century, the students each signed their name in the Chancellors Book, a ledger which holds the name, signature, and hometown of every Chancellor going back to the first Chancellor installed in 1912, K. Bettis. (In the first decade of the society, students were recorded simply by their first initial and last name.)
The Chancellors Book, which has been in use since 1929, is housed in Tarlton Law Library, in its Rare Books Room.
The four Chancellors with the highest grade-point averages are officers of the society for that year, with distinctive titles: Grand Chancellor, Vice Chancellor, Clerk, and Keeper of the Peregrinus. The other twelve inductees hold the title of Chancellors-at-Large.
The Chancellors for the Class of 2023 are:
Grand Chancellor
Michael Steelman
Vice Chancellor
Taylor Michael Luke
Clerk

Justin S. Clark Davenport

Keeper of the Peregrinus
Paige Catherine Scobee
Chancellors-at-large
Grace Abigail Braun
Catherine Anne Buthod
Kyle Whitten Doerre
Madeline Jane Felts
Thomas Conor Guest
Hayley Ann Haggard
Olivia Grace Horton
Daniel Hayden Lawrence
Samuel Clark Libby
Alexandra Lee Moore
Nicholas Roney
Sophia Shams
"The honor of being a Texas Law Chancellor will support each of these students throughout their professional lives," said Susan C. Morse, the Associate Dean for Academic Affairs. "We look forward to seeing what they accomplish as they pursue excellence in the legal profession."
Additional information on the history of the honor society, including archival photographs and lists of former Chancellor classes can be found on the Chancellors web page.