Jones '23 Wins Prestigious Writing Competition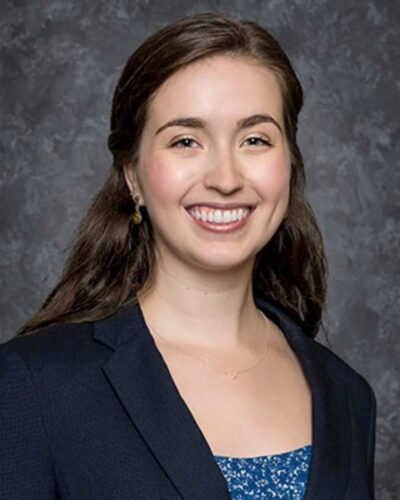 Third-year law student Gloria Jones took first place in the 2022 Paper Chase Legal Writing Competition, earning a trophy and a $5,000 prize. Her victory was announced on January 26 in an online ceremony hosted by the event's three sponsors: the Texas Young Lawyers Association, Baylor Law School, and the Austin-based FVF Law Firm.
In addition, Texas Law 2Ls Eva Robins and Carlos Torres both received honorable mention. Students from eight law schools participated in this year's Paper Chase, a practice-oriented competition designed to test analytical and legal writing skills using a scenario adapted from actual case files.
"The competition is reminiscent of early 1L assignments because it is based purely on your writing and reasoning and does not require additional research" said Jones. "I was excited to return to such a focused exercise to test the way my skills and abilities had improved since I started law school."
The success of Jones, Robins and Torres isn't unusual. Texas Law students have now won three of the five Paper Chase competitions, and placed second the other two years.
"We are delighted to see our students shine in the Paper Chase competition, which requires students to analyze clearly and write persuasively," said Kamela Bridges, senior lecturer and director of the David J. Beck Center for Legal Research, Writing, and Appellate Advocacy.
Texas Law develops students' writing skills through many avenues. The Beck Center provides all students with a foundation for excellence in legal research, oral presentation, oral argument, and most important, legal writing. The center is the organizational focal point for the required first-year courses in legal research and legal writing as well as advanced courses available to upper-class students. As part of their Texas Law experience, students take a writing seminar that develops students' research skills and provides each student with an intensive writing experience in preparing one or more papers of an analytical nature. In addition, students can obtain individualized, professional writing advice at the Law School Writing Center. Many students are involved in the writing and publishing of legal journals, like the Texas Law Review.
"Texas Law's robust legal-writing program provides students with thorough training in legal analysis and persuasive writing, with many rounds of detailed feedback," continued Bridges. "Our upper-division courses allow students to continue to perfect their skills. As Gloria's win shows, Texas Law students are prepared to write upon graduation—and before."
"I have had so many experiences at Texas Law that led to my success in this competition," noted Jones. "Experiences that helped me become a concise legal writer who leans into the complexities of legal issues." She describes her victory as "extremely validating."
"This has really made me grateful for all the mentorship and guidance Texas Law gave me during my time in law school."
After graduation, Jones will clerk for Judge Timothy Brooks in the Western District of Arkansas. She hopes to then pursue a career in public interest law.