Texas Law has proven to provide more than just a world-class legal education. The evidence lies in these stories of attorneys whose paths first crossed in law school. Some were engaged by the time they graduated, while others took years to connect.
The stories we're sharing this year feature alumni who are celebrating their reunion class anniversaries (from years ending in "3" and "8"). Happy Valentine's Day from Texas Law and from these lawyers in love:
Diane Kirstein '89 and Roger Kirstein '88
Elizabeth Caldcleugh Ginsberg '93 and Jacob Ginsberg '93
Samantha Brantley '03 and Brian Brantley '03
Michelle Haun '07 and Thomas Zentner '08
Cynthia Akatugba '13 and Benjamin Dower '12
Emily (Eby) French '18 and Mike French '19
Diane Kirstein '89 and Roger Kirstein '88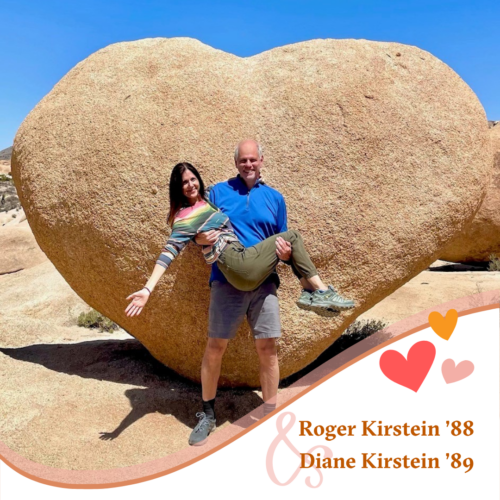 Diane and Roger Kirstein's story began over Labor Day weekend 1986 in the breezeway at Townes Hall. Diane, a 1L, was sitting outside with her stack of law books and Roger, a 2L, stopped to talk and gave her a hard time about studying before classes had even started.
As fate would have it, their lockers were in the same hallway, and they kept running into each other. Their first date was a late-night run to Amy's Ice Cream and about three years later, in May of 1989, they married and moved to San Antonio to begin their life adventure together. Roger started with the firm Foster Lewis Langley Gardner & Banack in the business litigation section and he's still working at Langley & Banack today. Diane recently retired from a 30-year career with the Department of Justice. Diane said that they both enjoyed rich and satisfying legal careers.
Despite thinking that their children might follow in their footsteps and pursue a career in law, both forged successful paths in the engineering world. Their son, Lane, is an aerospace engineer for Cessna, and their daughter, Carrington, is an electrical engineer for Amazon.
"Looking back on over three decades together, mutual respect for our legal careers, lots of laughter, and an emphasis on family have been some of the keys to our happiness and longevity as a couple," said Diane.
Elizabeth Caldcleugh Ginsberg '93 and Jacob Ginsberg '93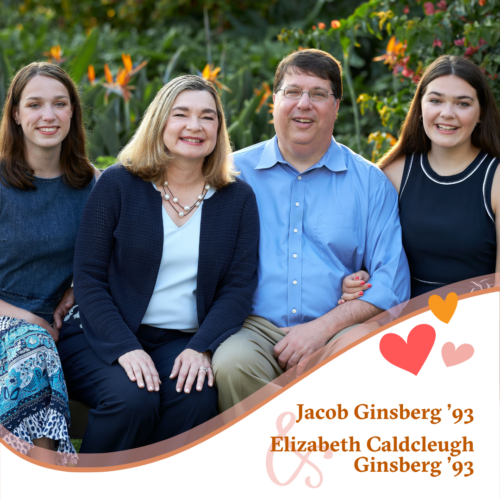 Elizabeth Caldcleugh Ginsberg and Jacob Ginsberg met during their first semester of law school, but they didn't start dating until the following year. Jacob helped set up a date for Liz to go out with one of his friends that first year; however, things changed when they saw each other at a back-to-school mixer on Sixth Street to kick off the second year and he asked Liz out. Jacob recalls that, after randomly cutting her steak up for her at dinner ("I have no idea why I did that!"), he was shocked to get a second date. The pair also joined forces in a negotiation competition – which they agreed was an "absolute disaster" and an experience that led to a mutual decision they shouldn't work together again.
After a few years of dating and law school graduation, Liz and Jacob took separate paths as she moved to Houston, and he settled in Dallas. They lost touch over the next two years, but fate had a different outcome in mind. After a friend of his passed away and Liz called to share her condolences, he kept the message slip with her phone number in his wallet for a year. When Jake ran into a friend of Liz, he showed her the message slip. This friend suggested they reconnect and once they did, it didn't take long for the couple to realize that they belonged together.
After a few months of long-distance dating and a ring, Liz accepted a position with a firm and moved to Dallas, where Jacob had founded Ginsberg and Associates. After two decades at the firm, Liz also ventured out on her own, founding the Law Offices of Elizabeth Caldcleugh. The couple's two firms conveniently share a building in Dallas, allowing their founders to have lunch together often.
The Ginsbergs have two daughters: Cate, an actress in Washington D.C., and Sarah, a senior majoring in Chemistry at Rhodes College.
Samantha Brantley '03 and Brian Brantley '03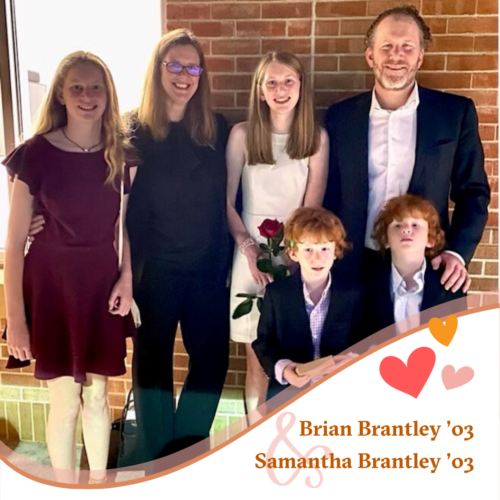 For Samantha and Brian Brantley, law school and the start of their lives together aligned perfectly. The couple began dating as 1Ls in 2000 and were engaged before they graduated in 2003.
After graduation, Samantha clerked for Federal Judge Nancy Atlas. At the conclusion of her clerkship, the couple got married and settled in New York where Samantha practiced at Simpson Thacher & Bartlett as a litigator, and Brian worked at Cravath, Swaine & Moore in Mergers and Acquisitions. After moving back to Houston and starting a family in 2006, Brian practiced at Vinson & Elkins before moving in-house and taking on several general counsel roles. He's currently general counsel and head of ESG (environmental, social, and governance strategy) for VLS Environmental Solutions. Samantha took some years off to devote her attention to raising children Amanda (16), Elizabeth (14), and twins Colin and J.J. (9). In 2019, Samantha began practicing again and is of counsel at AZA, a top litigation boutique in Houston.
Brian and Samantha share: "We are still very much in love and grateful to UT Law for bringing us together!"
Michelle Haun '07 and Thomas Zentner '08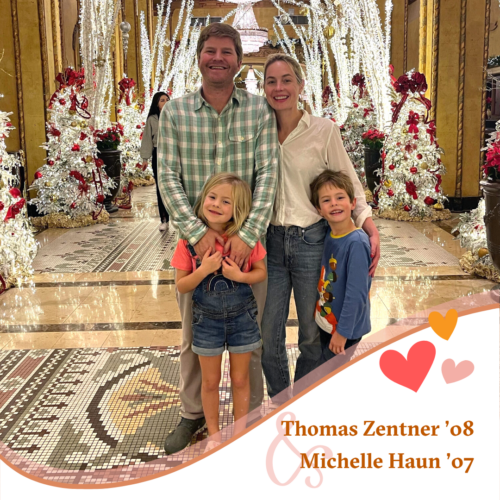 Michelle Haun and Thomas Zentner both earned their undergraduate degrees in business at the University of Texas, but they didn't connect until they were students at Texas Law. Michelle was a 2L and Thomas was a 1L when they met at a birthday party hosted by a fellow law student in 2006. After meeting, Thomas told Michelle (several times) that he wanted to take her on a date but intentionally waited until after Valentine's Day. He later confessed that he didn't want to schedule a date before Feb. 14, then feel obligated to take her out for Valentine's Day. They also briefly played on the same intramural softball team while at Texas Law, a team that won the championship (without Thomas, who broke his elbow in the first game).
The couple dated for more than five years, including stretches when they did summer associate programs in different cities. In fact, each of them spent a summer working in London, albeit a year apart. After graduation, Michelle stayed in Austin as an associate in the real estate group at Jackson Walker and Thomas went to work at Vinson & Elkins in Houston. After a few years of long-distance, they got married in August 2010 and Michelle made the move to Houston. With a goal of eventually getting back to Austin, the Zentners finally returned to the Capitol City in 2021.
Michelle and Thomas have six-year-old twins, son Alston and daughter Caroline, who are in kindergarten. Thomas is now a partner at Vinson & Elkins while Michelle went in-house in 2011 and is now managing director/general counsel at Pennybacker Capital.
Cynthia Akatugba '13 and Benjamin Dower '12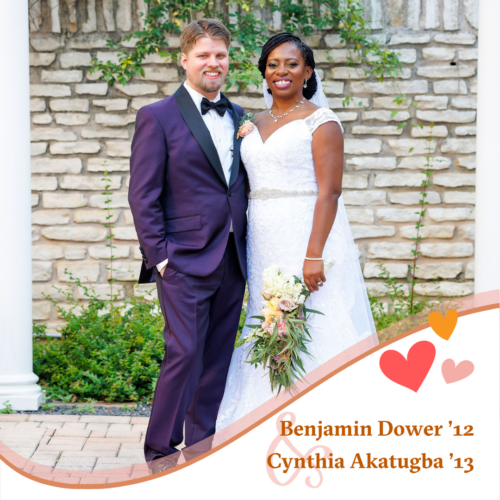 Cynthia O. Akatugba and Benjamin Dower do not recall meeting in law school even though they overlapped for two years. He does remember, however, Cynthia's spirited performance as Bellatrix LeStrange in Assault & Flattery. Many years later, he helped recruit her "law school husband" (Michael Abrams) to the Texas Attorney General's Office. He, in turn, recruited Cynthia to the same division where the couple finally met.
After working together for almost two years and consulting the HR manual, the couple went out on their first date on Valentine's Day 2021, the year of the great Texas "Snowpocalypse." As the roads began freezing over, they abandoned the original plan for hot cocoa and the "36 Questions That Lead to Love." The snow melted, but their relationship stuck; they were engaged six months later and married in May 2022.
Cynthia has remained on the Forty Acres and is assistant vice president in UT's Office of Legal Affairs. Benjamin is special litigation counsel in the Law Enforcement Defense Division at the Office of the Attorney General of Texas. He noted their hope to "add more Longhorns to the family!"
Emily (Eby) French '18 and Mike French '19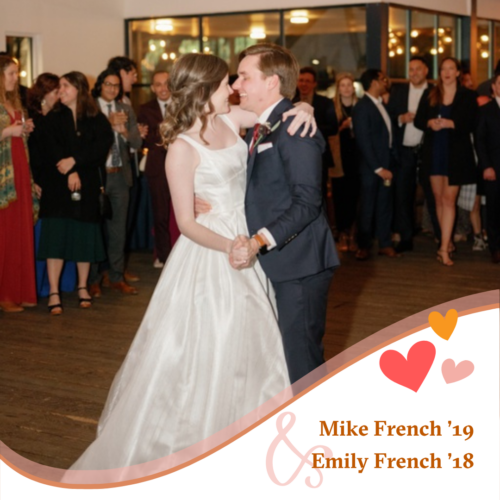 Emily (Eby) French and Mike French met when they both became Dean's Fellows at Texas Law. Emily was a 3L and Mike was a 2L, and they had friends in common. However, it wasn't until they started hanging out in the Dean's Fellow Office that they realized just how well they really got along. Emily notes that a mutual friend and another Dean's Fellow – David Holmes – who "served as her wingman," officiated their wedding ceremony in January 2023.
"Lots of people make friends at lots of law schools, but UT Law's Dean's Fellow program builds camaraderie where other schools often breed competition," said Emily. "My Dean's Fellow group gave me amazing friends in 1L, which is why I wanted to pay it forward as a 3L, which led me to meet my husband."
Currently Emily is with the Texas Civil Rights Project as the senior election protection attorney and policy counsel. Mike is an associate at DiNovo Price.
Emily summed up with the following thought: "I can't promise true love to every UT Law student, but I can promise that if they want to make connections for life while getting a high-quality JD, this is the place."