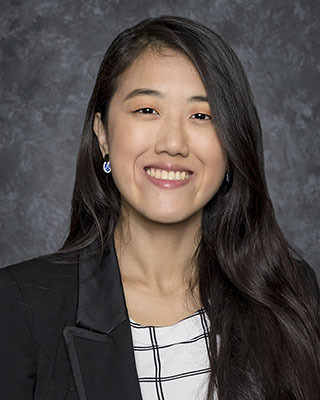 For this edition of Texas Law's Student Spotlight series, meet 2L Crystal Tran!
Q: Where did you go and what did you study as an undergraduate?
A: I went to the University of Houston as an undergraduate and received a dual degree in Psychology and Political Science.
How did your prior life experiences influence your decision to go to law school?            
A: When I was an undergraduate, I never expected that law school would be an option. Besides having a narrow and flawed understanding of the role of lawyers in the world, it was difficult for me to see someone who looks like me in the legal space. Still, I spent a lot of my time in Houston with marginalized communities in a few different settings … from a low-cost immigration clinic to a human trafficking victim services' program. The stories and friendships from there left a lasting impression on me and fed into my insatiable desire to understand the complexities of the sociopolitical structures in our society.
My curiosity about the whys and hows of the rules in place began to take center stage during my time as a legislative fellow in the Texas House of Representatives. However, it wasn't until I traveled to Taiwan after graduation to serve as a Fulbright English teaching assistant that I finally understood the kind of advocacy I wanted to embark upon. In Taiwan, I co-taught at two small elementary schools in a predominantly indigenous community situated among rice fields etched in the mountainside. By branching through language and cultural barriers, I sought to understand to the best of my abilities the multifaceted lives of my students and my co-workers — their rich roots and culture, their interactions with poverty and social inequities, and their strengths and triumphs. Although being a teacher can have undeniable effects on their students' lives, my eagerness to understand and willingness to learn how to change the structural complexities that painted the backdrop of my students' lives solidified my conviction to go to law school.
How has your law school experience helped you develop your passions and confidence?
A: Coming to law school in the fall of 2020 – from an incredibly diverse undergraduate experience in Houston combined with teaching abroad in Taiwan – was a culture shock, to say the least (and during the initial onset of the pandemic, no less!). Texas Law provided me with both the institutional support to stomp out my imposter syndrome (shout-out to Lori Duke, my faculty mentor) and the avenues to use my life experiences in law school. I had the chance to work alongside Meg Clifford, Nicole Simmons, and my fellow section-mate and friend Mariana Lozano to jump-start Texas Law's inaugural Pipeline to Law School program, teaching street law to local high school students. Mariana and I worked alongside student volunteers to create and implement interactive legal lessons on topics such as educational equity and workers' rights in Eastside and Akins high schools. That experience in taking complex legal issues and breaking them down for high school students to engage and interact was honestly one of the best things I have had the chance to do in law school and built my confidence in how I can advocate for others in the future.
What groups/clubs/internships have you participated in while at Texas Law? 
A: I've had the chance to serve as a board member of Law Students for Black Lives and as a student mentor for the Public Interest Law Association. Last summer, I interned at the ACLU of Texas, working on civil rights issues in immigration, voting rights, and reproductive justice alongside passionate and talented attorneys.
What's your best advice for incoming 1Ls?
A: One piece of advice I've heard is that law school is a marathon, not a sprint, and that cannot be more true. The people who I look up to in law school and who are successful in their pursuits are the ones who understand work-life balance and take care of themselves. Law school is a game of mental stamina; you can't have mental stamina if you're not taking care of yourself.
What is your favorite book(s) to recommend to your friends and why?
A: One book that I keep going back to again and again is Minor Feelings by Cathy Park Hong. It's a blend of memoir, cultural criticism, and history in an examination of the Asian-American experience and the model-minority myth. Its raw honesty, vulnerability, and outrage have stayed with me long after I closed the last chapter.