Last June, Texas Law welcomed a class of 30 current college students and recent college graduates into a first-of-its-kind Cohort Program, an initiative of the school's larger Pipeline Program. The Pipeline Program promotes access to legal education for students from low-income and first-generation backgrounds; the Cohort Program would give its 30 enrollees an intensive year of admissions support, LSAT preparation, and mentorship from Texas Law students and alumni.
On April 22, that group gathered one final time, to recognize and celebrate the achievements of the year, the most important of which was that more than half of them would in fact be attending law school, starting in Fall 2023.
"I am absolutely thrilled with the success of this year," said Nicole Clark Simmons '07, Texas Law's director of pipeline outreach and development. "The cohort members were diligent in pursuing their goals, and the outcomes speak to their efforts in terms of applications made, acceptances received, and scholarships awarded. It's fantastic."
Dean Bobby Chesney enthusiastically agreed. "Our goal in creating this program was to prepare the next generation of attorneys from diverse backgrounds for law school admission and success," he said. "These students were amazing — I can't wait to see what they do next."
The cohort members began that final Saturday with group conversations in which they shared what they had learned through the program, and where their law school admissions journey had so far taken them. One measure of success was the raw number of those definitively heading to law school next year: 17. Another two cohort members have been accepted to law school but have decided to spend next year getting work experience.
"The cohort members were diligent in pursuing their goals, and the outcomes speak to their efforts in terms of applications made, acceptances received, and scholarships awarded."
— Nicole Clark Simmons '07
Simmons is particularly proud of the group's success in securing scholarships and grants to make law school more affordable. Nineteen students from the cohort were offered scholarship support to attend law school, including five who received full-tuition scholarships from Texas Law.
The success of the Cohort Program initiative, and of the Pipeline Program overall, owes much to the support shown by founding Sponsor Vinson & Elkins. "Supporting this important endeavor from the beginning has reinforced V&E's commitment to building a more diverse and inclusive legal community," said Milam Newby '03, who serves as Managing Partner of Vinson & Elkins' Austin office. "I'm inspired by the accomplishments of this inaugural group and excited to see the positive impact they will have as they embark on their legal careers."
In addition to Vinson & Elkins, the law firm of Greenberg Traurig has come on board to support the Pipeline Program as the first partner sponsor.
After sharing with one another their plans for the coming year, the cohort members were joined by a crowd of mentors, faculty members, and other Texas Law staff who had worked directly with the students throughout the cohort year. The large group shared lunch and heard a number of emotional speeches. From the law school, Simmons and Chesney both spoke, as did senior director of admissions programs Sam Riley, and dean for admissions Mathiew Le.
"You were all chosen to be part of this program because of our belief in your intellect, your resilience, and because of your passion and commitment to the profession in hopes of making a difference in our communities," said Le. "You've faced obstacles and challenges before and I'm confident that you're up for the next challenge."
Students also heard a keynote address from Mike Bielby, the Dallas Office Hiring Partner from Vinson & Elkins, who knows firsthand the obstacles that face first-generation law students and others without the benefit of a network of lawyers.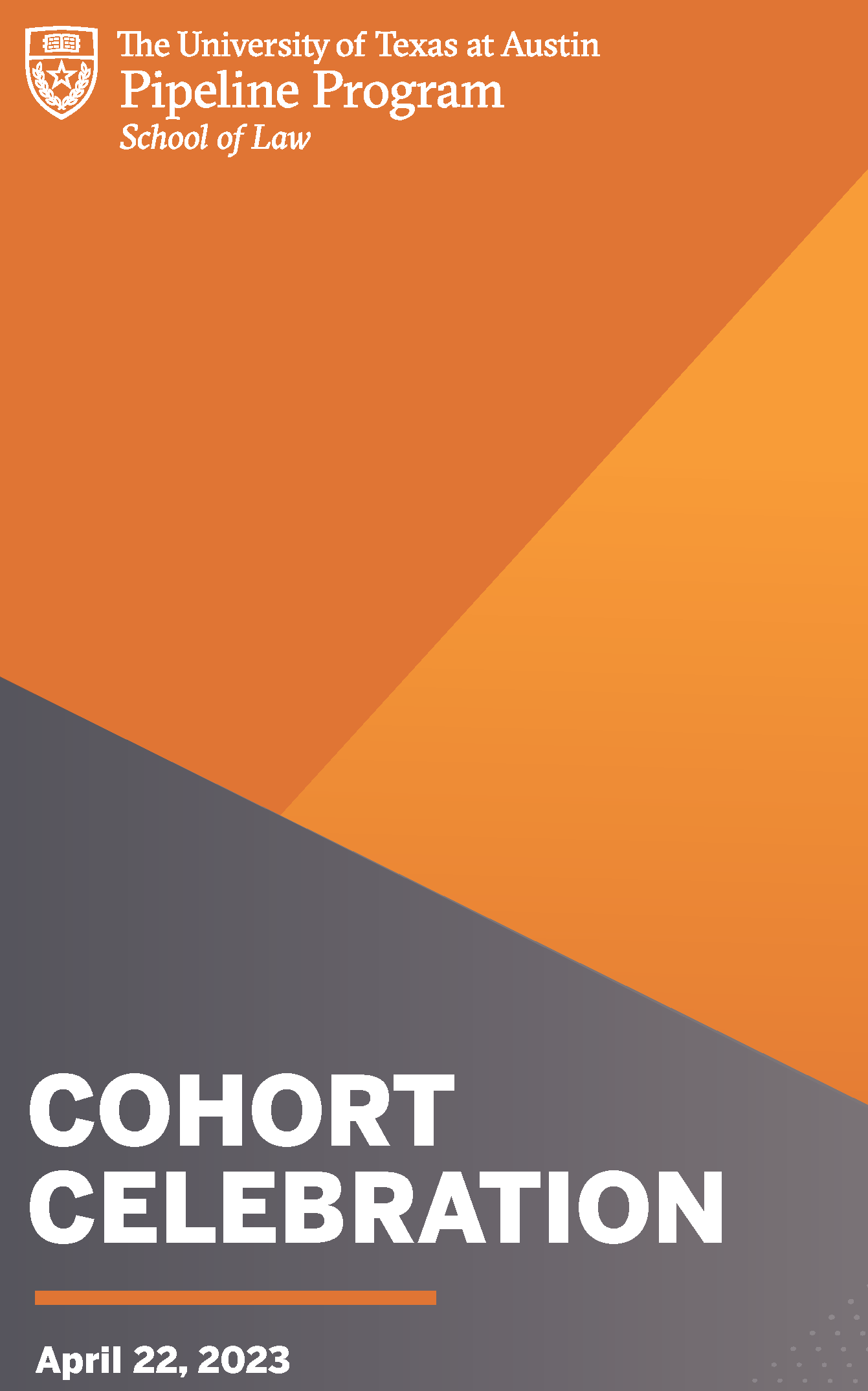 "It was an honor to deliver the keynote address. The cohort members should feel proud of their progress made and successes so far," said Bielby. "Their achievements are a testament to the transformative power of hard work, mentorship, and support. The presence and voices of these individuals will undoubtedly enrich and improve the legal profession."
No one spoke more powerfully than cohort member Angelina Ramirez—Texas Law Class of 2026—who was selected to give remarks on behalf of the class.
"I hope that one day, underrepresented groups will see themselves in all legal spaces," said Ramirez. "When the voices of underrepresented groups are in the room, we are more likely to be heard. Programs like these provide a path for students like me to contribute to the practice of law."
As the Cohort Class of 2023 continues its journey to impactful lives and careers in the law and in service, a new cohort class is already underway. Thirty students who will make up the Class of 2024 kicked their year off on May 20, at the law school. "I only see the program getting bigger and better," said Simmons. "And more dreams coming true for future generations of our profession."