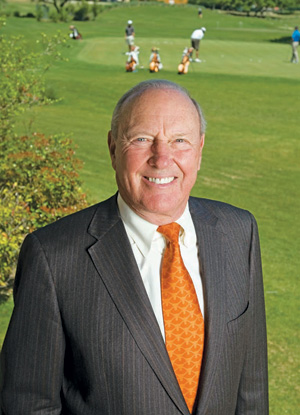 Making Things Happen
Mike A. Myers, '63, Chairman and CEO, Myers Bancshares Inc., Dallas, Texas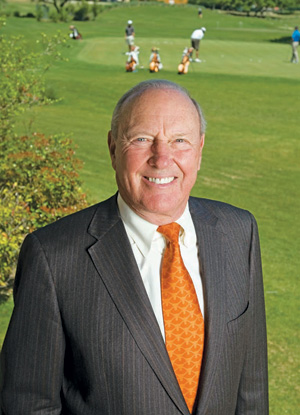 When Mike Myers first came to the University of Texas he was virtually penniless. But possessing boundless energy and being of an entrepreneurial nature, he started a catering service, opened a hamburger restaurant, and became the #1 Bible salesman in the country—all in addition to his undergraduate and law school studies. These three very successful businesses paid for the cost of his education, allowed him to graduate without debt (with, in fact, a healthy bank account balance), and with the financial means to begin a career in real estate and banking.
But before he ventured out on his own, he experienced the world of politics. As an administrative assistant to then Governor John Connally, Myers had a front row seat to the life of a high profile political figure. This five-year period became a stepping stone for Myers and the basis of a lifelong friendship with the Connally family.
Throughout his life, Myers has owned and operated numerous businesses, everything from restaurants to country clubs, from banks to residential community developments. He chartered his first bank at the age of thirty-six and is currently serving as chairman, CEO, and majority shareholder of Myers Bancshares Inc., the holding company of the oldest and largest continually owned independent bank in Tarrant County, which now operates six branches. Myers is also chairman and owner of Myers Development Corp., a Dallas-based developer of residential real estate projects, which has developed over 5,000 acres into communities that are home to more than 35,000 people in Texas and Missouri.
His business achievements have not gone unnoticed. He has been recognized as DFW "Entrepreneur of the Year," honored as a recipient of the prestigious Charles Sprague Community Service Award given by UT Southwestern Medical School, and most recently named as a 2008 inductee into the Texas Business Hall of Fame. It is interesting to note that Myers has served as a director for three publicly traded companies, each representing a different stock exchange—NYSE, ASE, and NASDAQ.
He has also achieved Hall of Fame-level success through his involvement in numerous civic and philanthropic activities. Among the many leadership roles he has played in a large number of organizations, he has been president of the Dallas Assembly, treasurer of Young Presidents Organization, and both treasurer and chairman of the investments committee for the Parkland Foundation, which supports the Dallas County Health and Hospital System. He is currently serving as an active board member of the Texas Interscholastic League Foundation; is President of the Beaver Creek Club; and is a trustee of the University of Texas Law School Foundation. In honor of his friend, Myers helped create the Kay Bailey Hutchison Chair in Latin American Law at the UT Law School.
Myers earned a BBA from the University of Texas in 1959 and an LLB from the School of Law in 1963. Although Myers is a non-practicing attorney, he believes that having a law degree has been very useful in the business world. He is co-founder of the Foundation for Texas Excellence Scholars, and has served as president of the Texas Longhorn Education Foundation and chairman of the UT Chancellor's Council. He received the University's Distinguished Alumnus Award in 1996, and was inducted into the business school's Hall of Fame two years later. Most recently, he was presented with the Presidential Citation Award.
For more than twenty years, Myers has been a significant supporter of both athletic and academic programs at UT. If you have passed by the University's track and soccer stadium, you may have noticed that it bears his name, as he was instrumental in this 20,000 seat facility becoming a reality.
One of Myers' abiding passions is the game of golf. Until the mid-1980s, Myers logged at least sixty hours a week on the job. Once he hit the big 5-0, he realized he wanted to ratchet down the pace of life. These days, Myers relishes the peacefulness and camaraderie of an eighteen-hole round. "Learning to play golf is one of the best decisions I've ever made," he said. "Before that time, I felt like I couldn't afford to waste five hours on the golf course because I could be out doing something to hopefully make some money or make something happen."
Myers is still making things happen. He's just doing it at a slower clip. He and his wife, Sammye, live in Dallas, but for several months out of the year Myers can be found on a golf course in Palm Springs, California, or on a ski slope or golf course in Colorado. He calls this his "goof-off time." When he's not "goofing off," Myers focuses on his business, civic, and philanthropic interests.
Over the past thirty years, he has been involved in developing six country clubs in Texas, but his pride and joy is the University of Texas Golf Club. This 7,412-yard, par-71 course is located at Steiner Ranch in northwest Austin. The course overlooks Lake Austin and affords majestic views of the Hill Country, as well as hundreds of acres of the Balcones Natural Wildlife Preserve. It is a favorite project, in part, because it provides a permanent home for the University's men's and women's golf teams, allowing Myers to share something he loves with his alma mater.
True to his nature, Myers figured out that golf can provide both a way to enjoy life and still make things happen—it's all about how you slice it and "Hook 'em"!