Lives in the Law Speaker Series Features East Texas Civil Rights Attorneys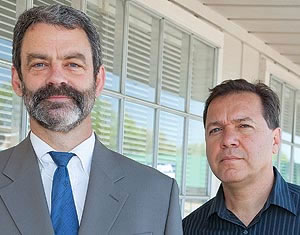 The University of Texas School of Law's William Wayne Justice Center for Public Interest Law and Career Services Office present a talk Thursday, Nov. 7, by East Texas civil rights attorneys David Guillory and Tim Garrigan, as part of the "Lives in the Law" speaker series spotlighting lawyers working to improve the lives of others through litigation, advocacy and public service.
Guillory and Garrigan will discuss their class action accusing the City of Tenaha and Shelby County in East Texas of illegally seizing money and property from black and Latino motorists passing through the town. The case, which was successfully settled last year, received national exposure when it was featured in the recent article "Taken" in The New Yorker.
The one-hour talk in the law school's Eidman Courtroom will begin at 11:45 a.m. and is open to the public. Lunch with the speakers at 12:45 p.m. is limited to law students.
About the speakers
David Guillory is a staff attorney in the Nacogdoches office of Lone Star Legal Aid. He graduated from UT Law in 1989 and began his legal career in the Civil Rights Division of the Office of the Texas Attorney General, prosecuting civil rights violations on behalf of the Texas Commission on Human Rights and defending state agencies in employment and civil rights lawsuits. Before joining Lone Star Legal Aid in 2009, he maintained a private practice in Nacogdoches, focusing on federal employment lawsuits and police misconduct civil rights cases. As an undergraduate at The University of Texas at Austin, he worked for Lloyd Doggett in his Texas Senate office and in his law office, and did advance work in his U.S. Senate campaign.
Tim Garrigan is a partner in Stuckey, Garrigan & Castetter, a Nacogdoches firm that handles plaintiffs' civil rights cases, primarily involving employment discrimination/First Amendment and police misconduct. He decided to become a civil rights lawyer at a young age, and attended Earlham College and Northeastern University School of Law. After law school he moved to Tyler because of the civil rights litigation being done there by small independent law firms. With the help of Judge William Wayne Justice, he clerked for U.S. Magistrate Judge Houston Abel. After the clerkship, he sought out the best civil rights lawyer in East Texas, Curt Stuckey. Twenty-seven years later Stuckey is still his law partner.
Event details
What: Lives in the Law: Guillory and Garrigan will discuss civil forfeiture practices and their lawsuit against the City of Tenaha and Shelby County, which was successfully settled last year.
When: Thursday, Nov. 7, 11:45 a.m.-12:45 p.m.
Where: Law school, Eidman Courtroom 2.306 (Map of law school)
RSVP: No reservations required, this event is open to the campus community and public.
What: Lunch with Guillory and Garrigan, who will discuss their career paths with current law students.
When: Thursday, Nov. 7, 12:45-1:45 p.m.
Where: Law school, Goodwin Conference Room
RSVP: Students are asked to RSVP by Wednesday, Nov. 6, on UT Law Symplicity by selecting the 'Events' tab. More info available in the UT Law events calendar listing.
Event co-sponsors include the American Journal of Criminal Law, the Chicano/Hispanic Law Students Association, the Public Interest Law Association and the Texas Journal on Civil Liberties & Civil Rights.
Media Contact: Samantha Youngblood, University of Texas School of Law, 512-232-1156, syoungblood@law.utexas.edu.