Only a few months into the academic year and already more than 100 University of Texas School of Law students have volunteered for 21 pro bono projects (and counting). From preparing asylum cases to interviewing clients at walk-in legal clinics, the range of UT Law's pro bono projects is as diverse as the hundreds of people students help across the community and state.
This year marks the UT Law Pro Bono Program's fifth anniversary and the fifth year the school has participated in the National Pro Bono Celebration initiative led by the American Bar Association. UT Law hosted clinics, events and speakers Oct. 20 to 26 to raise awareness of the need to increase access to justice.
Meet a few UT Law students making a difference through pro bono service: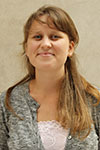 Kallie Dale-Ramos, '15
Dale-Ramos volunteers with the National Lawyers Guild's Voting Rights Awareness Project, the goal of which is to support voter access to the polls and protect the rights of non-English speaking voters. She's been creating materials to educate voters on their rights and connect them to resources.
"For me the value of the Pro Bono Program has been the opportunity, even as a first year [student], to see the difference that can be made in people's lives who might otherwise have limited access to legal resources," said Dale-Ramos.
Law student help has also been critical to the success of the Voting Rights Awareness Project, said Brian McGiverin, the project's supervisor.
"Students' energy and enthusiasm allow us to dramatically increase the impact we can make improving people's lives," said McGiverin. "UT Law students are smart, creative, motivated people. They have a lot to contribute."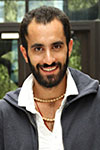 Adam Foldes, '16
Foldes has volunteered to help with Deferred Action for Childhood Arrival (DACA) work at the Equal Justice Center (EJC) with attorney Caitlin Boehne, '12.
"The EJC is very excited to partner with the UT Law Pro Bono Program on the DACA project," said Boehne, adding that student volunteers, such as Foldes, help the EJC increase its capacity to offer affordable services to DACA applicants who need specialized assistance.
"The EJC's individualized model allows students an opportunity to get to know clients, to address complicated issues that require special attention and expertise, and to see the end result of their work product," Boehne said.
Foldes said he appreciates the opportunity to be involved with the EJC effort: "The UT Law Pro Bono Program provides a platform for every student to apply the tools we are learning to an identified public need. It seems incredibly special to have a chance to define ourselves not only by what field we each ultimately pursue, but also by the communities that we can serve on that journey."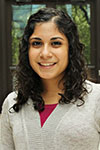 Alexandra Gutierrez, '15
Gutierrez volunteers at Catholic Charities of Central Texas where she helps immigrant survivors of crime complete applications for legal status in the U.S. She has conducted client interviews, drafted declarations, collected evidence for case files and attended a naturalization interview.
"Pro bono work adds to the law school experience," said Gutierrez. "In class, we spend most of our time learning about cases and theories in the abstract. Pro bono allows students to gain practical, real-world experience. Pro bono work reminds me why I entered law school."
Susannah Volpe, '12, is Gutierrez's supervisor at Catholic Charities. She said, "we rely on the support of pro bono volunteers to provide high quality legal representation to low income clients. Without the help of volunteers like Ally, many clients with urgent legal issues, including those who are victims of crime or violence, would be left without access to the legal representation they need to keep themselves and their families together and free from violence in the United States."
About the Pro Bono Program
The Pro Bono Program's vision is that students at The University of Texas School of Law will engage in pro bono work to increase access to justice and develop a lifetime commitment to providing legal services to those in need. The Pro Bono Program is a project of the law school's William Wayne Justice Center for Public Interest Law.
Related articles:
2013–14 Pro Bono Scholars Announced
UT Law Participates in National Pro Bono Celebration
Record Percent of Entering Students Sign Pro Bono Pledge