Rapoport Center Spring Colloquium Begins Feb. 3 with Counter-terrorism Talks
The Bernard and Audre Rapoport Center for Human Rights and Justice at The University of Texas School of Law announces the start to its Spring 2014 colloquium on "Comparing European and North American Approaches to Human Rights." The six-part speaker series begins Monday, Feb. 3, with talks on counter-terrorism by law professors Fionnuala Ní Aoláin, from the University of Minnesota Law School and University of Ulster, and Aziz Rana, from Cornell Law School.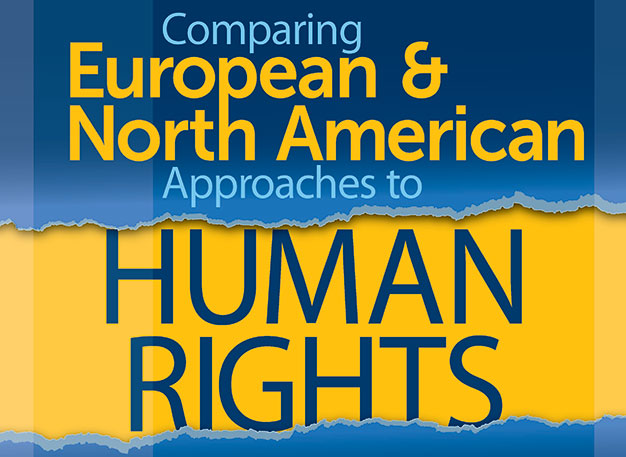 Professor Ní Aoláin will discuss the Diplock Courts, special courts initially established in Northern Ireland to respond to terrorism, and consider how some of the laws in that exceptional system have migrated into ordinary law in Northern Ireland and the UK more generally. Professor Rana, in a talk titled "Constitutional Nationalism and the Rise of the Security State," will trace contemporary constitutional justifications for certain national security measures in the United States to constitutional veneration in the late 1910s and early 1920s.
"We are very fortunate to have these speakers kick off what is set to be a spectacular series.  I am excited by the comparative aspect of the series, and by the synergy that will be created by having two speakers for each broad topic," said Karen Engle, co-director of the center. "Through consideration of human rights in Europe and the United States, we will not only learn about the nuances of law and policy in another region, but also better understand ourselves."
Each of the six events this spring will feature two speakers, one from Europe and one from North America. They will examine the way in which both regions engage with some of today's most pressing human rights issues.
Feb. 3: "Approaches to Counter-terrorism"
Fionnuala Ní Aoláin, Dorsey & Whitney Chair in Law, University of Minnesota Law School, and Professor of Law, University of Ulster's Transitional Justice Institute in Belfast
Aziz Rana, Associate Professor of Law, Cornell University Law School
Feb. 17: "Approaches to Race, Citizenship and Immigration"
Liz Fekete, Executive Director, Institute of Race Relations, London
Leti Volpp, Robert D. and Leslie Kay Raven Professor of Law in Access to Justice, University of California, Berkeley, School of Law
March 3: "Approaches to Religious Freedom and Secularism"
Sonia Dayan-Herzbrun, Professor Emeritus of Social Sciences, University Paris Diderot-Paris 7
Hilal Elver, Research Professor in Global Studies and Co-director of the Project on Climate Change, Human Security and Democracy, University of California, Santa Barbara
Richard Falk, Albert G. Milbank Professor of International Law and Practice, Emeritus, Princeton University, and Research Professor, Global and International Studies, University of California, Santa Barbara
Takes place in the UT Law Eidman Courtroom (CCJ 2.306)
March 24: "Approaches to Employment Discrimination"
Laura Carlson, Associate Professor of Law, Stockholm University School of Law
Samuel Bagenstos, Professor, University of Michigan School of Law
April 7: "Approaches to Universal Jurisdiction"
Juan Garcés, Spanish Attorney, Lead Counsel in criminal case against Augusto Pinochet in Spain
Michael Tigar, Emeritus Professor of the Practice of Law, Duke Law School, and Professor Emeritus of Law, Washington College of Law, American University
April 21: "Approaches to Labor Rights"
Mitchel Lasser, Jack G. Clarke Professor of Law and Director of Graduate Studies, Cornell Law School
Kerry Rittich, Professor, Faculty of Law and the Women's and Gender Studies Institute, University of Toronto
The colloquium is organized by the Rapoport Center with the support of the Center for European Studies and other co-sponsors, and is funded in part by a grant from the European Union. All talks are free and open to the public and light refreshments will be served. Details can be found on the Rapoprt Center's website. Presentations take place at 3:45 p.m. in the law school's Sheffield Room (TNH 2.111) unless noted otherwise.
For more information contact, William Chandler, Rapoport Center, at 512-232-4857 or humanrights@law.utexas.edu.