Alumni Association Celebrates 2014 Alumni Award Recipients
The Texas Law Alumni Association recently honored its 2014 Alumni Award Recipients at a dinner at the AT&T Executive Education & Conference Center Friday, Sept. 5.
---
Lifetime Achievement Award, Terry O. Tottenham, '70
A partner with Norton Rose Fulbright since 1978, Tottenham's practice encompasses complex litigation in both federal and state courts throughout the United States.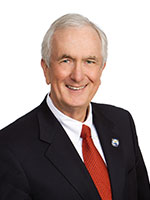 Tottenham was formerly head of Norton Rose Fulbright's Pharmaceutical and Medical Device Litigation Practice Group and Partner-in-Charge of the Austin location. He was certified in Personal Injury and Civil Trial Law by the Texas Board of Legal Specialization in 1987. He is also certified in Civil Pretrial Practice and Trial Advocacy by the National Board of Trial Advocacy.
As State Bar President, Tottenham initiated Texas Lawyers for Texas Veterans, a state-wide coalition of Texas lawyers who provide pro bono legal services to needy veterans and their families. This popular program has been replicated in 14 states and is under consideration in many others.
He also was the first recipient of the David Garner Pro Bono Award by the Texas Board of Legal Specialization and received a Texas Law Fellowship Excellence in Public Interest Award.
As Chair of the American College of Trial Lawyers Teaching Trial and Appellate Advocacy Committee, he created a CLE program for public interest lawyers that is being used throughout the United States and Canada.
Tottenham received a B.S. in pharmacy in 1967 from The University of Texas School of Pharmacy, his law degree from The University of Texas in 1970, and an LL.M. degree from George Washington University.
---
Outstanding Alumnus, S. Jack Balagia Jr., '76
Jack Balagia is Vice President and General Counsel of Exxon Mobil Corporation.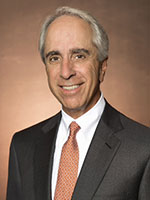 Balagia graduated from The University of Texas at Austin (B.A., 1973 and J.D., 1976) and served as law clerk to U.S. District Judge W.M. Taylor Jr. in Dallas, Texas. He joined the Austin firm of McGinnis, Lochridge and Kilgore in 1977, where his practice included energy litigation, oil and gas regulatory work and media law. During his time in private practice, he handled numerous trials to verdict and appeals in state and federal courts, and represented clients in hundreds of contested administrative hearings before state agencies. He joined Exxon's Litigation section in 1998 and served as coordinator of Exxon's (and ExxonMobil's) upstream litigation until 2004 when he was named Assistant General Counsel. He was elected to his current position March 1, 2010.
Balagia serves on the Board of Directors of the Institute for Legal Reform of the U.S. Chamber of Commerce and the Civil Justice Reform Group. He is a member of the Board of Visitors of the National Judicial College, the Board of Overseers for the RAND Institute for Civil Justice, the Board of Trustees of the Center for American and International Law, and the Board of Directors of the National Center for State Courts.
Balagia has served in a number of capacities with committees of the State Bar of Texas, including several years as Chairman of the Bar's Public Affairs Committee. In 2000, the Texas Supreme Court appointed him to the Court's Board of Disciplinary Appeals, which has original and appellate jurisdiction over Texas lawyer disciplinary matters, and he served as Chairman of the Board from 2003-05. He served on the Board (2007-10) and as Vice Chair of the Houston Bar Foundation, which oversees financial support for Houston Bar pro bono activities. He is a former Board member of the Austin Young Lawyers Association. He has been listed in The Best Lawyers in America and has been named a Texas Super Lawyer by Texas Monthly magazine.
Balagia currently serves as a Trustee of the UT Law School Foundation and on the UT Development Board. He is also a member of the university's Chancellor's Council Executive Committee and Littlefield Society, and is a Past President of the UT Law School Alumni Association Executive Committee and the Travis County UT Ex-Students Association. He has also served in various leadership positions for ExxonMobil's Gulf Coast and North Texas Employee Charitable Giving campaigns, and he currently serves on the Salvation Army DFW Advisory Board.
---
Honorary Order of the Coif, Harris E. Kerr, '75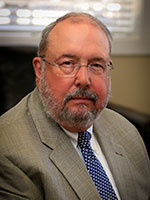 Kerr was born and raised in Midland, Texas. He attended New Mexico Military Institute, where he graduated from high school and junior college (A.A., 1971). Harris received his B.A. (history, 1972) and law (J.D., 1975) degrees from The University of Texas at Austin. Since 1975 he has practiced law in Midland, mostly with several family firms with his grandfather, father, uncle and brother, and a number of other great lawyers. That firm is now Kerr, McCulloch & McLaughlin PLLC, where Harris and his uncle, Ted Kerr, are privileged to practice with Kathleen McCollum McCulloch and fellow UT Law alum, Brian T. McLaughlin, '86.
Kerr's family has been practicing law in West Texas since W. W. Hubbard, a Harvard trained lawyer, arrived in Barstow in 1903 from New York City and set up his law practice in Pecos, Texas.
Kerr has been very fortunate to have served on the Board of Directors of the UT Law School Alumni Association, serving as President in 1994-95. He also served on the Board of Directors of the NMMI Alumni Association on two different occasions, as its President once, and has served for many years on the Board of Trustees of the NMMI Foundation.
---
Distinguished Alumnus for Community Service, Nicole B. Cásarez, '79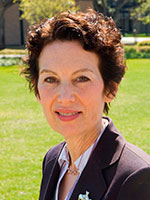 Cásarez is an attorney and communication professor at the University of St. Thomas (UST), where she teaches Journalism and Media Law. This fall, she is a visiting professor at the University of Houston Law Center, where she is teaching Constitutional Law. She has also taught First Amendment Law and Privacy Law at the University of Houston Law Center. She has a bachelor's of journalism as well as a law degree from the University of Texas, and a master's in Communication/Public Relations Management from the University of Houston. Before joining the UST faculty, Cásarez practiced law at Vinson & Elkins.
Cásarez has directed an Innocence Investigations class at UST since 2001, and she and her students have worked on numerous capital and non-capital cases through the Innocence Project of Texas and the Texas Innocence Network. She received national media attention in connection with the case of Texas death row inmate Anthony Graves, whose conviction was reversed by the U.S. 5th Circuit Court of Appeals in 2006. Ultimately, Graves was exonerated in the fall of 2010.
Cásarez serves as the Vice Chair of the Houston Forensic Science LGC, which governs the City of Houston's independent crime lab. She writes and speaks frequently about First Amendment, privacy and criminal justice issues, and in 2009, she was elected to the American Law Institute. She is currently the vice-chair of the American Bar Association's Committee on Privacy Law through the Section of Individual Rights and Responsibilities.
---
Outstanding Young Alumnus, John B. Connally IV, '97
Connally is a Partner in the Houston office of Vinson & Elkins LLP. He currently serves as co-head of the Energy Transactions and Projects Practice Group and is the youngest member of V&E's Management Committee.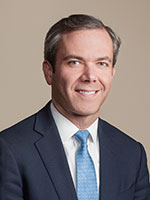 Connally graduated from Vanderbilt University with a B.A. in 1994, and received his J.D. from The University of Texas School of Law with High Honors in 1997. While at UT, he was a member of Texas Law Review. He has spent his entire career at V&E, in both the Houston and New York offices, and his practice involves the representation of clients in domestic and international mergers and acquisitions, project development transactions, private equity investments, joint ventures and a variety of energy matters. He has worked on projects in more than 20 states in the United States and more than 25 countries around the globe.
Chambers and Partners, Legal 500, Texas Monthly, Texas Super Lawyers and The Best Lawyers in America® all regularly recognize Connally. He was also named to Law360's Rising Star list of top attorneys under 40, and was recognized at the Outstanding Young Texas Ex Awards in 2013 by the Ex-Students' Association of The University of Texas.
Connally serves on the Board of Directors of the Association of International Petroleum Negotiators and the Texas Law Review Association. He sits on the Advisory Board of The Center for Global Energy, International Arbitration and Environmental Law at The University of Texas School of Law, and the Texas Journal of Oil, Gas and Energy Law. Connally is a member of the Advance Team for The University of Texas M.D. Anderson Cancer Center. He serves as the Chair of the Advisory Council for Bering Omega Community Services, where he previously served on the Board of Trustees, as a Trustee and as Chair.
---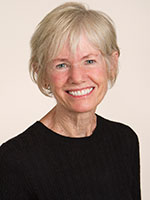 Meritorious Service Award, Miriam (Dusty) M. Burke, '68
Burke is a partner at Vinson & Elkins LLP where she has practiced in the Employee Benefits and Executive Compensation group for 25 years. She devotes a significant portion of her practice to ERISA and tax compliance issues relating to compensation and benefits for a broad-based and diverse group of clients. Burke also has considerable experience defending clients in ERISA class action lawsuits involving breach of fiduciary duty claims, claims for pension plan benefits, stock drop claims and anti-cutback claims. She is a member of the Texas Bar and the New York Bar.
Burke is a frequent speaker at ERISA litigation conferences, tax conferences and employee benefits and executive compensation seminars, and has authored and published several articles on various aspects of employee benefits and ERISA litigation. Burke has been professionally recognized in: The Best Lawyers in America® in Employee Benefits and Executive Compensation, 2002 to 2014; The Best Lawyers in America® in ERISA litigation, 2012, 2013, 2014; The Legal 500 U.S. in Employee Benefits/Executive Compensation, 2011, 2012, 2013; and "Texas Super Lawyer," Texas Monthly, 2002 to 2010.
Burke is a 1968 graduate of The University of Texas School of Law. Prior to joining Vinson & Elkins, she was a briefing attorney for Jim Kronzer at Kronzer, Abraham & Watkins in Houston. She also taught graduate and undergraduate law courses at the University of St. Thomas in Houston for more than 15 years.
Burke currently lives in Austin and has three children: John Burke, Anne Buckingham and Betsy Burke. She is an avid runner and hiker.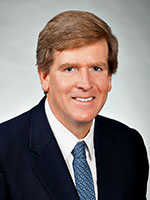 Meritorious Service Award, Robert C. Walters, '83
Walters is a trial partner with Gibson Dunn & Crutcher with extensive experience in antitrust, securities, class action and business tort litigation. He is nationally recognized for his abilities and accomplishments as a trial and antitrust lawyer. He also counsels clients in government investigations and the antitrust aspects of mergers and acquisitions. Walters serves on Gibson Dunn's Executive Committee and as Partner-in-Charge of the firm's Dallas office. He served as Executive Vice President and General Counsel of Energy Future Holdings (a.k.a. TXU Corp.) from 2008 until 2011. He was a partner at Vinson & Elkins LLP from 1990 until 2008, where he served as a member of the firm's Management Committee and as head of its Dallas office.
Walters is a member of the American Law Institute and has served in various capacities with the Antitrust Section of the ABA, including as an officer and member of the Antitrust Section Council. He speaks on antitrust laws and trial of complex litigation and has served as an adjunct professor at Southern Methodist University School of Law in Trial Advocacy, and at The University of Texas School of Law in Energy Policy and Law. Some of his legal writings include "The Trial of Securities Actions" (Chapter 11), PLI Securities Litigation Handbook; 2012-14; "Jury of Our Peers: An Unfulfilled Constitutional Promise," (with Mark Curriden), SMU Law Review, Volume 58, No. 2, Spring 2005; "A Jury of One's Peers? Investigating Underrepresentation in Jury Venires," American Bar Association Judge's Journal, Vol. 43, No. 4, Fall 2004; and "A Guide to the Electric and Gas Industries," Energy Antitrust Handbook, ABA Press, ABA Section of Antitrust Law, 2002. Walters received the 2005 Burton Award for Legal Writing, which is given jointly by The American Lawyer, Library of Congress and the Burton Foundation in recognition of exemplary legal writing.
He has been included in The American Lawyer's "Forty-Five Lawyers Under 45: Rising Stars in the Law"; The National Law Journal's "Top Forty Lawyers in America Under Forty"; Texas Monthly's "Top 100 Lawyers in Texas"; Dallas Business Journal's "Who's Who in Energy"; Chambers USA: America's Leading Lawyers for Business as a leading antitrust and trial lawyer; Global Competition Review as among the world's leading competition lawyers; D Magazine as General Counsel of the Year; and Texas Lawyer's "Best Antitrust Lawyer in Texas."
Walters has served in a range of civic capacities, including on the Dallas Citizens Council, the Dallas Council on World Affairs Board of Directors, as Vice Chair of Klyde Warren Park, and on the Executive Committee of the University of Texas System Chancellor's Council.
Rob received his B.A. (Plan II Interdisciplinary Honors) summa cum laude from the University of Texas at Austin in 1980 and his law degree from the University of Texas in 1983, graduating cum laude and serving on the Texas Law Review.
Rob is married to Carolyn Roes Walters (UT Austin B.S. and MBA) and they have two sons, Cav (23) and Chris (21).