"Change It Up!" Event Introduces Students to Lawyering for Social Change
More than 40 1Ls and transfer students gathered Friday, Sept. 5, for Texas Law's second annual "Change It Up!," a social justice orientation hosted by the William Wayne Justice Center for Public Interest Law, the Capital Punishment Center, the Rapoport Center for Human Rights and Justice, and 25 student groups.
The orientation was designed to introduce new students to lawyering for social change across various practice areas, and to connect with upperclassmen and attorneys in the field.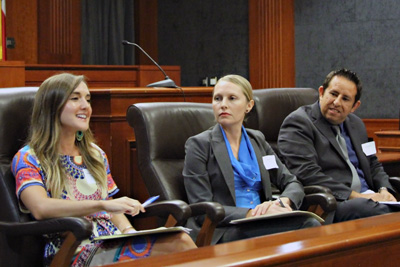 "I would have loved an event like Change It Up! at the beginning of my 1L year," said Nora Gay, '15, one of the event organizers. "My hope is that Change It Up! has made it easier for new students to be part of the law school's public interest and public service community from the start."
Professor Scott McCown, director of the Texas Law's Children's Rights Clinic, gave introductory remarks on social justice lawyering, and panels on environmental justice and the intersection of immigration and criminal law featured the work of attorneys in private practice, government and nonprofits. Nina Perales, vice president of litigation for the Mexican American Legal Defense and Educational Fund, who is nationally known for her work in voting rights, delivered the keynote address. Numerous faculty members worked with 2Ls and 3Ls to host small groups of students for lunch and breakout discussion sessions throughout the afternoon. More than 80 students, faculty and other members of the law school community participated.
According to 1L Lochlin Rosen, "Change It Up! provided a great opportunity to meet like-minded students and faculty. The event gave us an inside look at the public interest world in Texas and at Texas Law in particular."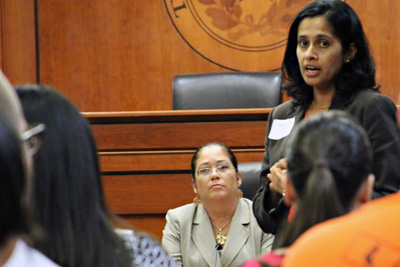 Hannah Alexander, '16, and Kallie Dale Ramos, '15, along with Gay, organized the event with assistance from Mary Crouter and Rachel Sidopulos from the Justice Center, and Ranjana Natarajan, director of the Civil Rights Clinic.
"Change It Up! was a team effort in every respect," said Crouter, assistant director of the Justice Center. "We are very thankful to the students who took time over the summer to work on the planning and grateful to our colleagues whose participation made the afternoon a success. This event fills an important need and we look forward to working with students to further refine it for next year."
Denise Gilman, co-director of the Immigration Clinic, and Kelly Haragan, director of the Environmental Clinic, helped plan the panels and moderated them.
Panelists included Kristen Etter of Sumpter & Gonzalez; Luis Figueroa, General Counsel, Office of Texas Senator Jose Rodriguez; and Amelia Ruiz Fischer, Equal Justice Works Fellow with the Texas Civil Rights Project; and Veronica Carbajal of Texas RioGrande Legal Aid; Ilan Levin, Associate Director of the Environmental Integrity Project; and Adrian Shelley, Executive Director of Air Alliance Houston.