Two Steps Forward, One Step Back
Professor Ranjana Natarajan reflects on the impact of the Civil Rights Act 50 years later
By Ranjana Natarajan
Growing up in the 1980s as a first-generation immigrant in the Houston suburbs, I had friends whose families hailed from many different parts of the world, and I assumed that was normal. Only later, as I learned about the history of the U.S. Civil Rights Movement, did I realize that the America I grew up in had undergone a profound, radical transformation in the 1960s, which was crucial to both my family's immigration and our multi-cultural society. Today, as I reflect on the successes of the Civil Rights Movement and the challenges we still face, I feel deeply grateful that my law degree allows me to train the next generation of lawyers who will advance the civil rights causes of our time.
The Civil Rights Act of 1964 was a monumental achievement. It made the American Dream of opportunity attainable for African Americans, other racial minorities and women. One of the Act's chief accomplishments was to end legally-enforced racial hierarchy and separation in public accommodations. American public spaces and institutions — schools, parks, hospitals, restaurants, libraries, airports, hotels — began the process of racial integration as a result of Title II of the Act. The Act fundamentally improved our society by desegregating public institutions and dismantling the racial caste system.
No less important was Title VI. That portion of the Civil Rights Act forbids discrimination on the basis of race or national origin in any state programs receiving federal financial assistance. Title VI continues to be a valuable tool in addressing racial discrimination. For example, the U.S. Department of Education has resolved complaints against state and local educational agencies relating to harassment of public school students based on race and inadequate services provided to limited English proficient public school students.
Perhaps the most well known provision of the law today is Title VII, the law that prohibits discrimination based on race, religion, sex or national origin in employment. That provision has enabled great gains in economic opportunity for African Americans, other racial minorities as well as white women.
The Civil Rights Act also set the stage for many laws that followed, each of which further dismantled barriers to opportunity for historically disadvantaged individuals and groups. The first was the Voting Rights Act, which dismantled barriers to voting for African Americans and Latinos imposed after the Civil War and maintained through violence and intimidation. Congress also passed laws outlawing racial discrimination in housing, gender discrimination in federally funded programs, discrimination on the basis of pregnancy and discrimination against the disabled.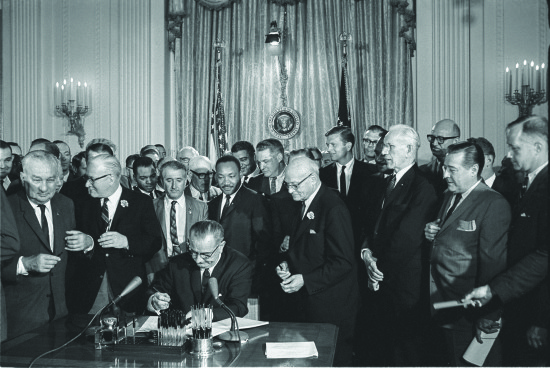 However, despite the passage of numerous civil rights laws, racial disparities in opportunities and achievement persist today. For example, the U.S. Department of Housing and Urban Development reports white homebuyers and renters learn about, are encouraged to apply for, and receive more favorable treatment in buying or leasing available housing when compared to equally qualified racial minorities. The U.S. Department of Education reports black and Latino public school students disproportionately lack access to core and college preparatory courses, but receive more in-school and out-of-school discipline than their white counterparts. According to the Bureau of Labor Statistics, blacks and Hispanics are more likely to be unemployed than whites at every level of education, and they are more likely to be employed in lower-paying occupations. Recent studies show that residential segregation by race and ethnicity also persists, further influencing racial disparities in educational achievement, health, exposure to pollution and access to public transit.
What are the lessons to be drawn from these mixed results 50 years later?
First, it is undeniable that ending the formal legal racial hierarchy of Jim Crow laws was a necessary and crucial step in forming our "more perfect union." Removal of formal legal barriers to opportunity was nothing less than required by our democratic ideals and our constitutional principles. Second, there is still a lot of work to be done to make the promises of equal opportunity a reality for all Americans. Some of that involves eliminating formal legal barriers, such as those facing LGBT individuals and families, as well as the adoption of deliberate institutional and community strategies to promote racial integration. And some of the work involves eliminating informal barriers that continue to block progress and growth for the disadvantaged in our society.
Having benefitted from the Civil Rights Movement, I feel privileged that I can shape the civil rights causes of today through my law practice and teaching. At the Civil Rights Clinic at Texas Law, I try to show students how lawyers can work for social justice and the advancement of rights through various means, with diverse partners, on issues that are personally meaningful to us.
The Civil Rights Clinic engages in litigation and advocacy on behalf of low-income clients in a range of civil rights matters. This past year, clinic students helped represent a U.S. citizen who was subjected to excessive force by U.S. Customs and Border Protection during a search of her vehicle in Brownsville; prisoners who are subjected to extreme heat in Texas prisons; and a man who was unlawfully detained for more than three weeks in a Dallas-area county jail. Students also compiled public education materials relating to constitutional rights at the border, and researched how best to provide for the mental health needs of juveniles in delinquency proceedings. Through the clinic seminar and cases, Texas Law students are learning about contemporary civil rights challenges, and how they can play a role in advancing civil rights during the next generation through their law practices.
While there is no question that in these past 50 years we have come a long way on the civil rights front, recent events remind us that our country continues to struggle. Two very different examples are the violence and conflicts in Ferguson, Mo., and the invalidations ruled by the U.S. Supreme Court last year to parts of the Voting Rights Act of 1965. Protecting one's civil rights is about ensuring that everyone has the same opportunities in life. At the law school's Civil Rights Clinic we continue to do our small part.
Ranjana Natarajan is a clinical professor and director of the Civil Rights Clinic at The University of Texas School of Law.