Moot Court Competition Argues Employment Discrimination
First-year student Hannah Beckerdite Roblyer claimed victory at The University of Texas School of Law's Thad T. Hutcheson First-Year Moot Court Competition April 17-20. The competition began with 64 of the best student advocates from the first-year class.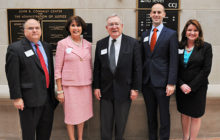 Students argued the case of Tyler Gill v. FeMile Inc., which addressed an employment-discrimination claim by a male taxi driver, Gill, who alleged gender discrimination by a taxi company, FeMile. FeMile asserted an exception to gender-discrimination law because of its business plan: to hire only female drivers so that women anxious about riding in a taxi with an unknown man would have an alternative that offered them peace of mind.
The final round was held in the law school's Eidman Courtroom before a panel of five judges, all Texas Law graduates.
Other competition victories included finalist Mihret Getabicha; semifinalists Josiah Clark and Ben Betner; and quarterfinalists Katelin Cox, Lisa Newman, Aaron Reitz and Natalie Vesti.
The 2015 Hutcheson competition was the first since the passing of Tom Hutcheson, son of the competition's namesake. Tom had been a regular and enthusiastic judge on many finals panels, and was a stalwart alumnus and supporter of the Hutcheson competition.