The William Wayne Justice Center for Public Interest Law and Student Bar Association held their fifth annual awards ceremony and ice cream social April 21 to recognize exemplary Texas Law students, recent alumni and teachers. The 2015 award recipients include:
Justice Center Graduating Student Awards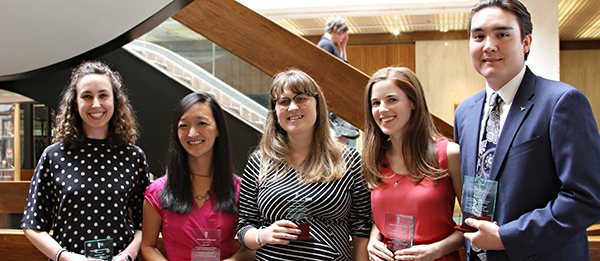 Recipients (pictured above from left to right): Sofia Meissner, Nora Gay, Kallie Dale Ramos, Amanda Addison and Chris Larson. Not pictured: Mary Chisolm Rios.
Inaugurated in 2011, the Justice Center Graduating Student Awards honor students who have demonstrated an extraordinary commitment during law school to use the law to serve others. The recipients received $500 and discounts on bar review courses from BarBri, Kaplan and Themis.
Hildy's Cutback Award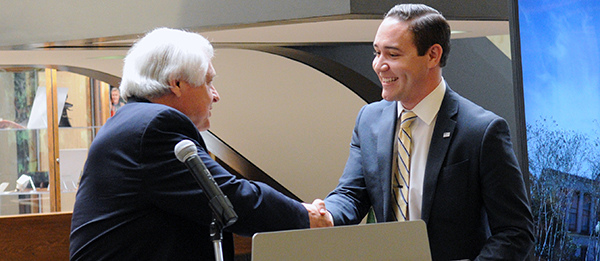 Recipient: Chandler Raine
Presented by Professor David Anderson, this honor is named after Dean Hildebrand, a legendary dean of the law school. It is awarded to the 3L student selected by vote of the faculty who, "by virtue of intransigence or adaptability, failure or success, personality or persistence, handicaps or ability, or perhaps simple mundane magnetism, captures the imagination and respect of the law faculty."
Post-Graduate Fellows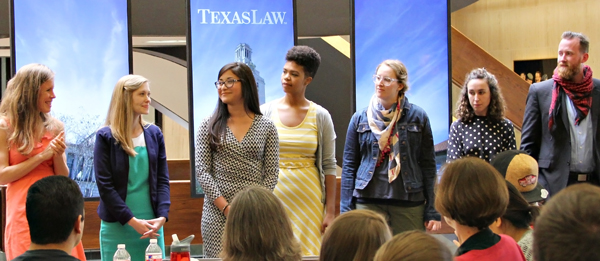 Several graduating students and recent alumni were recognized for receiving post-graduate fellowships that support their work at nonprofit public interest organizations. Those recognized included recipients of two-year fellowships: Alejandra Ávila, '14, who received a Fried Frank Fellowship; and Andrea Meza, '15, and Tovah Pentelovitch, '15, both of whom received Equal Justice Works Fellowships.
Those recognized for receiving Texas Law-funded fellowships included: Kali Cohn, '14, who received the G. Rollie White Trust Fellowship in Public Interest Law; Whitney Drake, '14, who received the Julius Glickman Fellowship in Public Interest Law; Paul McDaniel, '15, who received the Texas Law Gideon's Promise Fellowship; and three recipients of a Justice Center Fellowship in Public Interest Law – Jessica Johnson, Sofia Meissner and Colleen Mulholland, all Class of 2015.
Pro Bono Beacons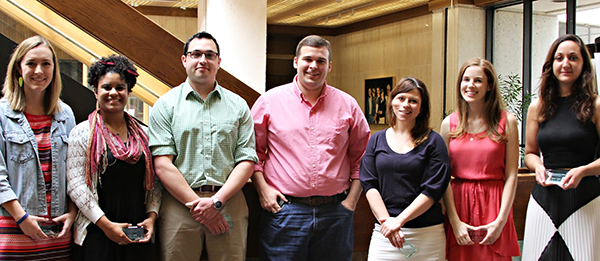 Recipients (pictured above from left to right): 1Ls Katelin Cox, Paige Duggins, Lochlin Rosen, 2Ls Garrett Brawley, Hannah Herzog, 3Ls Amanda Addison and LL.M. Cristina Lomant. Not pictured: 2L Alexandra Fulcher, 3Ls JoAnna Serrato and Maxwelle Sokol.
Andrea Marsh, director of the Mithoff Pro Bono Program, recognized members of each class as Pro Bono Beacons. These students reported the highest number of pro bono hours. The Pro Bono Program also recognized 96 graduating students who have fulfilled the Pro Bono Pledge to graduate with Pro Bono Honors, and more than 170 1Ls and 2Ls who have met annual benchmarks for the Pro Bono Pledge.
Teaching Awards
Recipients: David Sokolow, Tenured Professor/Senior Lecturer of the Year; Wayne Schiess, Legal Writing/Advocacy Lecturer of the Year; Lucille Wood, Clinical Faculty Member of the Year; and Philip Durst, Adjunct Professor of the Year.
The Teaching Awards are presented annually by the Student Bar Association.