History Made 70 Years Ago This Week: Heman Sweatt Enrolls
The story begins on a Tuesday: February 26, 1946, when Heman Marion Sweatt appeared at the Office of the Registrar of The University of Texas at Austin, seeking admission to the School of Law. Sweatt, a native of Houston's Third Ward, had been a standout student at Wiley College, the historically black, private college in Marshall, Texas, earning his Bachelor of Arts. He had already done post-graduate work at the University of Michigan in Ann Arbor. In all ways, Sweatt was a qualified and eager candidate.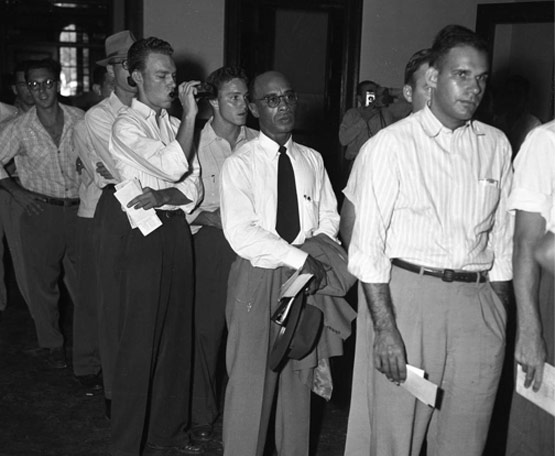 As those familiar with the history know, Sweatt was denied his admission by the university president of the time, Theophilus Painter, who in turn took his guidance from Texas' Attorney General, Grover Sellers, who advised that the state's segregation laws forbid Sweatt's attendance at the university.
But Sweatt would not be deterred.
With the support of the NAACP Legal Defense Fund and Thurgood Marshall as his attorney, he sued The University of Texas. After four years working through state and circuit courts, Sweatt's case was heard in the U.S. Supreme Court on April 4, 1950. There, the case proved quite simple: Sweatt prevailed in a unanimous decision. On June 5, 1950, with a stroke of Chief Justice Vinson's pen, the University of Texas—and by extension, all public universities in the country that had not already done so—were compelled to desegregate.
The true moment of U.T.'s desegregation, however, did not come until September 19, 1950.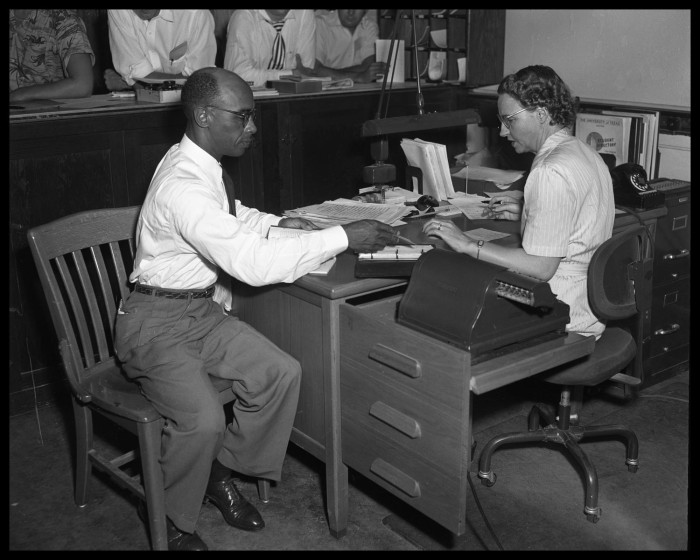 On that day, Sweatt returned to campus with the other incoming law students to register for his classes. Sweatt was accompanied by Neal Douglass, an Austin photographer working for Life Magazine to document the history unfolding. Douglass's photographs, originals of which reside in the university's Dolph Briscoe Center for American History, captured the moment of Sweatt's registration and, later, his attendance in class.
That day, and all that preceded it, transformed The University of Texas, the School of Law, and education in America, as Sweatt's Supreme Court case was a building block of the 1954 Brown v. Board of Education decision.
The School of Law honored Heman Sweatt and the Sweatt family in a 2018 ceremony, unveiling an oil portrait of Sweatt commissioned by the law school faculty and dedicating a historical display about Sweatt in the Susman Godfrey Atrium, in the heart of the school. Hundreds attended the unveiling and heard from Dean Ward Farnsworth, who conceived of the tribute to Sweatt, President Greg Fenves, and Sweatt's daughter, Dr. Hemella Sweatt.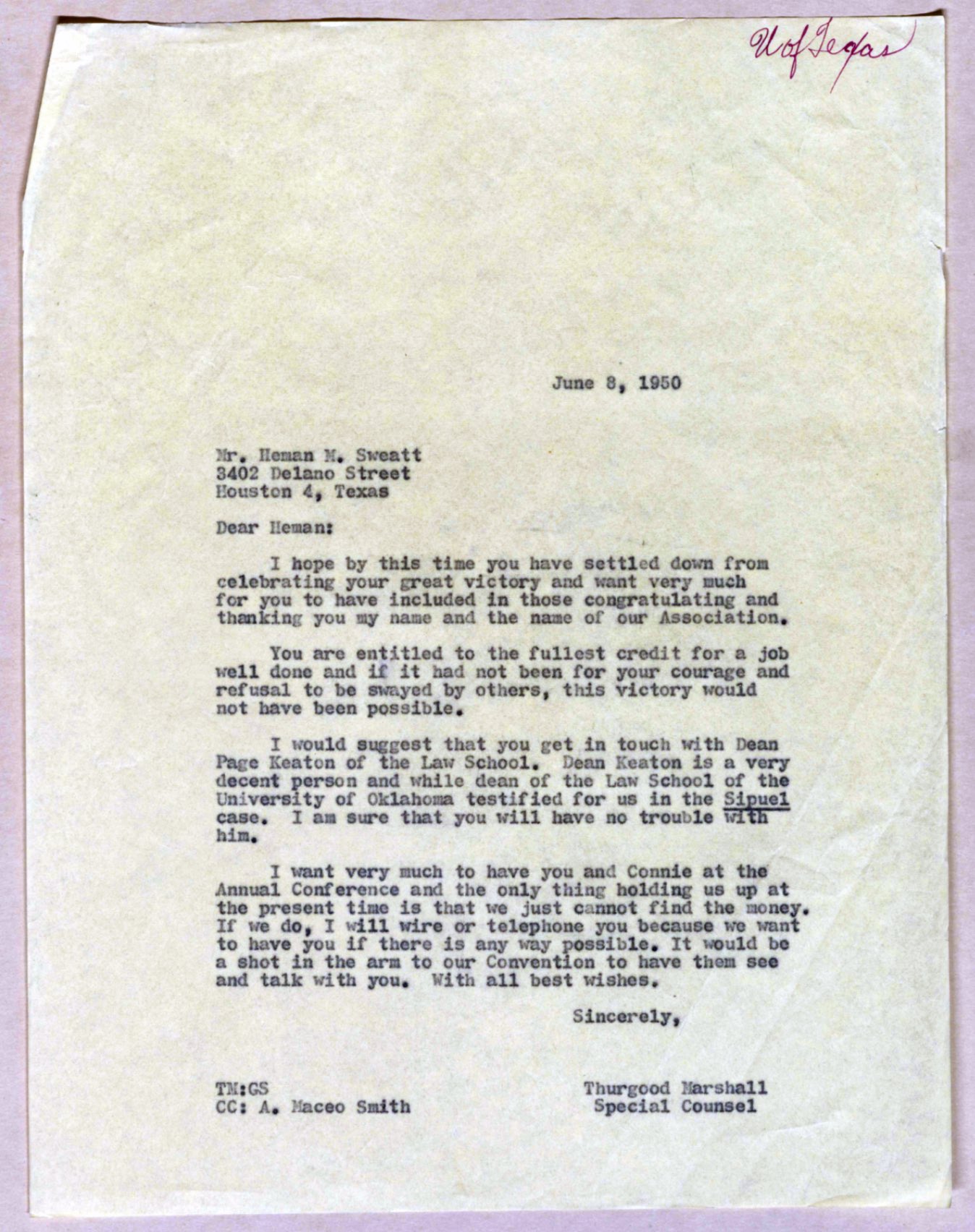 As Dean Farnsworth told the assembled crowd that day:
"Heman Sweatt would not take no for an answer, a singular act of bravery that would prove revolutionary. We put his picture on our wall, in this Atrium, the very center of our school, so that all who pass through here have a chance to reflect on Heman Sweatt's vast but often too little understood influence on who we are today.

"The story of Heman Sweatt is ultimately that one man — armed with friends and family and a good lawyer! — truly can change the world. To our students I say: if you want to change the world, you picked the right school."
This week, as Texas Law marks the 70th anniversary of the culmination of Sweatt's arduous, painstaking battle for equality, a cause from which he neither shrank nor backed down in spite of tremendous personal pressures and cost, members of our community have another opportunity to reflect on our how far the school has come, how far our school and society still have to go, and how much is owed to the civil rights pioneer for bending the world towards greater justice.
"Every schoolchild in America, and even in much of the world, knows the names of Dr. Martin Luther King, Jr., or Rosa Parks, or John Lewis," remarked the law school's director of advancement, Christopher Roberts. "But I hope one day nearly as many people will know Heman Sweatt and speak of his courage and commitment, and recognize what he has done for opportunity in higher education in our country these past seventy years and on into the future."
To learn more about Heman Sweatt and Sweatt v. Painter, visit the Tarlton Law Library's digital collections, or the online archives of the Dolph Briscoe Center for American History.
The film Admissions on Trial: Seven Decades of Race and Higher Education, by documentarian Lynn Boswell—Texas Law Class of 1993—covers the Sweatt v. Painter case in depth.
The definitive book about Heman Sweatt the man, as well as the plaintiff, is Gary Lavergne's Before Brown: Heman Marion Sweatt, Thurgood Marshall and the Long Road To Justice. Lavergne, who recently retired as the Director of Admissions Research and Policy Analysis at The University of Texas at Austin, was another featured speaker at the law school's 2018 tribute to Heman Sweatt.