Texas Law Wins National Championship at Energy Law Negotiation Competition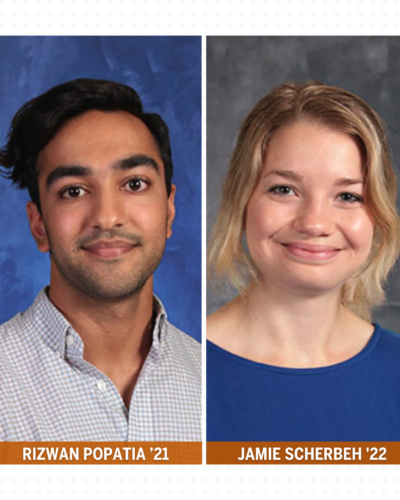 The Texas Law team of 3L Rizwan Popatia and 2L Jamie Scherbeh took the national championship at the 2021 Energy Law Negotiation Competition. The 6th annual competition hosted by South Texas College of Law Houston was held virtually on April 4-5, 2021, drawing students from 18 law schools across the nation for the respected alternative dispute resolution (ADR) competition.
Texas Law took home the championship after besting Cardozo School of Law in the final round. The team was assisted by 1Ls Jack Davis and Sterling Lykes and coached by Tom Hillebrand '14.
The Energy Law Negotiation Competition provides students with an opportunity to develop their negotiation skills with real-world fact patterns based on current issues in the field of energy law. Competitors negotiated realistic scenarios drafted by practicing oil and gas attorneys and received feedback about their performance from volunteer judges who are experts in the field.
Popatia also participated as a 1L when Texas Law placed fourth in 2019. The 2020 competition was canceled due to the pandemic.
Learn more about Texas Law's interscholastic moot court program.