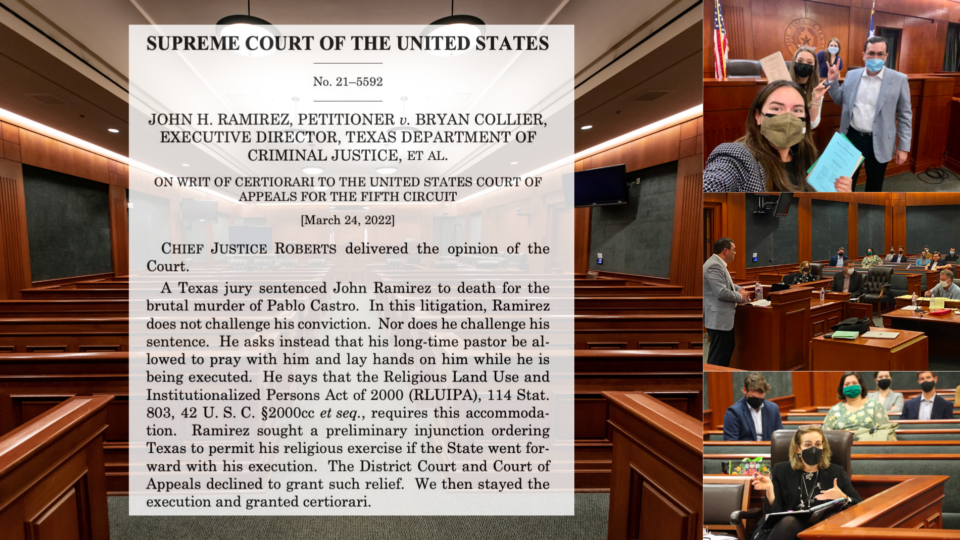 Texas Law Community Secures SCOTUS Win in Ramirez v Collier
Members of the Texas Law community are celebrating an 8-1 Supreme Court win on behalf of capital inmate John Henry Ramirez. Mr. Ramirez sued the State of Texas for violating his religious-liberty right to have his pastor pray and lay hands on him during his execution (Ramirez v. Collier).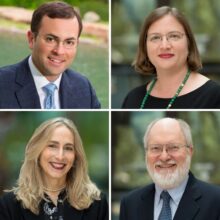 Current Texas Law students, faculty, and alumni teamed up on various aspects of the case. The law school's Supreme Court Clinic served as co-counsel for Mr. Ramirez, and the case was argued by Texas Law alumnus Seth Kretzer '03. Under the expert supervision of Clinic Co-Directors Erin Busby, Lisa Eskow, and Michael Sturley, Clinic students worked tirelessly on the merits brief, researching, drafting, cite-checking, and proofreading.
In addition, others within the Texas Law community played roles in this winning effort. Professor Steven Collis's Law and Religion Clinic partnered as co-counsel with Professor Emeritus Douglas Laycock on an amicus curiae brief on behalf of religious-liberty scholars. Professor Michele Deitch helped to coordinate the amicus strategy and was one of the amici on a brief from prison-litigation scholars, who were represented by former Texas Law adjunct professor Jennifer Freel and co-counsel including alumnus Josh Windsor '18. Other Texas Law alumni involved in the case were David Frederick '89, co-founder of the Supreme Court Clinic, Matthew Wilkins '17, a former Supreme Court Clinic student, and Supreme Court advocate Lisa Blatt '89.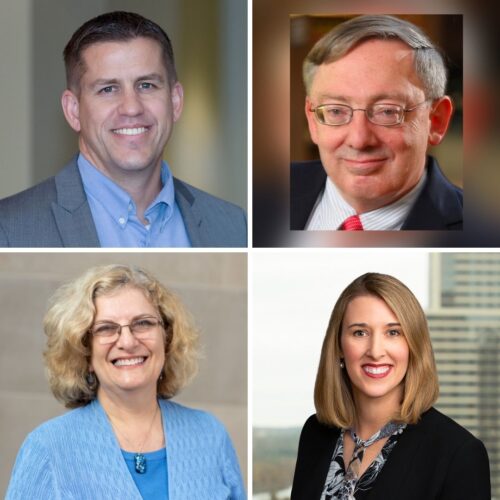 "We're thrilled to see this result for Mr. Ramirez and grateful to represent him alongside Seth Kretzer," said Eskow. "We're so proud of our students and all that we accomplished in this case."
The Supreme Court ruled that Mr. Ramirez's religious-liberty rights were likely violated when the state denied his request to have his pastor lay hands on him and pray during his upcoming execution. The execution was originally set for September 2021, but was halted while the Supreme Court considered the question presented. The case will now go back to the trial court, where the state will need to decide whether to continue opposing the religious exercise Mr. Ramirez requests. If the state reschedules the execution without granting Mr. Ramirez's requests, the Supreme Court directed the trial court to enter appropriate relief to ensure that Mr. Ramirez is not executed in a manner that violates his religious-liberty rights.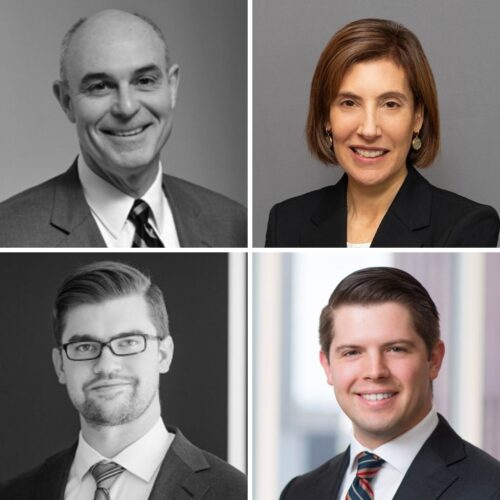 "What I love most about this school is the community it creates of students, faculty, and graduates. The collaboration between all of them on this case was amazing," remarked Dean Ward Farnsworth. "I'm so proud to see what we're able to do when it's all hands on deck."
Related Stories
Students, Faculty, and Alumni Work Together on Supreme Court Capital-Punishment and Religious-Liberty Case
U.S. Supreme Court tells Texas to let a condemned man's pastor touch him and pray aloud during execution
Texas Tribune