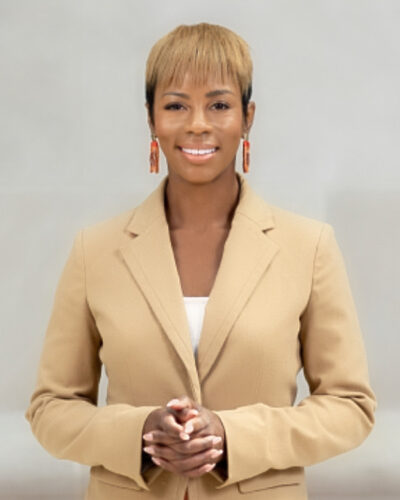 Texas Law Associate Dean for Diversity, Equity, Inclusion, and Belonging Shavonne Henderson '05 has been selected as a 2022 recipient of the Texas Diversity Council's Top Women Lawyer Award. The award recognizes Henderson as a leader in the legal profession who shows commitment to diversity and community well-being.
"I am honored and grateful that organizations like the Texas Diversity Council are providing space to acknowledge the efforts of this year's stellar slate of recipients," said Henderson. "I find it especially rewarding to teach and build inclusive strategies at the place where it all began for me."
The Texas Diversity Council notes, "Henderson fully encompasses the award's criteria in her role at Texas Law as she partners with other members of the school's leadership team to devise and implement strategies for promoting diversity and inclusion among students, faculty, and staff. She spearheads improvements of the student experience – providing guidance on best practices to relevant committees and other law school leaders – and develops enrichment opportunities on equity and inclusion." Henderson also teaches in the Law School and serves as chair of the Equity and Inclusion Committee.
The Top Woman Lawyer award recognizes those women who have received a high degree of peer recognition for leadership; exemplified a commitment to fairness, equity, and justice in client representations and professional collaborations; maintained a superior level of integrity and dignity across the spectrum of legal dealings; and demonstrated commitment to helping other women succeed. A Houston native, Henderson has devoted much of her career to pursuing these principles.
Henderson is a double Longhorn, with a B.A. in the Plan II Honors Program, a B.A. in Government, and a J.D. from Texas Law. After law school, she worked as a litigator for several firms, while serving on firm-wide and national committees focused on improving inclusion, including the steering committee for the leading civil defense bar association. In 2013, Henderson moved into higher education administration at Texas Southern University's Thurgood Marshall School of Law. She came home to Texas Law in 2015, and most recently was promoted to associate dean in the summer of 2022.
Henderson will be formally recognized with the honor on Sept. 27, 2022, at the virtual Texas Legal Diversity Summit. The summit pulls in a diverse set of leaders within the legal arena, including attorneys, paralegals, litigation managers, judges, and executives to celebrate and advance diversity in the legal field.