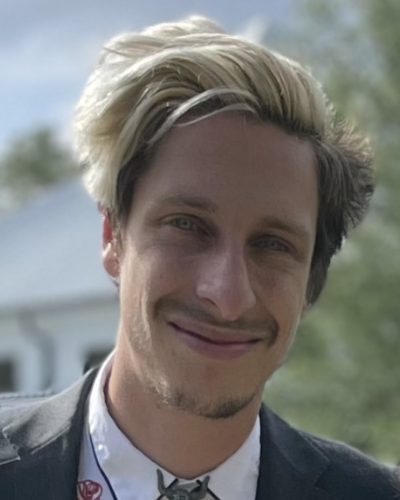 We are pleased to bring back our Student Spotlight series for the 2022-23 school year! For this edition, we invite you to meet 2L Benjamin "HR" Huber-Rodriguez. In addition to working toward his Juris Doctorate, HR is seeking a dual degree with the LBJ School of Public Affairs where he serves as a research assistant.
Q: Can you share what led to you choosing your degree path and how you think it will prepare you for your career?
I used to work as a data scientist in the renewable energy industry and chose to go back to school so that I could work along the boundary between regulation and private practice. I wasn't sure if I wanted to approach that from the legal or policy side of things, so I signed on with the dual degree program hoping that would help me realize what I wanted. I'm glad I did the dual program with the LBJ School because it's given me so much more insight into the constraints and research impacting the policy-making side of climate, energy, and environmental regulation. I also love law school and the legal world, so to start, I'll be working on climate policy, federal regulation, and renewables at an environmental law firm, Beveridge & Diamond.
Q: What is your favorite thing about the culture of Texas Law?
When I was a 1L, 95 percent of our law school experience was on Zoom. In response, my 1L section (Section 5) had a very active group text that kept our morale up and kept everyone talking and in the loop throughout the year, posting funny photos and helpful comments, and generally generating dialogue and friendship between us. When the vaccines came out, and folks started to be able to socialize in a normal way, seeing one another in a social setting was amazing — it was like we had all been forged in battle together and came out of it very entwined. To this day we like to sit together in class and study together, maintaining that closeness, friendliness, and fun that we'd all formed during that experience.
Q: What are some ways that you manage stress and maintain a healthy balance between school and life?
I spend a lot of time writing and recording music that sort of works the opposite side of your brain from law school. You come out of that, and you've made something real and tangible, and suddenly the classes and the grades don't feel so big anymore. I don't like how stressful and anxious school makes my friends. I think it's nice to duck your head out and really try hard at something unrelated to school — like a piece of art, a sport, a recipe, or a relationship. It's a reminder that there's a lot more going on out there that can make you happy besides getting the grades and the job.
Q: As a graduate research assistant (LBJ School), is there a particular project you are working on that you'd like to share?
I work as a data scientist and programmer with Dr. Sheila Olmstead and Dr. Andrew Waxman, who are environmental economists at the LBJ School. We are working on a process where we're modeling the adoption of carbon capture by big industrial facilities in Texas and Louisiana. Carbon capture is a very exciting and relatively novel technology that people have a lot of high hopes for, so modeling out what adoption of it looks like should help policymakers to set appropriate values on incentives like tax credits and subsidies. Like making music, it's so different from law school that it's a nice break. It really works on the other side of my head and keeps me connected to all the good economics work going on in the environmental policy world.