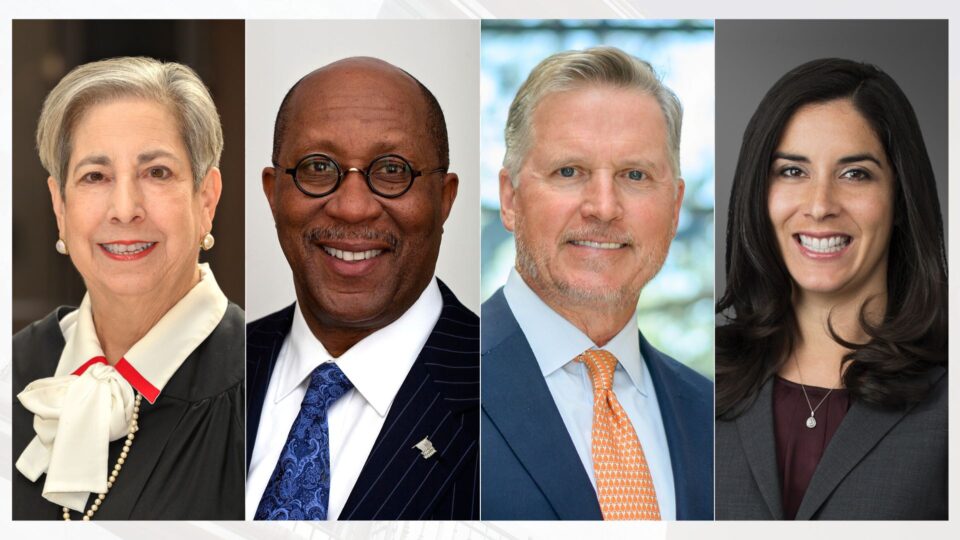 For more than a century, graduates of The University of Texas School of Law have been leaders in law, public service, and civic leadership, living extraordinary lives that embody the university's beloved motto, "What starts here changes the world." Starting in 1958, the Texas Law Alumni Association established an annual award to honor greatness in the law school's alumni community, recognizing outstanding achievement and service to the school.
This week, Alumni Association President Demetrius McDaniel '90 announced the honorees for the 2023 Alumni Awards: The Hon. Marilyn Aboussie '74, The Hon. Ronald Kirk '79, Barry Smitherman '84, and Sandra Gonzalez '09.
"Texas Law alumni have an established standard of excellence as evidenced by their contributions to the legal profession, their communities, and our law school," said McDaniel. "To identify a small number of alumni to honor each year is no easy feat, but we are excited to recognize these four individuals as truly outstanding representatives of Texas Law."
The four will be recognized at a gala dinner on Friday, April 14, 2023, as part of Texas Law's Alumni Weekend which includes the annual reunion events.
Aboussie, the longtime Chief Justice of Texas' Third Court of Appeals, will receive the Association's award for Lifetime Achievement, while Kirk, formerly the United States Trade Representative and Mayor of Dallas, will be given the Outstanding Alumnus Award. Smitherman, the founder and managing partner of Smitherman + Associates, a former Texas Railroad Commissioner, and a current Texas Law adjunct professor, will be recognized as the Distinguished Alumnus for Community Service. Gonzalez, who serves as the Chief Compliance Officer at HID Global, will be honored as the association's Outstanding Young Alumna.
The awards committee of the Alumni Association Executive Committee selects the award recipients at its spring meeting, choosing from nominations submitted by the entire alumni community.
Read more about these extraordinary awardees below.
The Hon. Marilyn Aboussie '74 – Lifetime Achievement

Marilyn Aboussie served as a Justice of the Texas Court of Appeals, Third District, for 17 years, including 5 years as Chief Justice. Before that, she was a Judge for the 340th District Court of Texas in Tom Green County. Her judicial career followed a successful law practice in Houston and San Angelo.
Since her retirement from the Texas Court of Appeals, she has served as Senior Judge for the State of Texas.
Justice Aboussie was born in Wichita Falls, Texas, and was educated in the honors program at Midwestern University. Following two years working on Capitol Hill in Washington, D.C., she returned to Texas, enrolling at The University of Texas School of Law and graduating in 1974.
In the winter of her third year of law school, she married classmate John A. Hay, Jr. They have a son, John Hay III, who is also a Texas Law graduate.
She has been a pioneer for women in the legal profession in Texas. She was the first female attorney in each law firm in which she practiced, the first woman on a court in the Concho Valley, and the first woman to serve on the Court of Appeals which was created in 1882 (one year before the founding of The University of Texas). She was the first woman elected president of the Tom Green County Bar Association and the Young Lawyers Association. She served as chair of the Judicial Section of the State Bar of Texas, the Texas Center for the Judiciary, the Council of Chief Justices, and as a judicial member of the State Bar Board of Directors and the Texas Bar Foundation Board of Trustees. Among her professional activities, she served on the Texas Judicial Council, the Texas Center for Legal Ethics and Professionalism, and the Texas Board of Legal Specialization. She has served on numerous State Bar and Supreme Court committees, many boards and commissions around the state, and is a frequent speaker and lecturer at civic events and professional seminars.
She has also served as President of the Texas Law Alumni Association's Executive Committee from 2010-2013.
Justice Aboussie has been honored many times, including by Concho Valley, her alma mater Midwestern State University, and the State Bar of Texas, among many others, and she has served on numerous boards and advisory boards, including those of St. Jude Children's Research Hospital, the San Angelo Health Foundation, and the Stennis Center for Public Service at Mississippi State University.
The Hon. Ron Kirk '79 – Outstanding Alumnus

Ron Kirk is Senior Of Counsel in Gibson, Dunn & Crutcher's Dallas and Washington, D.C. offices. He is Co-Chair of the International Trade Practice Group and a member of the Sports Law, Public Policy, Crisis Management and Private Equity Practice Groups.
He served as the 16th United States Trade Representative and was a member of President Obama's Cabinet, serving as the President's principal trade advisor, negotiator, and spokesperson on trade issues.
As the first African American Mayor of Dallas from 1995 – 2001, he earned a reputation for bringing together diverse coalitions to get things done. During his tenure as Mayor, he expanded Dallas' reach to the world through a range of trade programs, including numerous trade missions. He also passed seven budgets that focused on the critical needs of the city while maintaining and even lowering taxes.
Before that, Governor Ann Richards appointed him as Texas Secretary of State, he served as a legislative aide to U.S. Senator Lloyd Bentsen, and he was chair of Texas' General Service Commission.
Ambassador Kirk has been actively involved in the community and currently serves as a Trustee for Austin College and the University of Texas Law School Foundation, as well as the Advisory Commission for the Center for American Progress.
In 2021, he was named to The American Academy of Arts & Sciences.
He was named the 2019 Dallas Sports Lawyer of the Year by Best Lawyers and has consistently been recognized by the publication since 2007. He is the recipient of the University of Texas Distinguished Alumni Award, Woodrow Wilson Center for Public Policy's Outstanding Public Service Award, the Young Texas Exes Award, and the Austin College Distinguished Alumni Award. He also received an Honorary Doctor of Humane Degree from Austin College and the Mickey Leland Leadership Award from Texas Southern University.
Ambassador Kirk was born and raised in Austin, Texas. He received his Bachelor of Arts degree in political science and sociology from Austin College in Sherman, Texas, and his law degree from the University of Texas School of Law in 1979. He is married to Matrice Ellis-Kirk, and they have two daughters, Elizabeth Alexandra and Catherine Victoria.
The Hon. Barry Smitherman '84 – Distinguished Alumnus for Community Service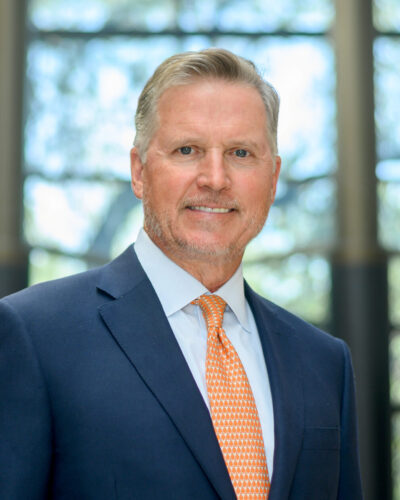 Barry Smitherman is an attorney, consultant, investor, and board member for not-for-profit and for-profit organizations. He is the Chairman, President, and co-founder of the Texas Geothermal Energy Alliance, and is an independent director of CenterPoint Energy, Inc.
Barry is also the Chairman of the Board of Brookwood in Georgetown, a God-centered vocational community that provides meaningful work, housing, and a sense of belonging, dignity, and respect for adults in Central Texas with functional disabilities.
He served on the Texas Railroad Commission from 2011-2014, serving as Chairman from March 2012 through August 2014. First appointed by Gov. Rick Perry to a vacant seat on the commission, Barry won a statewide election in 2012.
Before joining the Railroad Commission, he served on the Public Utility Commission of Texas, including four years as Chairman. He also served two terms on the U.S. Department of Energy Electricity Advisory Committee; the Board of Directors of the National Association of Regulatory Utility Commissioners; and was Chairman of the NARUC Gas Committee, the ERCOT Board of Directors, the Southern States Energy Board, the Interstate Oil & Gas Compact Commission, and the Regional State Committee of the Southwest Power Pool.
Barry has also served on the boards of Ballet Austin, the Eanes ISD Educational Foundation, the Texas Public Finance Authority, and the Harris County Health Facilities Development Corporation and was Vice-Chairman of the Texas Advisory Panel on Environmental Regulations.
Prior to entering public service, Barry spent 16 years as an investment banker, with J.P. Morgan Securities, The First Boston Corporation, and Banc One Capital Markets, where he was a Managing Director and National Head of the Public Finance group.
Barry received his J.D. from The University of Texas School of Law, his M.P.A. from Harvard University, and his B.B.A. summa cum laude from Texas A&M University. He has been married for 36 years, has four grown children, and has one adorable (and smart) granddaughter.
Sandra Gonzalez '09, Outstanding Young Alumna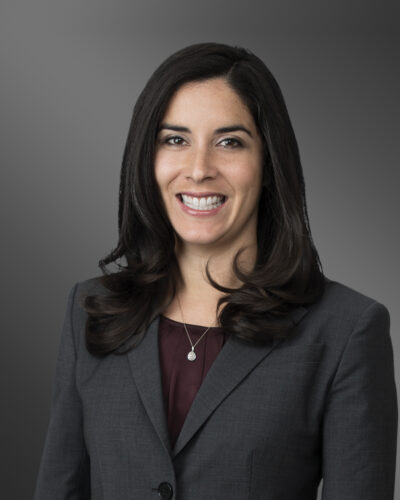 Sandra Gonzalez is the Chief Compliance Officer for HID Global, where she oversees, manages, and administers HID's Ethics and Corporate Compliance Program on a global basis. She has over 10 years of risk management, ethics, and compliance leadership experience across highly regulated industries with multinational organizations. Sandra designs, builds, and implements corporate compliance policies and procedures across an array of subject matters including anti-corruption, antitrust, supplier code of conduct, business code of conduct, conflict of interest, and gifts and entertainment. Sandra regularly speaks at universities and conferences on a variety of corporate compliance topics as well as diversity, equity, and inclusion.
Before joining HID, Sandra practiced law at Greenberg Traurig in Austin, first as an associate and then, from 2017-2022, as a shareholder. There, she advised clients on compliance issues, conducted internal investigations, and designed and performed compliance assessments and risk assessments.
Sandra served as Co-Chair of Greenberg Traurig's Latino Affinity Group, Somos GT, and head of pro bono for Greenberg Traurig's Austin office.
She is actively involved in the Austin Bar Association, American Bar Association, and Texas Bar Foundation, and served as a board member for the Travis County Women Lawyer's Association and as Deputy Regional President for the Hispanic National Bar Association.
Sandra is a Texas Law mentor and an MIT Educational Counselor and is a member of the Trail Foundation Arts and Culture Committee.
Sandra earned an S.B. in Materials Science and Engineering from the Massachusetts Institute of Technology in 2005 and her law degree from Texas Law in 2009.