A team of Texas Law students, coached by Texas Law alumni, swept the honors at this year's White Collar Crime Invitational trial advocacy competition, hosted by the Georgetown University Law Center. The Texas Law advocates were crowned team champions after winning every round on every judge's ballot throughout the three-day tournament, while Emily Ogden and Gus Talkington, both 3Ls, won three individual awards between them.
"This was the most challenging competition I've been in," said Ogden, who was named Best Advocate, Prosecution. "We spent a huge amount of time on the front end of trial preparation, studying the 118-page case packet and strategizing case theory as a team. There were a lot of red herrings in the packet, and we spent a great deal of time making sure we had a solid theory on both sides."
In addition to Ogden and Talkington—who won two awards, one for Best Advocate, Defense and another for Best Advocate in the Final Round—the Texas Law team included 2Ls Sofia Alcina, Derek Ficenec, and Sarah Lanier. They were coached by James Earl '17 and Jay Ellwanger '01.
The competition featured a federal criminal trial focused on white-collar issues, with 16 of the nation's top law school trial advocacy programs competing. "The Georgetown White Collar Crime Invitational gives students the opportunity to practice real-world skills that are used in federal courtrooms across the country every day, and to get valuable feedback from practicing litigators and sitting judges to further improve those skills," said Texas Law's Director of Advocacy Mike Golden '01. "The focus of our program is to give students the tools they need to be day-one ready in their legal careers."
The trial advocacy program includes much more than national competitions, though. Students in the program can access a robust academic curriculum, teaching workshops, and intramural mock trial and moot court competitions run by the school's Board of Advocates organization, as well as interscholastic tourneys such as the one hosted at Georgetown.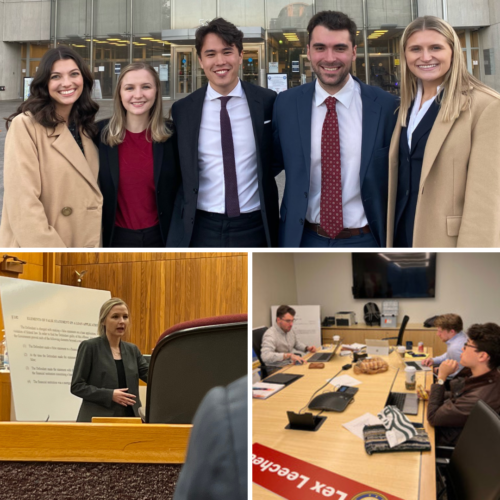 The White Collar Crime Invitational, held during the last weekend of October, consisted of three preliminary rounds, followed by semifinal and final rounds. In each round, every student advocate had the opportunity to conduct a direct examination, a cross-examination, and to present either an opening statement or closing argument of the case. The competitors were evaluated on their skills in these areas as well as their professionalism in handling the other aspects of trial participation, such as making routine objections and handling exhibits. The competition was judged by legal professionals in the Washington, D.C., area.
"This was so much fun," exclaimed Talkington. "You get to know your teammates really well and see their styles develop over the course of the competition. And you get much-needed trial experience in a profession where trial advocacy is growing rarer and rarer."
Added Talkington, "We also get coached by experienced and passionate trial lawyers, who are excellent sources of knowledge."
Ellwanger, the founding partner of Ellwanger Law and an adjunct professor at Texas Law as well as a coach for the advocacy program, turned his praise back to the students. "This team showed a ton of grit and were consummate professionals both inside the courtroom and in how they prepared. The opposing coach in the final round put it best when he said this Texas team showed him a whole new level of competition."
While the students and their coaches certainly enjoyed doing so well in this tournament, they appreciate that the higher virtue is the personal and professional development they enjoy from competing.
"I can think of no better way to prepare for my future career," said Ogden. "Competitions have helped me in all aspects of advocacy – from persuasive writing to effective speaking to facing my nerves when it is time to stand up and advocate. I take a lot of comfort in knowing that when it's my first time to represent a real client, I will be confident and prepared in the courtroom."