🤘STUDENT SPOTLIGHT: Alex Rigby '23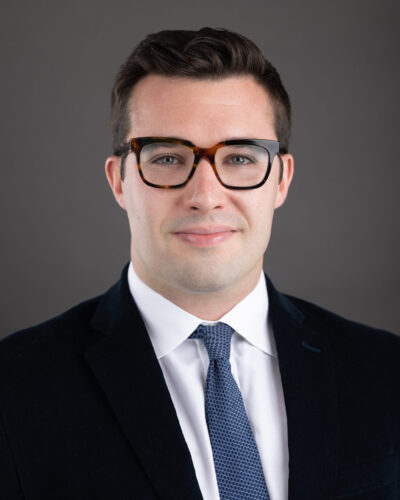 For this edition of Texas Law's Student Spotlight series, meet 3L Alex Rigby!
Q: What university did you attend as an undergraduate and how did your studies help prepare you for law school?
A: I went to the University of Virginia where I studied Government and Economics and minored in English. The degrees were great in preparing me to understand how to read texts closely, understand the legislative process and the politics of the law, and how to conduct evidence-based economic analysis as well.
What made you choose Texas Law?
A: Choosing Texas Law was a gut feeling after meeting Dean Bangs at the law school fair in New York in the Fall of 2019. The Texas folks were so welcoming and presented a case for why law students can be both successful and healthy – which was not the feeling I got from other schools. I was also eager to enjoy the fabulous clinical resources, the outstanding faculty, and the weather and food in Austin! 
What has been the best surprise about your law school experience?
A: The best surprise has been the people. I drove down to Texas from Delaware not knowing anyone and will now leave with a Rolodex full of friends, mentors, and role models. In particular, I'd like to thank Blake Welborn for his great friendship and professors Henry Hu, Abraham Wickelgren, and Chinmayi Sharma for their mentorship. 
What groups/clubs/internships have you participated in while at Texas Law?
A: I have been on the Editorial Board of the Texas Law Review and the Texas Review of Entertainment and Sports Law, have worked on the Supreme Court Clinic, and have been a TQ for the legal writing program. I also have been a research assistant for professors Hu, Sharma, and Heather Way, have interned for the Honorable Judge Yeakel of the Western District of Texas, and have worked for two law firms (Rushing McCarl LLP and Nix Patterson LLP) as a semester clerk. 
What are your plans once you graduate in the spring?
A: I will be clerking for Chancellor Kathaleen McCormick of Delaware's Chancery Court for 2023-24. After that, I have an offer to work for Cravath, Swaine & Moore in New York. Long run, I plan to practice corporate and antitrust litigation, hopefully on the plaintiff's side.