🤘 STUDENT SPOTLIGHT: Jamaal Lockings '24
For this edition of Texas Law's Student Spotlight series, meet 2L Jamaal Lockings! Jamaal is this year's president of the Student Bar Association.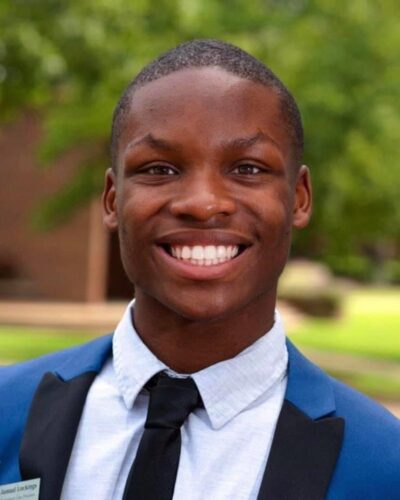 Q: Where did you do your undergraduate work, and what did you major in?
A: I attended the University of Central Arkansas, where I double majored in Communications and Public Relations with a minor in Interdisciplinary Studies.
Tell us about your experience with the Student Bar Association (SBA). 
A: I have the pleasure of serving as the president of the SBA. The SBA not only acts as a liaison for students to the administration but also works to implement programming that promotes mental and physical health as well as community building. Being able to lead this organization and contribute to the experiences of my peers has been nothing short of incredible. I've gained leadership and conflict resolution skills, in addition to being reminded why I love being an advocate for my community … no matter how that advocacy may manifest.
What has been the biggest challenge about being in law school?
A: The biggest challenge has been prioritizing and managing your time in a way that allows you to remain dedicated to your studies but also enables you to do activities that are beneficial for your physical, mental, and emotional health. I'd like to do well in law school, but I'd also like to be happy; fortunately, these goals are not mutually exclusive (despite popular belief).
What made you choose Texas Law?
A: I chose Texas Law because I truly believe what happens here changes the world. Texas Law is an incredible institution, which in part is because of the outstanding faculty, staff, and student population we have. While this is why I came here, I love it here because of the community of peers I've been surrounded by and the support system they provide.
What's your favorite study spot?
A: My favorite study spot is Civil Goat Coffee on Guad (no, this is not a paid ad); I love to go there every weekend! I get there early because it can get crowded, which is what happens when the coffee and food are delicious.
What's the most interesting class you've taken in law school?
A: The most interesting class I've taken in law school is my seminar on Election Law & Policy. This will come as no surprise to anyone who knows me as I have passion and inclination towards voting rights and policy work. This is the kind of work I hope to do upon graduation and for the majority of my legal career!