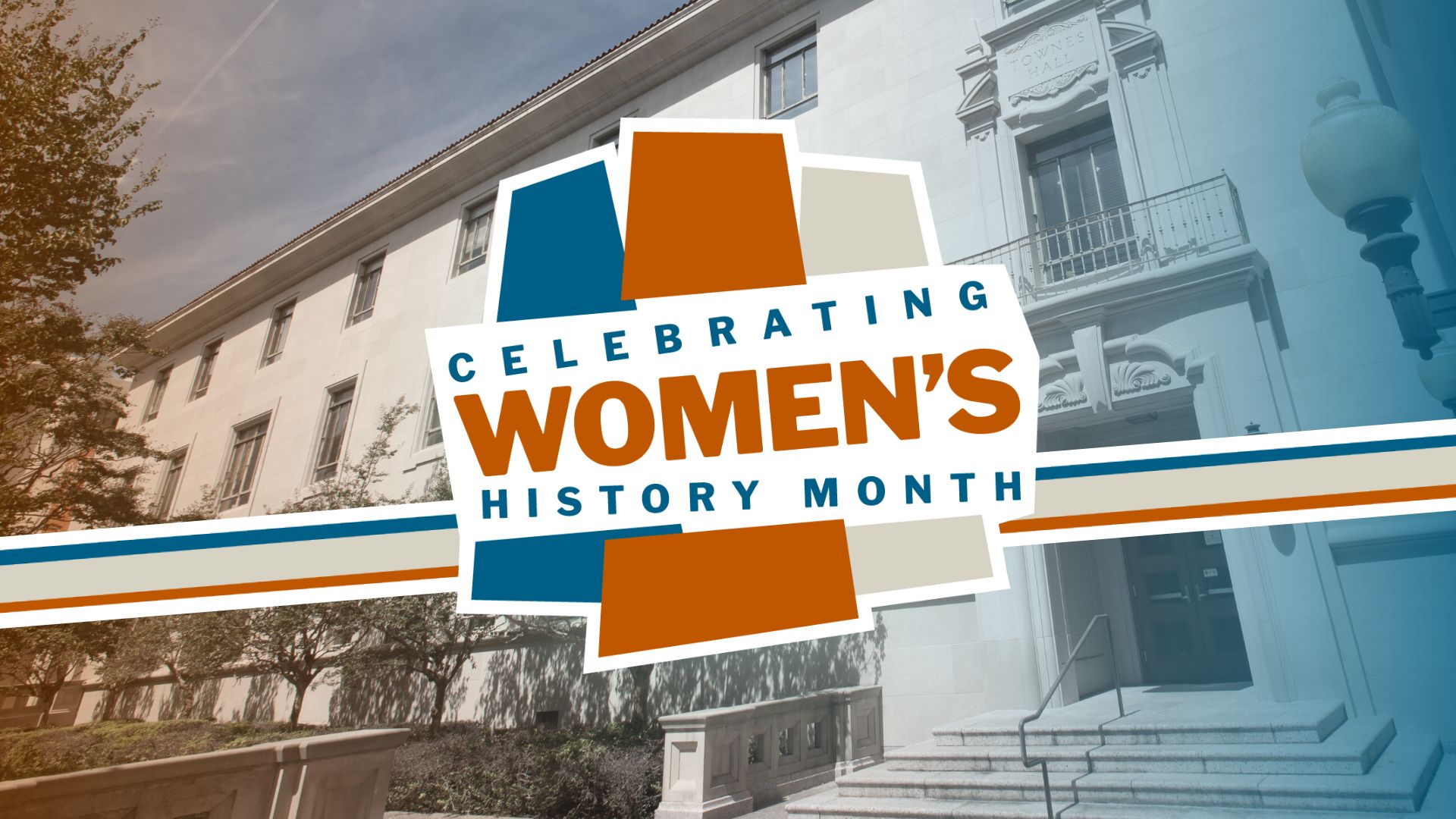 Observed throughout the United States each March since the 1980s, Women's History Month honors and celebrates the impact women have made on society. On The Forty Acres, we recognize those students, faculty, staff, and alumnae who have helped shape the history of The University of Texas at Austin and of Texas Law, starting with Ella Crim Lynch, the first woman to attend the law school, and Irene Gertrude Brown and Rose Zelosky, our first women graduates, in 1914, to Helen Hargrave, the first women to receive tenure at Texas Law, in 1960, and many thousands more.
This month, The University of Texas at Austin is featuring stories, exhibits, events and reading resources that highlight extraordinary women in history and the present. Stories about the impact of women at Texas Law that have been shared in 2023 have highlighted Professor Elizabeth Sepper, 2L Crystal Tran, 3L Gloria Jones, Judge Diane Wood '75, Assistant Dean of Student Affairs Elizabeth Bangs, and 2L Mary Grace McFarland. You can also read the inspiring story of how 3L Emily Ogden, working with Prof. Jeana Lungwitz and alumna Leslie Frielander '08, won her first-ever trial as a student-advocate in the Domestic Violence Clinic, enabling a woman and her children to obtain an unusual lifetime protective order.
Within the law school, the Center for Women in Law was created in 2009 as the premier educational institution devoted to the success of the entire spectrum of women in law. It combines theory with practice, identifying and addressing the persistent issues facing individual women and the profession as a whole. The center serves as a national resource to convene leaders, generate ideas and lead change.
Throughout the month, we'll highlight more of the impact women past and present make at Texas Law. For now, we are sharing below, with permission, a comprehensive university-wide listing of resources that was compiled by Jessica Sinn of the Division of Diversity and Community Engagement. And please keep checking back for updates to the list!
Campus Events
March 1 — Book Talk Featuring Carol Anderson 
Emory University Professor Carol Anderson will discuss her new book titled "The Second: Race and Guns in a Fatally Unequal America" at an event hosted by The LBJ School of Public Affairs' Center for the Study of Race and Democracy. The event is happening on March 1, 6 p.m. at the Bass Lecture Hall. Registration is required.
March 3-31 — Women's History Month Movie Showings 
The Gender & Sexuality Center (GSC) is featuring movies and clips from the Ana Sisnett Library throughout the month of March to celebrate women across the globe. Showings will be announced on the GSC's Instagram channel: @gscatut.
March 3 — A Conversation with Vicki Hollub
The Cockrell School of Engineering is hosting a talk with Vicki Hollub, Oxy president and CEO, titled "The Role of the Oil and Gas Industry in a Sustainable Energy Future" on March 3, 2-3 p.m. at the Gary L. Thomas Energy Engineering building (GLT 5.104).
March 8 — Meet the Mayors
The LBJ School of Public Affairs is hosting a speaker event featuring Mattie Parker, the youngest mayor of any major U.S. city and the 45th mayor of Fort Worth, Texas. The event will take place on March 8, 12 p.m. at Sid Richardson Hall (SRH 3.122).
Art & Culture
Choreographing Sisterhood
The College of Fine Arts' Department of Theater and Dance presents "EMERGE," featuring new work from professional and student choreographers. The performance features a piece by choreographer Gesel Mason titled "Renaissance Futura," which provides a depiction of sisterhood that places value on courage and vulnerability. "EMERGE" runs through March 1-5. More information available here.
Exploring Identities and Experiences of Women
Visit the Blanton Museum of Art to see the "Las Hermanas Iglesias" exhibition (open through July 9), which explores the complexities of caregiving from the perspective of two sisters Lisa and Janelle Iglesias. Their exhibition debuts new artworks that draw from their own recent experiences with fertility, pregnancy, loss and birth. Watch an artist talk with Las Hermanas Iglesias on the Blanton's YouTube page.
Stories
Holding the Torch
Turn back the pages of time to the early 1980s when Brenda Burt came to campus and took charge of the Multicultural Information Center (now known as the MEC). For more than three decades, she has touched the lives of many students, helping them feel more accepted and at home during their time on campus. Read the full story.
Citing Black Women
Read about College of Liberal Arts Professor Christen Smith's "Cite Black Women" project, and how it is motivating people across disciplines to honor the intellectual property of those who historically have been overlooked and whose work has gone uncited.  Read the full story.
Documenting Black Women Athletes
Amira Rose Davis is an assistant professor and Harrington Faculty Fellow in the Department of African and African Diaspora Studies, where she is finishing her first book, "Can't Eat a Medal: The Lives and Labors of Black Women Athletes in the Age of Jim Crow." Read about her life and work. 
Recording Stories of Incarceration 
Listen to an audio interview with Sara Bennett, an artist and public defender who photographs and records stores of formerly incarcerated women. The interview is part of the Blanton Museum of Art's exhibition, Day Jobs, which explores how artists' day jobs impact their practice.
Celebrating Dr. Lilia Raquel Rosas
Dr. Lilia Raquel Rosas, assistant professor of instruction for the Department of Mexican American and Latina/o Studies, has been awarded the 2023 Ellen Clarke Temple Research Fellowship in Texas Women's History presented by the Texas State Historical Association. Read the full story.
Reading and Listening Resources
Add These Books to Your Reading List
Find a listing of book and articles recommended by faculty members in the Center for Women's & Gender Studies that explore various issues related to women.
Download the New 'Overcoming' Audiobook
Download a free copy of the new audio adaptation of "Overcoming," a book penned by a beloved figure in UT history: Almetris Marsh Duren. Narrated by members of the Precursors, staff and alumni, the chapters cover various challenges and triumphs faced by African Americans on the Forty Acres.
Listen to Women's History Lessons
The Department of History's Not Even Past website offers a wealth of learning and teaching materials covering a range of topics—from women's suffrage to contraception rights to important figures in women's history.
Visit the Anna Sisnett Library
Housed within the Gender & Sexuality Center (SAC 2.112), the Ana Sisnett Library features an array of reading materials—genre fiction, nonfiction, magazines, etc.—that honor and celebrate women and the LGBTQ+ community. Ana Sisnett was a celebrated author, educator, artist and activist.