Diverse Voices Series Speaker Prof. Wendy Greene Wants to #FreeTheHair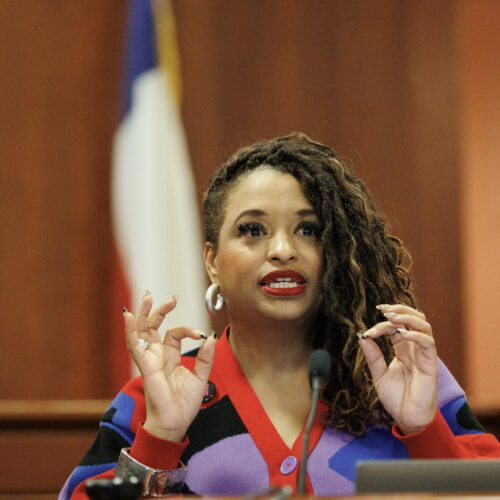 As part of Texas Law's Diverse Voices Speaker Series, Professor Doris "Wendy" Greene spoke about her legal research into combatting natural hair discrimination in a presentation entitled "#FreeTheHair: Locking Black Hair to Civil Rights Movements." She presented to an engaged audience of students and faculty in the school's Eidman Courtroom on Saturday, Feb. 18, 2023.
A trailblazing U.S. anti-discrimination law scholar and advocate who teaches at Drexel University Kline School of Law, Prof. Greene has devoted her professional life's work to advancing racial, color, and gender equity in workplaces. Specifically, her research and advocacy combat race-based discrimination of African descendants when donning natural hairstyles like twists, braids, Afros, and locs. She founded the #FreeTheHair movement and was a legal architect of the federal CROWN (Creating a Respectful and Open World for Natural Hair) Act.
"I walked away from the talk feeling uplifted and more secure in my own natural hair journey as I know there are many advocates and scholars fighting for natural hair rights in all spaces, such as the workplace and school," said 2L Jaria Martin. "I also gained a better understanding of the legal arguments to combat hair discrimination as it was important for me to learn and understand the legal perspective of the long-standing history of hair discrimination and how it still shows up today."
"We were excited to schedule Professor Greene as a Diverse Voices speaker because of her scholarly contributions on workplace equity," said Associate Dean Shavonne Henderson. "Her leadership has and will continue to positively impact communities as well as current and future attorneys."
Prof. Greene also serves as the director of the Center for Law, Policy and Social Action (CLPSA) at Drexel University. Her legal scholarship and public advocacy explore the constructions of identity that inform and constrain anti-discrimination law, and her work has generated civil rights protections throughout the United States.
This event was accredited by the State Bar of Texas for 1.00 hour of CLE credit.
About the Diverse Voices Speaker Series
The Diverse Voices Speaker Series highlights scholars who represent communities historically excluded in the legal academy and brings distinguished speakers to Texas Law to share their experiences and insights with the whole law school community, including faculty, staff, and students. Special thanks go to the Diverse Voices Speaker Series Founding Sponsor, Vinson & Elkins LLP, and Partner Sponsor, Greenberg Traurig LLP. The next Diverse Voices event will be scheduled in the fall of 2023.
Upcoming DEIB Event
On March 23, Texas Law's Office for Equity and Inclusion will co-host the Central Texas Women in Leadership Symposium with the Texas Diversity Council. The theme "Rising in Resilience: Achieving Empowerment through Advancement & Adaptability" will be explored starting at 8 a.m. in Francis Auditorium. The event will be moderated by Vidya Moorthy, founder/CEO/DEI specialist of Clural LLC. Registration is open online.
Panelists will be:
Ramona Arora, VP of Global Talent Development and Chief Learning Officer, Dell Technologies
Linda Hackelman, VP, Human Resources, Trellis Company
Nichele Lindstrom, VP of E-Commerce, Whole Foods
Suzanne Plummer, Fellow and CVP, Technical Diversity and Development, AMD
Alice Pope, VP of Global Device, Digital and Alexa Support, Amazon