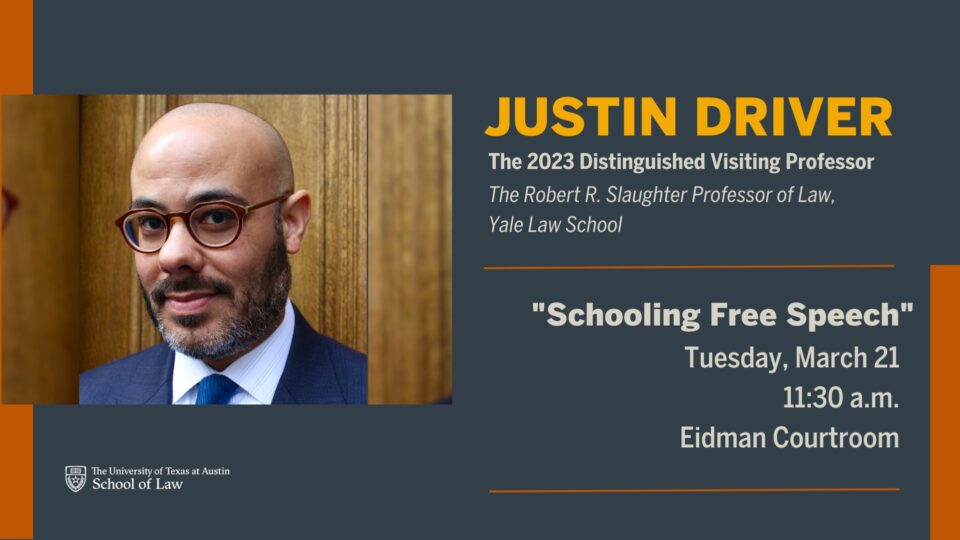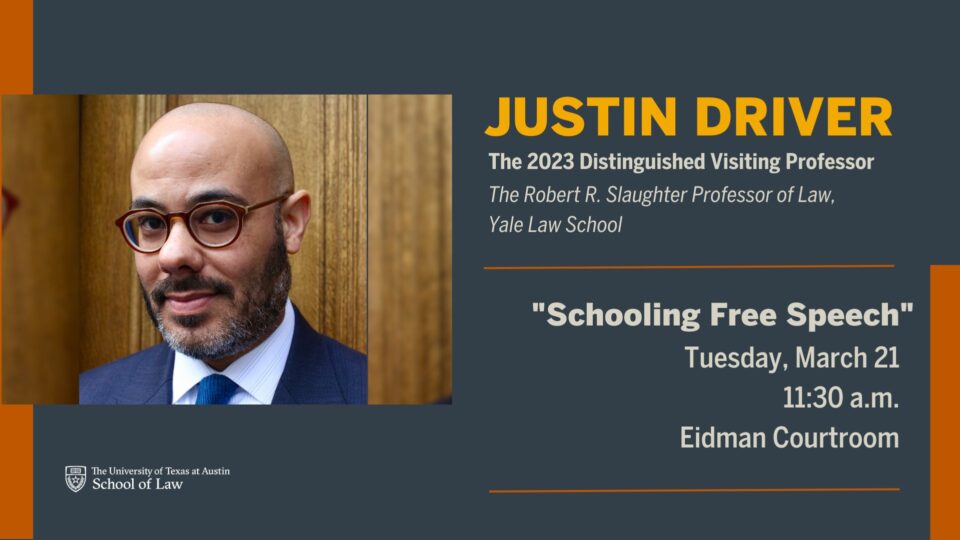 Special Event: Justin Driver on "Schooling Free Speech"
Acclaimed law professor and author Justin Driver, who is in residence at Texas Law the week of March 20 as a Distinguished Scholar, will deliver a public lecture on Tuesday, March 21, titled "Schooling Free Speech." The lecture takes place at 11:30 a.m. in the law school's Eidman Courtroom, and light refreshments will be served afterwards. This event is open to the Texas Law community and to the general public.
Driver, who was a member of the Texas Law faculty from 2009 to 2014, is the Robert R. Slaughter Professor of Law and Counselor to the Dean at Yale Law School. During his March residency on The Forty Acres, he will teach a course called Students Constitutional Rights, and will meet with law students in small groups as well as participate in faculty colloquia.
After leaving Texas in 2014, Driver joined the University of Chicago Law School, where he was the Harry N. Wyatt Professor of Law. In 2018, his book, The Schoolhouse Gate: Public Education, the Supreme Court, and the Battle for the American Mind, was released to widespread acclaim, winning many awards. The book was selected as a Washington Post Notable Book of the Year and an Editors' Choice of The New York Times Book Review. Driver also received the Steven S. Goldberg Award for Distinguished Scholarship in Education Law, and was a finalist for the American Bar Association's Silver Gavel Award and Phi Beta Kappa's Ralph Waldo Emerson Book Award.
A recipient of the American Society for Legal History's William Nelson Cromwell Article Prize, Driver has a distinguished publication record in the nation's leading law reviews. He has also written extensively for general audiences, including pieces in Slate, The Atlantic, The New York Times, The New York Times Book Review, The Washington Post, and The New Republic, where he was a contributing editor. An elected member of the American Law Institute and of the American Academy of Arts & Sciences, Driver is also an editor of the Supreme Court Review.
In 2021, President Biden appointed Driver to serve on the Presidential Commission on the Supreme Court of the United States, a distinction he shares with, among others, Texas Law Prof. Tara Grove.
Driver is a member of the American Law Institute and the American Academy of Arts and Sciences.
Related News: Driver to Return as Distinguished Visiting Professor in 2023