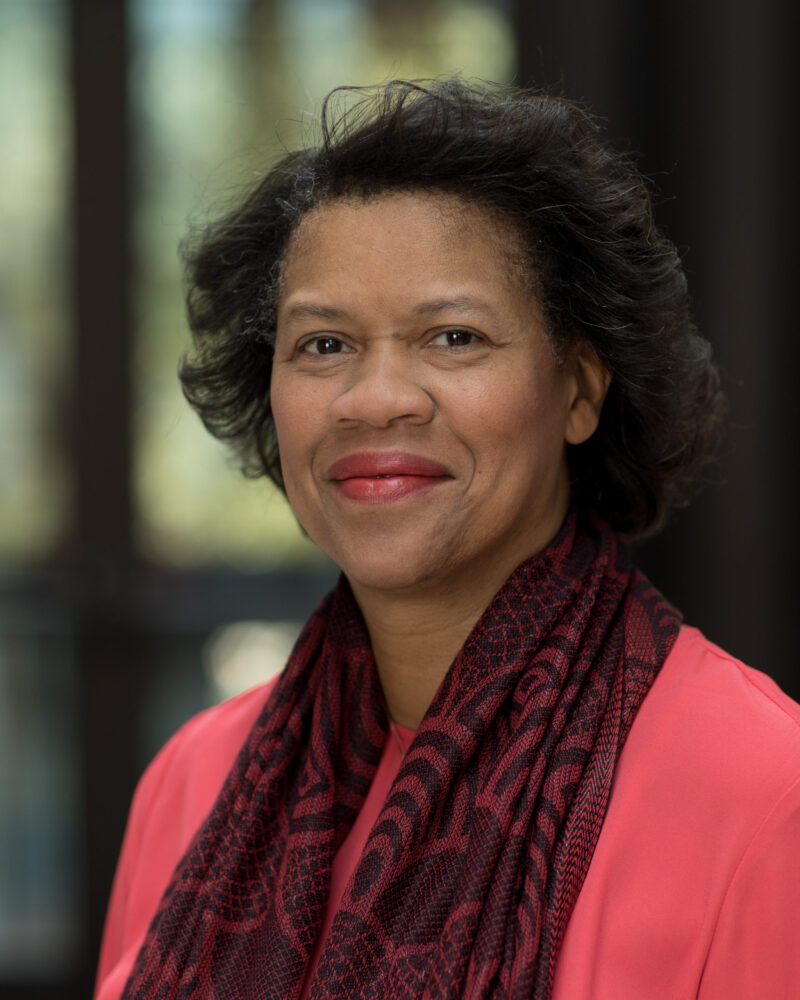 Law school classes aren't often based on current events, and for good reason. Headline news can make for good hypotheticals, but the risks include being overly reactionary and just plain getting it wrong.
Professor Mechele Dickerson hasn't just pulled lessons from the COVID-19 pandemic and the Trump presidency into the courses she teaches. She has built entire courses in race and class around the pandemic and in civil procedure around the former commander-in-chief. The courses she has taught on these subjects in the past few years have illuminated the underlying subject matter for her students and provided insights into the foundational legal concepts around which the courses were built.
Learning from COVID
Dickerson's courses on the lessons from the pandemic have their roots a few years ago, when she was writing a book with the working title "The Neglected Middle Class." Beginning in 2017, she taught an undergraduate course called "America's Struggling Middle Class," exploring the topics she'd researched for her book, such as disparities in housing and education. In the spring of 2020, "the book [was] coming along beautifully," the manuscript was nearly done, and the course was in full swing for another semester.
That all changed with the pandemic. "March 2020 comes and that pretty much derailed everything," Dickerson recalls. "So, the book, I had to rewrite, because it's hard to write a book about the middle class during a global pandemic and not kind of radically rethink what COVID showed us about the middle class and how COVID exacerbated the problems facing the middle class."
Along with going back to the drawing board with her book, Dickerson pivoted the course to incorporate the lessons of COVID. As students sheltered in place and watched the first weeks of the pandemic play out on the news, they were able to understand the course's subject matter in a more concrete way. The pandemic provided a new lens through which to view issues like job loss, K-12 educational disparities, and food insecurity.
Since then, Dickerson has taught three other courses on the impact of COVID, each with a distinct focus.
Dickerson calls "COVID and the Law," which she taught in the fall of 2021, "probably the best class I've ever taught in life." Dickerson originally proposed that the course would discuss lessons learned from the pandemic, but she quickly realized she would need to revise the course because the pandemic was still ongoing. She also realized that the best way to teach it was to bring in guest lecturers from around the university. In each weekly session, students heard from experts on topics like medical issues, environmental justice, the rights of people who are in jails, prisons, and detention facilities, workplace health and safety laws, intellectual property law, and more.
Also in the fall of 2021, Dickerson taught another undergraduate seminar, "COVID Crisis: Financially Fragile Americans," which built on many of the themes in "America's Struggling Middle Class."
This spring, she is teaching "Race, Class, and COVID," an interdisciplinary cross-listed course that explores topics including public health disparities and varying behavioral responses to social distancing and other mandates. She vows this will be her last COVID course. "I do need a little bit of a break from COVID," she says. Even so, she says, "I'm always probably going to teach or want to teach something involving race or class."
Dickerson's book is now scheduled to be released in 2024 by Harvard University Press. While she had been reluctant to essentially rewrite a book she'd nearly completed, Dickerson says the research she did around the effects of the pandemic vastly improved the quality of the book.
An unusual approach to Civil Procedure
In addition to COVID-related courses, Dickerson shaped another new course around current events. As she taught first-year Civil Procedure in the spring of 2022, she found herself frequently explaining the concepts with examples from cases involving individuals who had been associated with former President Donald Trump, whom she references as "FPOTUS." "I realized from that I could do … an entire Civ-Pro course, using just litigation involving FPOTUS or his orbit," she says. For example, the lawsuit by former Trump attorney Michael Cohen against former U.S. Attorney General William Barr included a lengthy period to serve the complaint on Barr and prompted discussions in Dickerson's class about the mechanics and challenges of service of process.
Offered for the first time this spring, "Procedure and Politics" discusses a range of issues, such as service of process, motion practice, discovery, and forced arbitration. Two things are very clear from the Procedure and Politics syllabus: it isn't a partisan course, and if you disliked Civil Procedure, you'll hate Procedure and Politics.
Dickerson says students in the class generally take a nuanced approach to the subject. If the discussion veers toward the political, she encourages students to consider whether they would hold the same position if someone on the other end of the political spectrum were involved.
Challenge for professor, opportunity for students
While current events can help students understand the operation of the law, there are challenges associated with teaching courses like these. With most of her students constantly on social media and asking about issues they see in their feeds it can be difficult to stay current with the topics covered in the courses. "I had to step up my research game and get on Twitter every day," she says.
Further, in teaching a course about events that are still in progress, Dickerson says, "there's always the risk that you mess it up."
But the reward for the hard work and uncertainty is that Dickerson's students can see real life examples of the principles they learn in her classes and elsewhere in law school. One day, as she was observing a small group discussion in Procedure and Politics, she overheard a student saying that they learned more about civil procedure in the class than in first-year Civil Procedure.
"Grace and flexibility"
Dickerson originally came to Texas Law in 2006 to teach bankruptcy alongside Jay Westbrook, "the god of bankruptcy." She says there's a common view in academia that scholarship and teaching are separate disciplines, but she believes her research and teaching go hand-in-hand.
"Texas, particularly now in terms of my scholarship and my teaching, is absolutely perfect, because we're a very large research university, which means that I am given grace and flexibility to teach where my research is going," says Dickerson. Dickerson has been recognized for both her teaching and her scholarship. She is an elected member of the American Law Institute, the group that creates Restatements of the Law. Membership requires confidential nomination and support from other members, who include eminent judges, lawyers, and legal scholars. She also was inducted into the University of Texas Academy of Distinguished Teachers, the university's highest award for classroom teaching.
Currently, Dickerson serves as the faculty athletics representative, a role in which she often attends university sporting events. She's always enjoyed sports and when her two sons – who both played collegiate sports themselves – were younger, that included being a sports mom. While she's not ruling out any possibilities, she says she'd welcome the opportunity to consider teaching or writing about college athletics, a subject rife with potential legal ramifications from race and class issues to the changing concept of athlete amateurism.
While she isn't entirely sure where she'll turn her scholarly focus next, one thing is certain. According to Dickerson, she'll be at the law school for life…and beyond. "I plan to be buried in my boots here," she quips.