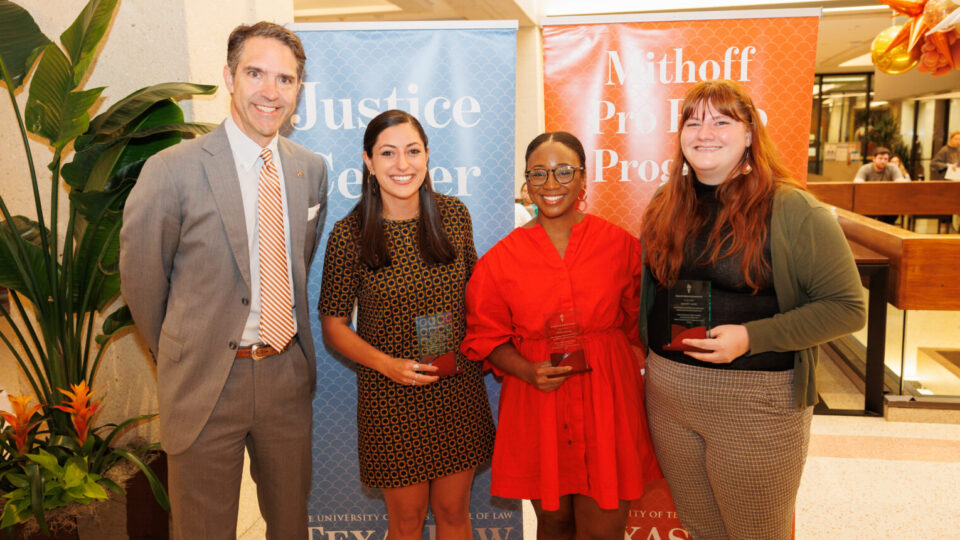 Texas Law's annual Celebration of Service, the only law school awards ceremony that honors both students and faculty, took place on April 18 in the Susman Godfrey Atrium. The perennial favorite — better known informally as the "Ice Cream Social" — saw a bigger-than-usual crowd, thanks in large part to a bigger-than-usual slate of awards being presented. That slate included an expansion of the recognition of beloved teachers by the Student Bar Association and a new set of accolades for third-year and first-year students presented jointly by the Office of Student Affairs and the Office of Equity and Inclusion.
Another reason for the standing-room-only crowd was the acknowledgement of Mary Crouter, who, as assistant director of the William Wayne Justice Center, has served as the Ice Cream Social's de facto producer for nearly two decades.
"It is impossible to think of this event without thinking of Mary," noted Dean Bobby Chesney in his welcoming remarks. "And even more impossible to count her influence on hundreds upon hundreds of public service students in her time at Texas Law, many of whom have been honored at this event in past years."
While the annual recognition of service was begun by Crouter and her Justice Center colleague, Director Eden Harrington, to recognize students for their exceptional work in public service, the event has grown to shine a spotlight on pro bono projects, teaching excellence, and, this year, student leadership in the school's Society Program, Thriving in Law School programming, and the Pipeline Program.
This year's event was sponsored and presented by the William Wayne Justice Center, Richard & Ginni Mithoff Pro Bono Service Program, Student Bar Association, Student Affairs Office, Office for Equity and Inclusion, and the Pipeline Program Beginnings and Beyond.
We list here of all the awards and recognition:
Student Awards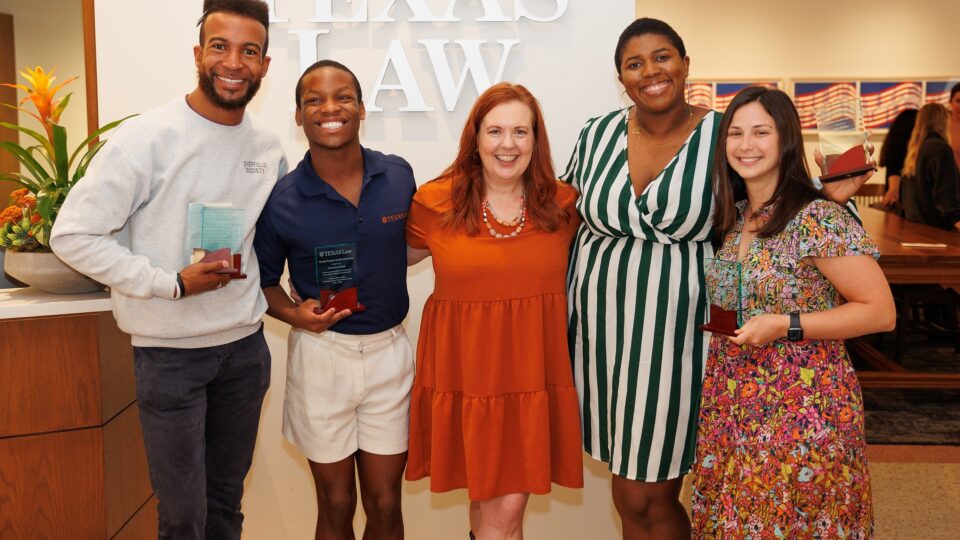 Graduating Student Awards were presented by both the Justice Center and the Offices of Student Affairs and Equity & Inclusion. The Justice Center recognized 3Ls Lea Kokenes, Alyse Munrose and Grace Thomas for their outstanding leadership and contribution to the community. The Office of Student Affairs and Office for Equity & Inclusion presented awards for 3L and 1L students. From the soon-to-graduate Class of 2023, Bola Ibidapo, Sam Jefferson and Leah Weintrub were honored. 1L Natalya Baptiste received the First-Year Student Award.
Leader Award
3L Sam Jefferson and 2L Jamaal Lockings – both of whom were officers this year for the Student Bar Association (SBA) – were selected to receive Society Program Leader Awards. Jefferson served as SBA's vice president for operations and Lockings was this year's president.
Teaching Awards
The Student Bar Association recognized seven members of the Texas Law faculty for their focus on students: Professor/Senior Lecturer Graham Strong, Lecturer Brian Pérez-Daple, Seminar Professor Derek Jinks, Clinical Professor Lucy Wood, Adjunct Professor Jonathan Lass, 1L Professor Bob Bone, and Legal Writing & Research Professor Lori Mason.
Hildy's Cutback Award
Named after Dean Hildebrand, a legendary former dean of the law school, Hildy's Cutback Award is awarded to the 3L student selected by vote of the faculty who, "by virtue of intransigence or adaptability, failure or success, personality or persistence, handicaps or ability, or perhaps simple mundane magnetism, captures the imagination and respect of the law faculty." This year's award went to Emily Ogden, who has received multiple honors in the advocacy program and also has worked with the Domestic Violence Clinic.
Pro Bono Recognition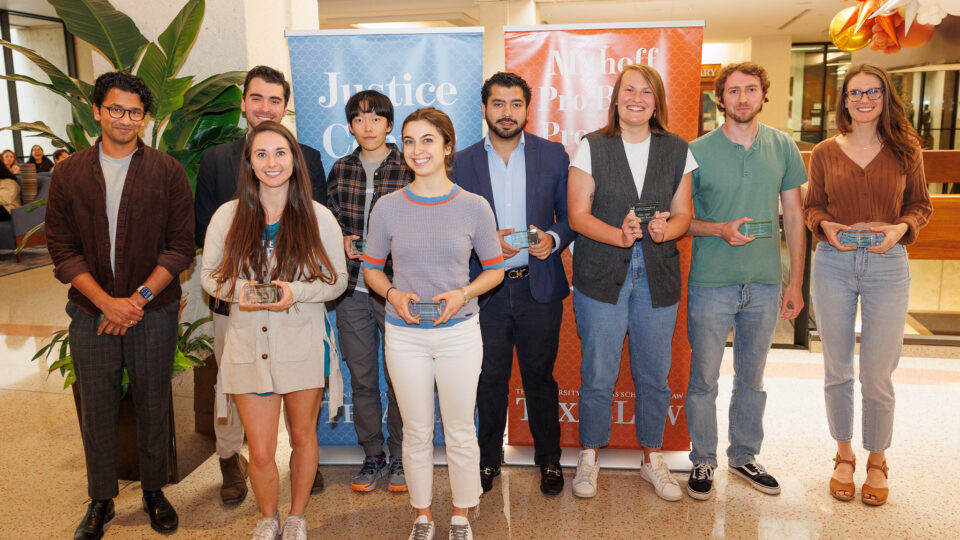 Many Texas Law students offer their time and talents to do pro bono work through the Richard and Ginni Mithoff Pro Bono Program, which promotes an ethic of service while empowering students to use their developing legal knowledge and skills to address unmet legal needs in the community.
Three students from each class, as well as three LLM students, were honored as Pro Bono Beacons. They were: 3Ls Adarsh Parthasarathy, Sally Vandenberg, and Anatasia Zaluckyj; 2Ls Derek Ficenec, Tim Harris, and Courtney Weber; 1Ls Cate Byrne, AnaRose Hebein, and Alana Park; and LLM students Xixuan Li, Victor Manuel, and Vazquez Maulen.
A total of 26 Pro Bono Scholars were honored for their work this year helping to further the mission of the Mithoff Program. Selected at the start of each academic year, scholars plan and implement pro bono projects and conduct research, intake, and outreach.
Many Texas Law students take the Pro Bono Pledge, committing themselves to 50 hours of pro-bono work in three years. Impressively, 107 graduating Lawhorns met that goal. In addition, 147 2Ls have accumulated 30 hours of pro bono service and are on track to meeting their pledge commitment, while 109 1Ls recorded 10 hours this year.
Pro Bono partner organizations, which are critical to identify and offer opportunities to Texas Law students, were recognized. Supervising attorneys also were thanked.
During the ceremony, remarks were shared by faculty members Dean Bobby Chesney, Assistant Dean Elizabeth Bangs, Associate Dean Shavonne Henderson '05, Professor Jay Westbrook, Pipeline Program Director Nicole Simmons '07, and Mithoff Pro Bono Program Director Andrea Marsh.
View a PDF of the Justice Center Awards Program 2023.
View photos from the event: