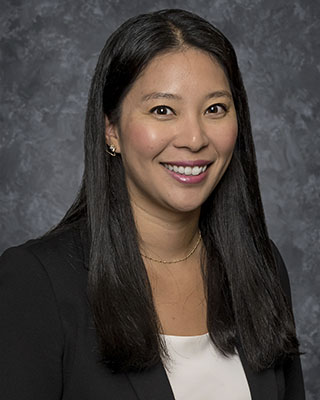 West Point graduate. Army officer. Combat veteran. Wife. Mother of three.
While the journey of third-year law student Diana Kensy has followed a different path than most of her classmates, that path has allowed her to genuinely appreciate the gifts that life has given her and to value the opportunities that Texas Law has provided.
When Kensy headed to the United States Military Academy out of high school, she had no idea what the next decade had in store for her. And she never imagined law school would be a part of her future.
"I was a STEM major at West Point and that's where I felt my strengths were; law school was never on my radar," she said. "I knew with a fair degree of certainty that I would deploy to the Middle East after graduating so my focus was to get prepared for that task mentally and physically."
Kensy's life plan unexpectedly shifted when she met her future husband Taylor, who also attended the Academy. They started dating after graduation, then shifted to long-distance mode as she was stationed in Washington state and his assignment was in Alaska. In 2014, she was sent to Afghanistan on a combat tour. After her return, they got married and were able to co-locate, both stationed at Joint Base Louis-McChord in Tacoma, Wash.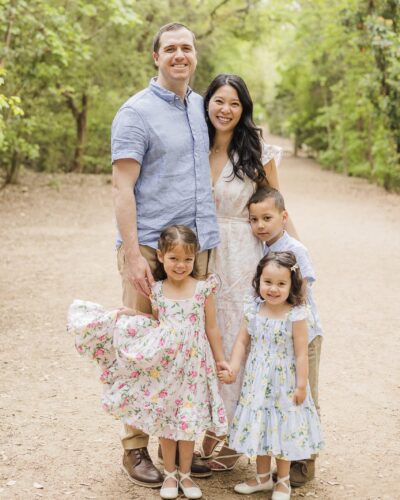 During her military service, Kensy got her first taste of advocacy work supporting and assisting sexual assault survivors. While her official position was Medical Services Corps Officer, she volunteered to take on the extra role of victim advocate and found it extremely rewarding.
"Through my experiences working as a victim advocate, I was able to see how survivors could benefit from better legal services," she explained.
The Kensys welcomed their first child, Caleb (now 6), as Diana transitioned out of the military. When her husband chose to pursue law school, Diana decided to take the opportunity to stay at home with her family, which grew to include daughters Mila (4) and Emma (3). It was then that she evaluated what she wanted next, and she knew that practicing law could potentially allow her to help those in need.
"When my husband graduated from law school, I realized that it was a make-it-or-break-it moment for me," remembers Kensy. "I loved being a mom and was fortunate to have been able to take a step back in my career for those years. But I knew that if I wanted to pursue law school, this was my opportunity to do it."
The couple's quest was to find a location where they could both take the next step in their lives. A Fort Hood assignment and acceptance to Texas Law made that search a reality.
Domestic Violence Clinic Win
Perhaps Kensy's motherhood role makes her especially sensitive to the safety and well-being of children. In her recent case with the Domestic Violence Clinic, she successfully terminated parental rights and obtained a divorce for her client following a two-day trial. Kensy experienced the real thing – taking depositions, preparing and examining witnesses, cross-examining witnesses, and presenting the opening and closing statements – under the supervision of Clinical Professor and Director of the Domestic Violence Clinic Jeana Lungwitz, who was impressed by Kensy's poise and competence.
"Diana is a true professional in her relationship with her client, explaining things and preparing her client to testify," praised Lungwitz. "Her ability to think on her feet was amazing – particularly for someone who had never represented anyone in court before. The bailiff paid her the greatest compliment when he asked me if I was sure it was her first trial!"
Kensy valued the experience that she gained through working the case. "The Domestic Violence Clinic gave me practical skills that I can carry with me outside a classroom environment," she explained. "Not only did I learn how to take a case to trial, but I learned how to interact with clients and navigate emotionally charged situations in an empathetic way."
While Kensy stepped in as trial was nearing, three previous Texas Law students in the DVC worked tirelessly on the front end of the case. Rebekah Presley '22 gathered information that was vital to the case and took two depositions. Emily Johnston '22 worked on the case last fall proposing discovery requests unique to the facts of this case. Amy Wheeler '21 was the first student to work on the case nearly two years ago, putting together a timeline of the case and beginning to gather evidence.
The Next Chapter
As Kensy wraps up the law school chapter of her life, she can reflect on her three years here with a true sense of accomplishment. In addition to her work with the Domestic Violence Clinic, she also was an articles editor of the Texas Law Review and a member of the Texas Law Veterans Association. In 2022, she was selected as a recipient of the Susman Godfrey Prize, a national award presented annually to 12 law school students of color from around the country who have demonstrated academic excellence and overall achievement.
Kensy summed up her feelings as she nears a time of transition. "I just feel grateful … I started my law school experience feeling grateful to be back in school and knowing I was moving towards the next phase of my career. That's how I'm closing it out too … grateful for the experience and the opportunities I had at Texas Law."
The next step in Kensy's journey will begin this summer as her family relocates to Virginia. Her husband has been selected for promotion in the Judge Advocate General (JAG) Corps, while Diana has a clerkship lined up in the Eastern District of Virginia with Judge David J. Novak. Over the summer, they plan to get their kids settled in before she comes back to take the bar exam in July.
In terms of her career goals, Kensy knows one thing for certain: public service will always be an important part of her life. "I plan to maintain space for pro bono work," she said. "Domestic violence and sexual assault advocacy will always be an important priority for me." After her clerkship, she plans to return to Austin to practice law.