Permanent Class President Jason Onyediri Addresses Classmates at 2023 Sunflower Ceremony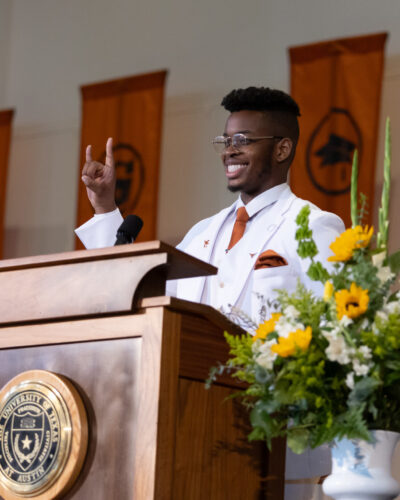 Permanent class president Jason Onyediri '23 spoke on behalf of the class at the 2023 Sunflower Ceremony, held May 6, at the Gregory Gym on the UT Austin campus. Onyediri reflected on the "collective story" that he and his classmates had written over the past three years.
Faced with the class's unusual start—due to what he described as "the invisible antagonist called Covid"—Onyediri shared how, despite social distancing and remote learning, members of this class developed relationships that provided valuable support throughout the 1L year to face down the rigors of school.
Onyediri said that he and his classmates drew particular inspiration from the words of then-dean Ward Farnsworth during their orientation three years ago. "Dean Farnsworth said 'The world needs you. It needs you urgently. And it urgently needs you to be great lawyers.'"
Onyediri closed his remarks by suggesting that his peers remember that quote as they begin to write the next chapter of their lives.
Onyediri was editor-in-chief of the Texas Law Review during law school and was selected in 2022 as a winner of the Susman Godfrey Prize, presented to only 12 law school students annually. He is a double Longhorn, earning his undergraduate degrees in biochemistry, with a minor in philosophy.
Onyediri, a Houston native whose parents are Nigerian immigrants, was actively involved with the Texas Undergraduate Law Review, as head editor, contributing editor, and writer.
After graduation, Onyediri will serve as a judicial clerk, first for Judge Royce Lamberth, Senior United States District Judge for the District of Columbia (and a member of the Texas Law Class of 1967), and then for Judge Carl Stewart of the United States Court of Appeals for the Fifth Circuit.
A video of Onyediri's speech and a full transcript of his remarks appear below.
As delivered on Saturday, May 6, 2023:
In law school, we read a lot of cases. Cases about all sorts of important and complex things, like fox hunting and hairy hands. These cases all contribute to the development of the law. But at the core of each of these cases is a story—a story about real people and their lived experiences. As we graduate today and begin our own contributions to the development of the law, I am honored to have the opportunity to reflect on our story as students at Texas Law. So, with the caveat that we all have an individual story worth telling, I think our collective story goes a little like this:
Chapter 1: IL
Our story begins with an invisible antagonist. COVID-19. That's right, our first year of law school looked very different from previous graduates of Texas Law. We began our legal education in a global health crisis that touched many of us personally. We spent that first year on Zoom, in breakout rooms, or socially distanced and behind masks. We had also just made it through a summer of divisive protests, and then we experienced the death of a Supreme Court Justice and lived through one of the most contentious presidential elections in modern history.
These events and the issues they implicated—race, rule of law, democracy—made it critically evident just how important what we were learning in law school was. And the wonderful faculty of Texas Law—essential characters in our story—impressed this upon us from the very start. In fact, before our first day of law school, each of us logged onto Canvas and watched a Welcome to Texas video prepared by then-Dean Ward Farnsworth in which he said something that has stuck with me since:
The world needs you. It needs you urgently. And it urgently needs you to be great lawyers.
And so we got to work. In our first year, we learned to think like lawyers. We learned to read like lawyers; to write like lawyers; and when we were asked difficult questions in class, at the very least, to sound like lawyers. We wrote memos and briefs, we determined subject matter jurisdiction, we calculated expectation damages, we applied the rule against perpetuities (begrudgingly).
Just as importantly, we made friends, forged relationships, and otherwise managed to be social while social distancing. We went on walks, studied outdoors, a few sections even managed to throw law proms their 1L year. We did trivia and scavenger hunts on Zoom to break the ice figuratively; and when our first winter storm came we relied on each other, perhaps to break some ice literally. So yes, there was fear, imposter syndrome, a learning curve, a grading curve, and other hurdles. But we got through it. And we got through it together.
Chapter 2: 2L
In our second year of law school, things began to look a little more normal. We returned to in-person class meetings and extracurriculars. We realized that our peers and professors were taller or shorter than we expected in person, we learned what we looked like beneath our masks, we had to wear pants again.
But also true to a typical second year of law school, we worked incredibly hard. Many of us put a lot on our plates. We joined organizations and journals, chose challenging classes, and participated in mock trial and moot court. We became research assistants and teaching quizmasters. We joined clinics, ramped up our pro bono efforts, and interviewed for jobs and internships.
But we didn't just work hard, we had some fun. We slowly and safely began having more in-person events on and off campus. We had an incredibly successful law prom (despite having to evacuate for a fire alarm). On that note, throughout this ceremony, please no vaping. We also began to spend more time in the library, the atrium, and the lounge. On Thursday nights we made it to Bar Review. On Friday morning we somehow made it to class despite having made it to Bar Review.
So in our second chapter, we worked hard, we had fun, and we generally started to get the hang of this whole law school thing.
Chapter 3: 3L
They say your first year of law school scares you to death, your second year works you to death, and your third year bores you to death. At least one of those is definitely wrong. Our third year was anything but boring. By our third year, our invisible antagonist, COVID-19, was largely defeated. Our annual Halloween party, Hex Parte came back, Bar Review was in full swing, and we had a Law Prom with no evacuations.
As 3Ls, we were law school veterans, but there was still plenty to learn. Our third year gave us a better idea of what we still needed to learn—what we still wanted to learn. Our future litigators took classes in evidence and advocacy, our future transactional attorneys took classes in business and finance, and our future judicial clerks took whatever class would preserve their GPAs.
That one may have been personal.
After a few summers of work many of us had secured jobs, fellowships, or clerkships. A couple protagonists come to mind: Our 2023 Public Interest Students of the Year, Sally Vandenberg & Danny Woodward. Sally will continue her excellent public interest work at Root & Rebound where she'll provide direct legal services to formerly incarcerated parents facing legal barriers to reentry. Danny will work with the Refugee and Immigrant Center for Education and Legal Services where his focus will be on pursuing redress for immigrant families separated in Texas.
In our third year, we took leadership roles in the journals and turned seminar papers into academic publications. I'd be remiss if I didn't mention the fine folks at the Texas Law Review, particularly the Notes Office, which helped so many students, including myself, become better writers and publish their work.
As 3Ls we set the tone for law school. Our efforts in organizations like TMLS, APALSA, CHLSA, Women's Law Caucus and others, generated a culture of belonging and inclusion. On that note, I want to give a special shout out to Sam Jefferson. Sam took a break from everything on his plate to testify at our state's Capitol in response to legislation that threatens to upend what makes this law school such a vibrant and inclusive community.
After these three years, we're closer to each other than ever. How could we not be? We've survived law school, a few winter storms, and a pandemic. We've struggled together, traveled together, and lived together.
When we are done celebrating this accomplishment, when the halls of our law school are empty, when the fireworks have settled, and the champagne has gone flat, remember that our stories don't end at chapter three.
I know you will all do terrific work, and I look forward to seeing you all throughout our careers in clinics, and courtrooms and corporations, but also at cookouts, and weddings, banquets, and reunions.
So as we turn to the future, and begin to write the next chapter, remember: The world needs you, it needs you urgently, and it urgently needs you to be great lawyers.
That's a powerful reminder of how our story started at Texas Law. And you know want they say: What starts here changes the world.
Congratulations to the Class of 2023! Hook 'em!