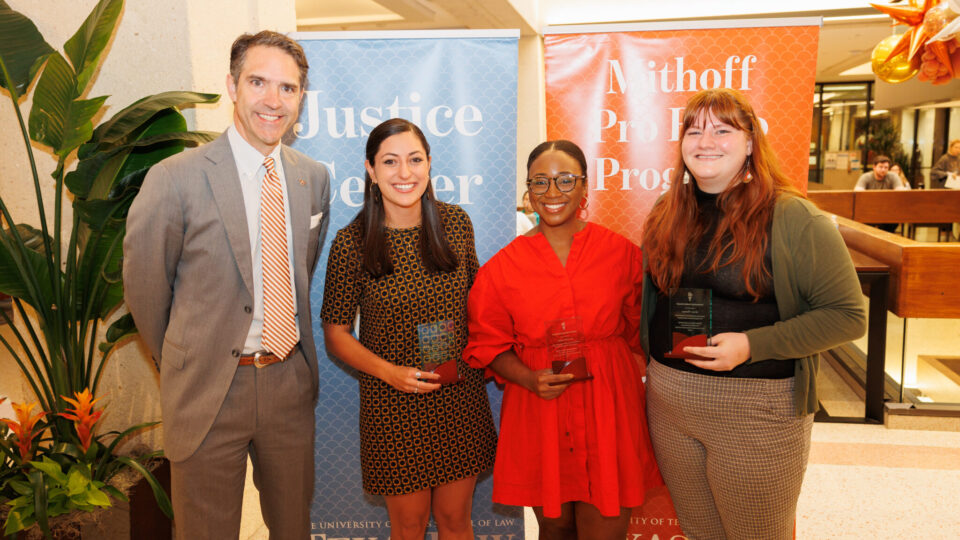 The Justice Center Graduating Student Awards honor and recognize 3Ls' outstanding contributions to building and supporting the culture of service and public interest community at the Law School. The Justice Center convenes a committee of faculty and staff to select recipients from among student applications and peer nominations.
In spring 2023, Lea Kokenes, Alyse Munrose, and Grace Thomas received these awards. "Reading the students' applications and peer nominations is inspiring," said Justice Center senior research attorney Helen Gaebler, who chaired the selection committee. "The Justice Center is proud to honor these outstanding students who have contributed so much to the school and to their peers during their time at Texas Law."
Dean Bobby Chesney recognized Kokenes, Munrose, and Thomas at the Celebration of Service in late April. His remarks about each of them, taken from student nominations, follow: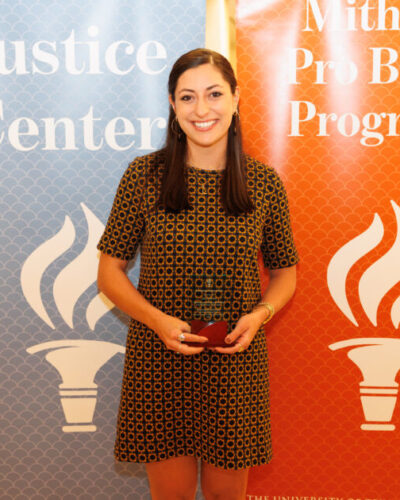 Lea Kokenes:
Lea has spent her time here making UT Law a better place for public interest students. What most distinguishes Lea is her advocacy for and support of fellow public interest students. Lea helped run the Public Interest Law Association during her 2L year and was a great resource for connecting COVID isolated law students and building a strong public interest community on campus. Lea has taken younger students under her wing and invested in building lasting relationships with them to build up the public interest community at the law school. Lea has also given generously of her own time, attending events and uplifting public interest organizations across the law school.
The Justice Center recognizes and thanks Lea for her work and leadership rebuilding our public interest community in the wake of COVID.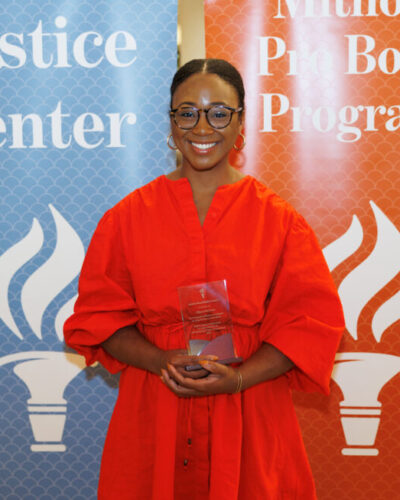 Alyse Munrose:
Alyse has been a beacon of equality and justice at the law school and beyond and an inspiration to other students. She has been an advocate for silenced communities, such as the black communities, through her leadership of Law Students for Black Lives — as the organization's outreach director as a 2L and co-director as a 3L.
She has also been a champion for those who legally can't speak for themselves—children. During her time in the Children's Rights Clinic, she balanced being a student with dominating in the courtroom during a week-long bench trial to secure victory for her client.
Alyse continues her work advocating for youth as a Texas Law pipeline mentor and mentor for Thurgood Marshall Legal Society students.
The Justice Center recognizes and thanks Alyse for her work and leadership in furthering equality and justice at the law school.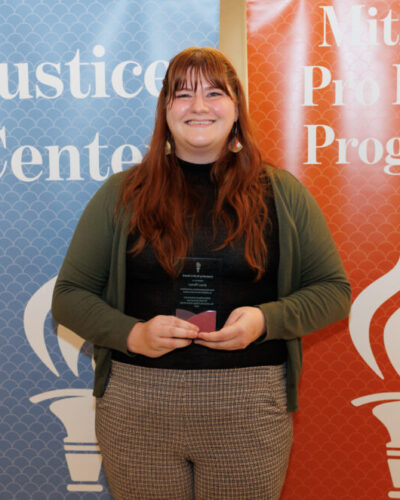 Grace Thomas:
Grace has worked incredibly hard—typically behind the scenes—to support UT's public interest community. As president of Texas Law Fellowships, Grace has continued the organization's long tradition of advocacy and fundraising on behalf of public interest students who rely on summer grants to get by. With the school's introduction of guaranteed summer funding, TLF's move to providing summer travel stipends will fill an important need for public interest students who find themselves traveling to far-flung places like Alaska for their summers.
As Editor in Chief of the Texas Journal on Civil Liberties and Civil Rights, Grace has worked to highlight scholarship from voices not usually heard in academic spaces. Grace has formed and maintained relationships with other organizations on this campus to gain financial assistance for students and secure bar prep courses for public interest students. Grace also constantly attended and uplifted the programming of other organizations on campus.
There is not a public interest student at this law school who has not been touched or impacted in some way by Grace's hard work. The Justice Center recognizes Grace's work and leadership in supporting the public interest community at the law school. Thank you, Grace!