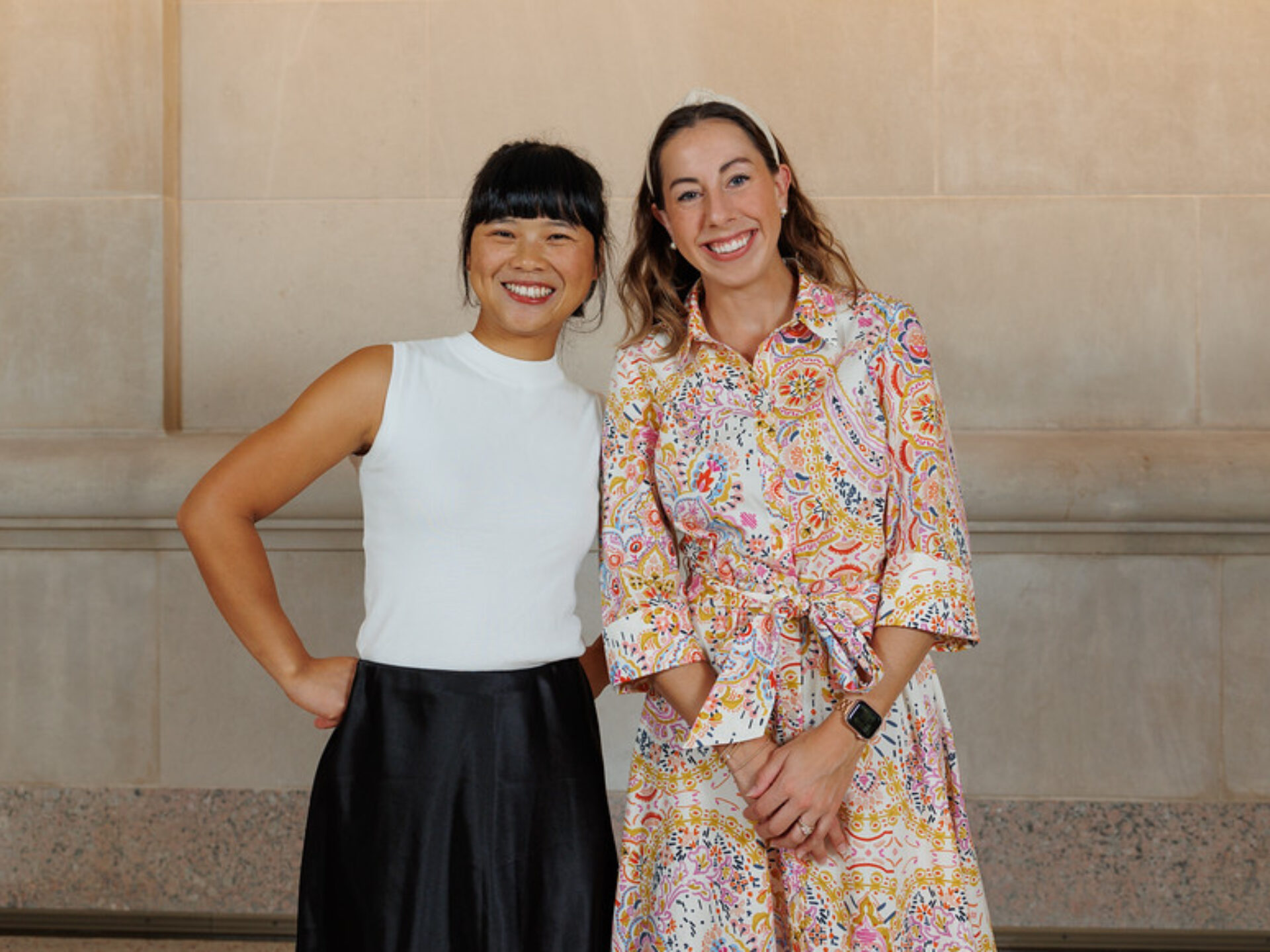 Texas Law graduates both look forward and give back.
For her efforts maintaining that important tradition, Julianne Grellner '22 was recently honored as the Mentor of the Year, making her the most junior attorney who has ever won the recognition.
"Julianne and I are similar in so many ways, so her advice was always on point, practical, and relatable, which had made an incredible difference on how I approach law school and my career," 2L mentee Circle Robie wrote in her nomination for Grellner.
A committee of law school faculty and staff reviewed all the nominations and suggested finalists before Dean Bobby Chesney and Director of the Mentoring Program Rémi Ratliff '95 made the ultimate decision. "Julianne's warmth and compassion came shining through in Circle's nomination," says Ratliff. "The first year of law school is really hard and having an alumni mentor who cares and regularly checks in on you can be the difference between success and failure."
"Reading the Mentor of the Year nominations every year is my favorite part of this job. I love learning how this program has specifically impacted students," says Ratliff. "This was an especially strong year for nominations, but Circle's experience with Julianne really stood out from the pack."
Grellner is an associate attorney with Locke Lord LLP in Austin who assists clients in real estate and finance matters. She strives to teach her mentees that life is about more than work—both while in school and after graduation.
Here's her advice:
Do what you enjoy. "You should always continue to do the things that you love to do outside of the legal field, both when you're in law school and in your career as an attorney," Grellner says, adding that outside passions and hobbies serve to make life as an attorney more fun and less stressful. She enjoys racing in marathons and long-distance triathlons, reading historical nonfiction, cooking for family and friends, hiking local trails with her husband and goldendoodle puppy, and checking out local coffee shops.
Broaden your worldview. And outside hobbies offer a broader worldview, while simultaneously making for better lawyers. "Although your grades in law school are important—frankly, more important than they should be—be someone who others want to work with," Grellner says. "What I mean by that is: your interests outside of law school generally make you who you are and shape your perspectives." That may not happen if you never take a break from reading and analyzing case law, for example.
Summers (and your first job) are serious. She also recommends mentees consider how they spend their summers, since most legal work can generally be somewhat similar. "If you're really passionate about one specific area of law, great," she says. "If not, that's also okay—prioritize choosing somewhere that has a diverse firm culture, colleagues that you aspire to emulate, and an emphasis on ensuring your success from the beginning of your career."
Grellner says that as a first-generation law student—who transferred into Texas Law following her 1L year—she found her own mentor support at Texas Law to be integral to navigating law school and her career after graduation.
"Without the help of mentors, I would have been lost trying to figure out the types of classes I should be taking, how to navigate summer associate interviews, what to look for in a law firm, and most importantly, what 'being a lawyer' really looks like," she says. "Just as I received invaluable guidance during law school, I wanted to give back to Texas Law by guiding the next generation of attorneys towards a happy and fulfilling career as a lawyer, especially those that don't have attorneys in the family for which they can easily look to for guidance and advice."
Mentoring Program Back to School Reception
On August 23, 2023, the Texas Law 2L class and their Austin-based alumni mentors gathered in the law school atrium for an hour of conversation, food, and drink. This event marked the official end of the 2023 1L Alumni Mentoring Program, encouraging mentors and mentees to stay in touch.