With support from the Pipeline Beyond Program, student organizations participated in hosting "Thriving in Law School," an annual event for incoming students who are first-generation, low-income, or members of groups underrepresented in the legal profession.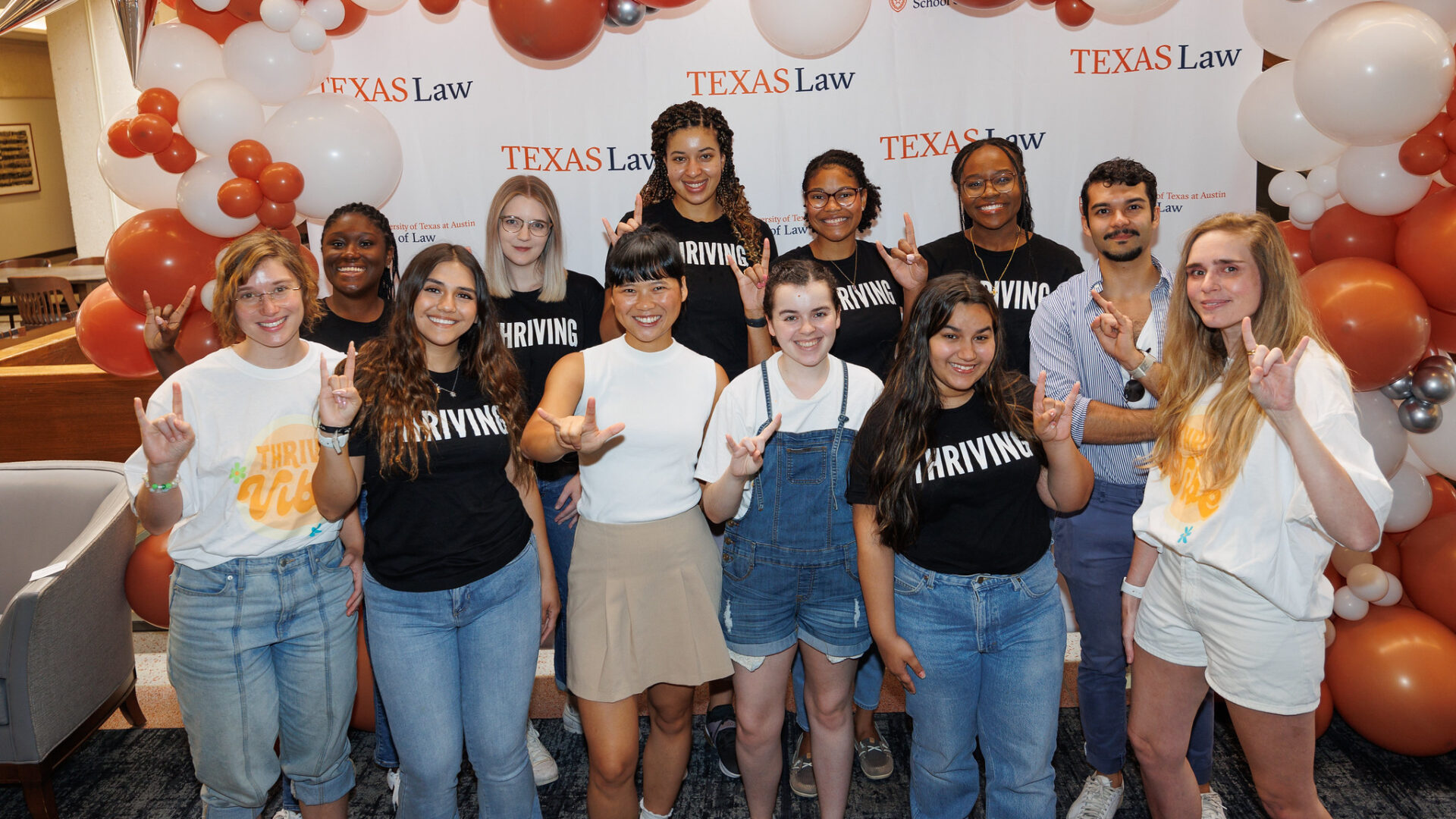 First-year law students began their Texas Law experience on Friday, August 11, by participating in a variety of sessions aimed at improving access to legal education, furthering the mission of the school's Pipeline Program. "We hope participants concluded their sessions feeling more empowered and welcomed at Texas Law," says Associate Dean Shavonne Henderson.
Participants expressed enthusiasm for the experience. "The Thriving program helped me feel like I was being welcomed into an open and inclusive community," says 1L Sri Senthilkumar.
The day's itinerary featured a welcome from Deans Bobby Chesney and Henderson, the creation of vision boards by new students picturing their first year, a mock Constitutional law class taught by Professor Tara Leigh Grove, and a session on wellness and well-being, which included staff members representing Student Affairs, Care Counseling, Financial Aid, and Career Services. During lunch, students also had the opportunity to "ask anything" from a panel of 2L and 3L Texas Law student leaders.
"Getting to hear from 2L students of various backgrounds about how they have navigated law school so far was really helpful," adds Senthilkumar.
The initiative is supported by the efforts of several student groups: Thurgood Marshall Law Society, the Chicano Hispanic Latino Law Students Association, and the Asian Pacific American Law Students Association, OUTlaw, Texas Law Disability and Neurodivergent Alliance, and the First Gen Law Students Association. This year's Thriving committee consisted of 2Ls Alyssa Arellano, Luca Azzariti, Carolina Quiroga, Circle Robie, Tionna Ryan, Kiara Staton, and Maiya Werba, and 3Ls Mansi Chauhan and Saheel Junaghare.
Ryan says she benefitted from the program in her own 1L year. "I wanted to pay it forward to other incoming students from similar backgrounds and help affirm that they belong at Texas Law," she says.
"As a first-generation Black law student, there were many things I did not know about law school," says Ryan, who was one of the TMLS representatives on the planning committee. "However, Thriving filled the gap, providing me and my classmates with tools and resources that allowed us to not only survive law school, but to truly thrive."
Thriving has a multi-year legacy at Texas Law. Initially organized by TMLS, CHLLSA, and APALSA, over time and with the support of a growing number of student organizations, it has expanded in scope and impact. In 2021, with the launch of the Texas Law Pipeline Program, Thriving became one of its signature programs for current students. 
This year's programming was supported by the Pipeline Program's founding sponsor Vinson & Elkins, LLP and partner sponsor Greenberg Traurig, LLP.
View Event Photos