Today marks the start of Hispanic Heritage Month, a time to recognize the many contributions, diverse experiences, and rich history of the Hispanic and Latinx communities in America, and in the extended Longhorn family. The university has planned a wealth of events, workshops, showcases, and celebrations, allowing all to explore the history of Hispanic experience on The Forty Acres and to give a platform to the voices of the UT community today.
Below, we are sharing (with permission) a partial listing of events and stories that celebrate and recognize Hispanic Heritage Month on the UT Austin campus, and beyond, assembled by Jessica Sinn of the Division of Diversity and Community Engagement.
Please return to this space and follow Texas Law's social media channels for more information on Hispanic Heritage Month activities, and for profiles of Texas Law students, alumni, faculty, and staff throughout the coming weeks!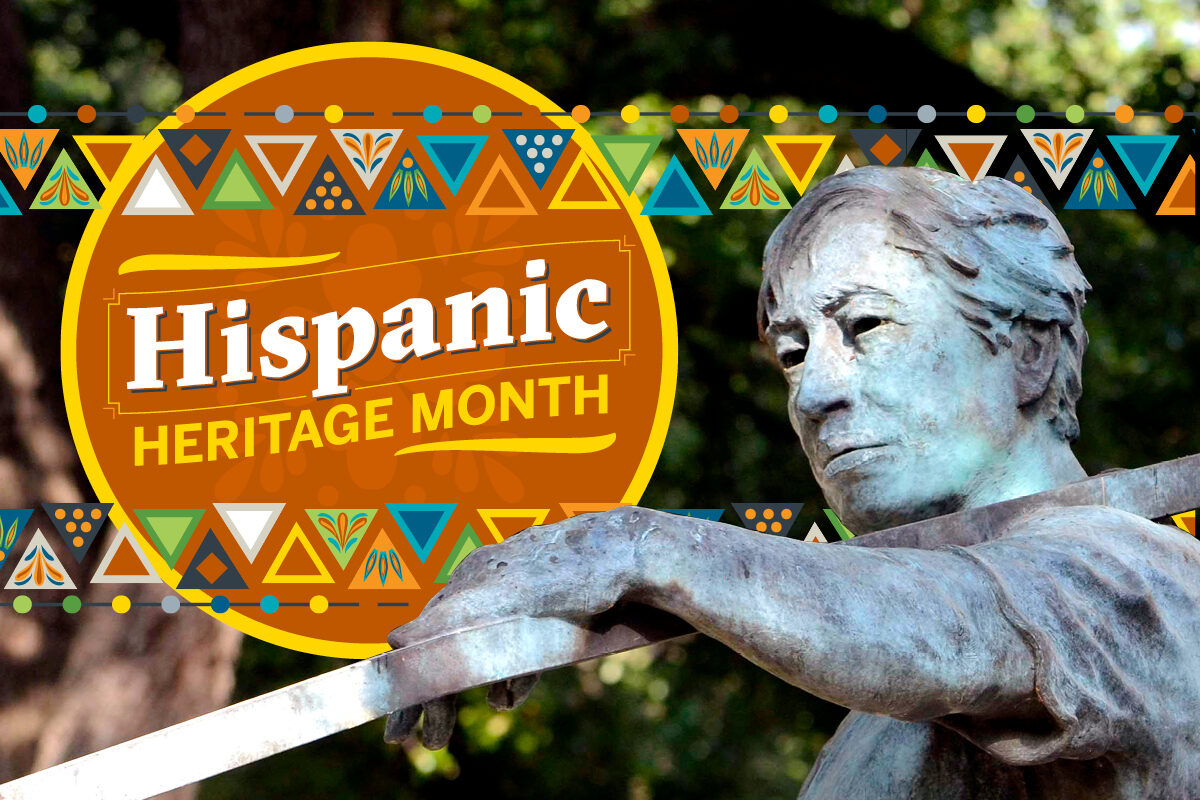 Hispanic Heritage Month runs from September 15 through October 15. During this time of recognition and celebration, we are spotlighting some upcoming campus events, books, stories, art exhibitions, and more that celebrate the impact of Hispanic and Latinx culture.
---

Tuesday, Sept. 19, 4 p.m. —'Hailing Cesar' Film Screening and Conversation
The DDCE is hosting a screening of the documentary 'Hailing Cesar' followed by a Q&A session with Eduardo Chavez, filmmaker, storyteller, and grandson of civil rights activist Cesar Chavez and Cuban revolutionary Max Lesnik. Read more.
---
Thursday, Sept. 21, 6 p.m.—Speaker Event Featuring Dolores Huerta
Dolores Huerta, president and founder of the Dolores Huerta Foundation, joins the LBJ School of Public Affairs to discuss her lifelong activism and pressing policy matters in the farming industry. Read more.
---
Friday, Sept. 22, 6-10:30 p.m.—Blanton B Scene Celebrates Mesoamerican and Contemporary Latino Art
Celebrate ancient Maya art and contemporary Latino art at B Scene! DJ sets from Chulita Vinyl Club and Grammy Award-winning producer Adrian Quesada will set the tone as you explore three new exhibitions late into the night. Plus, hear from the Blanton's first curator of Latino art, Claudia Zapata, and slow it down with art during signature "Slow Looking" tours. Read more.
---
Monday, Oct. 2, 5-6:30 p.m.—Public Lecture: 'No Boundaries'
As part of the School of Architecture's semesterly lecture series, the Mexico City-based interior and furniture designer Héctor Esrawe will be giving a public lecture titled "No Boundaries: Transiting the Intersections Across Creative Disciplines." His talk will delve into the boundless possibilities that emerge when the lines between disciplines blur, fostering a platform of seamless collaboration and transformative solutions. Read more.
---
Friday, Oct. 20, 8 p.m.—Lila Downs Presents Día de los Muertos
Grammy and Latin Grammy Award-winning singer Lila Downs brings her unique interpretation of traditional Mexican and Mesoamerican music, deeply personal renditions of classic rancheras, as well as her own original songs to create a voyage of emotions, movement and sound that celebrate the rich traditions of Day of the Dead on both sides of the border. The event will take place at the Bass Concert Hall. Go here for ticket information.
---

'Unbreakable: Feminist Visions from the Gilberto Cárdenas and Dolores Garcia Collection'
When/Where: Sept. 16 through Dec. 3, Blanton Museum of Art
About the exhibit: Unbreakable presents artworks with an emphasis on Latina and Chicana artists and their stories of survival and resilience. Selected from the landmark Gilberto Cárdenas and Dolores Garcia Collection, which the Blanton recently acquired, these works explore a major theme shaping the couple's distinctive collecting practice: art with a feminist framework. Read more.
---
'Forces of Nature: Ancient Maya Art from the Los Angeles County Museum of Art'
When/Where: Aug. 27 through Jan 7, Blanton Museum of Art
About the exhibit: For the ancient Maya, the natural world was both a source of nourishment and danger. From the sun to wildlife to maize crops, forces of nature manifested supernatural beings that were inseparable from their lives. This exhibition explores the rich world of the supernatural in ancient Maya art, through 200 works from LACMA's notable collection — including ceramic vessels and figurines, and greenstone jewelry from present-day Mexico, Guatemala, and Honduras. Read more.
---

'The Mexican American Experience in Texas' (UT Press '23)
Author: Martha Menchaca, professor of Anthropology, College of Liberal Arts
Synopsis: For hundreds of years, Mexican Americans in Texas have fought against political oppression and exclusion—in courtrooms, in schools, at the ballot box and beyond. Through a detailed exploration of this long battle for equality, this book illuminates critical moments of both struggle and triumph in the Mexican American experience. Read more.
---
'Contar historias: Escritura creativa en el aula' (UT Press '23)
Editor: Gabriela Polit Dueñas, professor of Spanish and Portuguese, College of Liberal Arts
Synopsis: "Contar historias: Escritura creativa en el aula" ("Telling Stories: Creative Writing in the Classroom") is a remarkable collection of topical essays and poignant stories written by undergraduate and graduate students who took courses and/or writing workshops offered by the Spanish Creative Writing Initiative in the Department of Spanish and Portuguese. Read more.
---
'Reverberations of Racial Violence' (UT Press '23)
Co-editor: John Morán González, the J. Frank Dobie Regents Professor of American and English Literature and a former director of the Center for Mexican American Studies
Synopsis: Between 1910 and 1920, thousands of Mexican Americans and Mexican nationals were killed along the Texas border. The killers included strangers and neighbors, vigilantes, and law enforcement officers—in particular, Texas Rangers. Despite a 1919 investigation of the state-sanctioned violence, no one in authority was ever held responsible. Read more.
---
Visit the Nettie Lee Benson Latin American Collection database to find more books and research materials on Hispanic and Latinx history and culture.

UT Austin Recognized as Guest of Honor at International Event FILUNI 2023
The University of Texas at Austin's research on some of society's most pressing challenges was a prominent driver of collaborative discussion on an international stage at La Feria Internacional del Libro de las Universitarias y los Universitarios 2023, known popularly as FILUNI. UT Austin was the first university from the United States to participate as guest of honor at the event, which attracted more than 35,000 participants from 10 countries. Read the story. Visit the School of Architecture's news site to read more about their participation in FILUNI.
---
Assistant Professor Miriam Solis Earns Gulf Research Program's Early Career Research Fellowship
Congratulations to Community and Regional Planning Assistant Professor Miriam Solis, who recently received an Early Career Research Fellowship from the Gulf Research Program of the National Academies of Sciences, Engineering and Medicine. Established in 2013, the National Academies' Gulf Research Program seeks to protect human health and the environment by catalyzing advances in science, practice and capacity to generate long-term benefits for the Gulf of Mexico region and the nation. Read more. Visit Dell Medical School's website to read more about her project.
---

LLILAS Director Fosters Transformation Via Internationalization
As the director of the Teresa Lozano Long Institute of Latin American Studies (LLILAS), the origin of Adela Pineda Franco's affinity for language, culture and literature is an organic one. It dates back to her childhood in Puebla, Mexico, where she found herself surrounded by a multitude of languages and dialects. Read more by visiting the Texas Global website and also learn more about LLILAS by reading Portal Magazine.
---
Celebrating Ten Years of Brotherhood and Leadership
Last August, Project MALES (Mentoring to Achieve Latino Educational Success) celebrated its tenth annual Texas Male Student Leadership Summit, a two-day event that brings together students, administrators, educators and researchers from schools across the state. Read more.
---
A Q&A with Juana Salcedo, School of Architecture Assistant Professor of Practice
Read a Q&A with Juana Salcedo, an assistant professor of practice in the School of Architecture who researches the Jaguar Corridor Initiative, a continuous territory from northern Argentina to the southern United States created to prevent the fragmentation of the jaguar habitat. She also discusses a studio she taught in the spring that took students to Bogota, Colombia.
---
International Podcast Interviews Leaders of FILUNI Conference
A new episode from the international Spanish-language podcast on women writers, Hablemos, Escritoras, illuminates the objectives and efforts of the leaders and contributors to the recent Feria Internacional del Libro de las Universitarias y los Universitarios 2023, or FILUNI. This multinational event took place last summer on the campus of the Universidad Nacional Autónoma de México in Mexico City, one of the premier universities in Latin America. Read more.
---
Spreading Sunshine
Dressed in burnt orange and Longhorn jewelry, Susana Alemán (B.S. '75, M.Ed.'78, J.D. '84) exudes passion for The University of Texas at Austin. But she is even more passionate about creating bright futures. This "Valley Girl" spreads her own brand of sunshine through scholarships — and sunflowers. Read more.