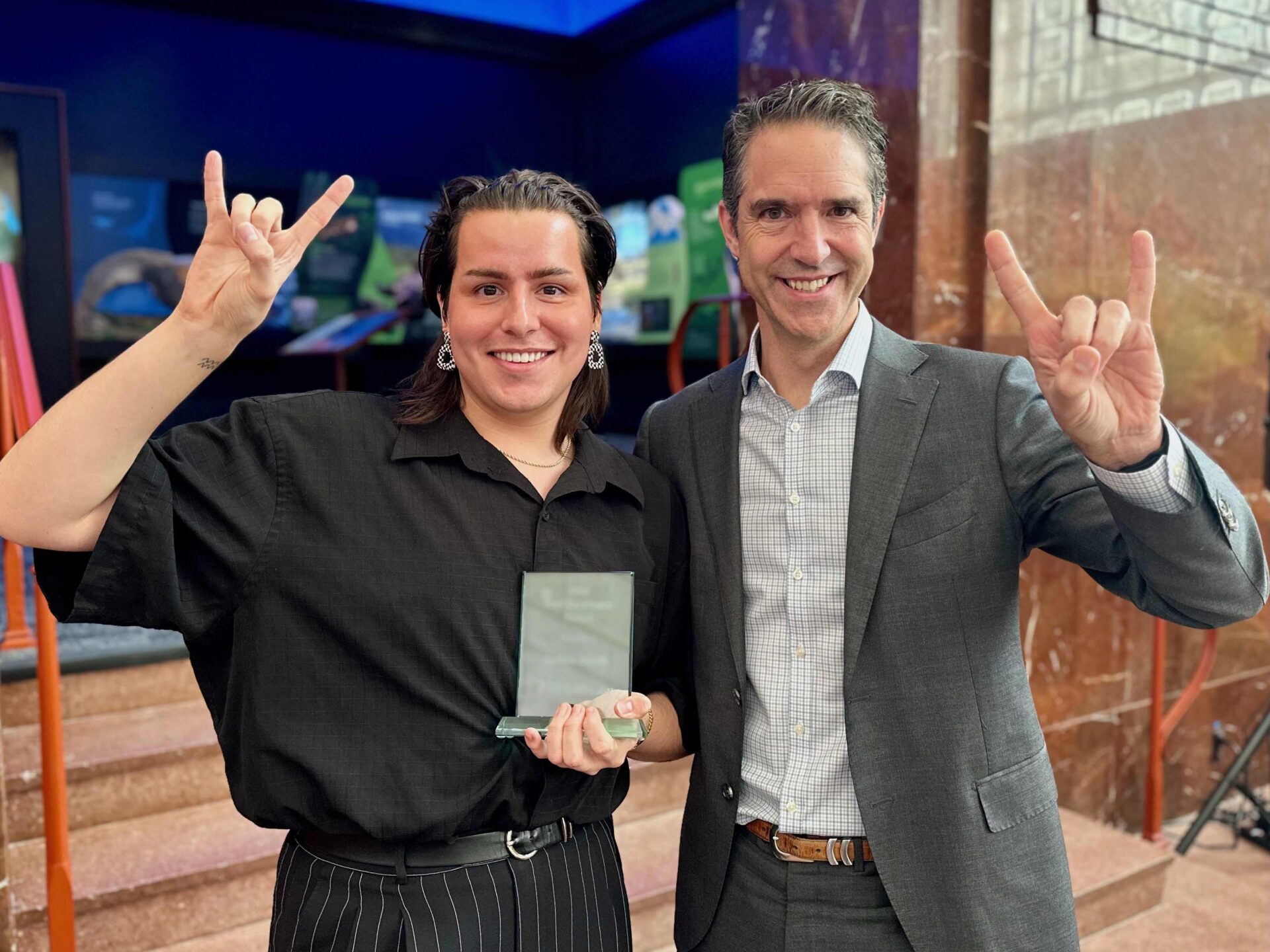 Interact with Collyn Smith and it becomes clear he has a winning personality.
Now, with his award for Texas Law's 2023 Employee of the Year, it's official. Smith, senior administrative associate in the Student Affairs Office, was recognized for his outstanding work on behalf of the law school. For his efforts, he received $1,500, a glass award, and the formal appreciation of his colleagues at the law school's annual back-to-school faculty and staff celebration Sept. 5.
"I was definitely delightfully surprised with this award, and it was the highlight of my first year at Texas Law," says Smith. "I truly believe there are so many incredible staff at the law school who could win this award, so it means the world to me that my peers hold me in such a high regard."
His colleagues' appreciation is clear from their many votes of support and effusive testimonials to his excellence. "Collyn has exceeded every expectation we had for him when he was hired, and as we continue to add and evolve his responsibilities, he rises above them again and again," wrote Meg Clifford, assistant director for academic success, in her nomination for Smith. "He is also a ray of light and cheerfulness in the office and a delight to work with."
Smith was previously the Employee of the Month for March 2023.
"It's inspiring to see the accomplishments of our staff recognized by our colleagues and our leadership throughout the year and annually," says Amanda Schaefer, director of human resources at Texas Law. "Fostering a diverse and talented staff is paramount to our mission of excellence and recognition plays a major role in that."
As for the latest win, Smith is clearly moved. "I'm not one to typically celebrate myself but this has been an award I am letting myself be proud of! I never would have expected an award like this so early in my professional career, so it was a good reminder that I am in the right field and making lasting impacts on our students and my community," Smith says.
He joined Texas Law as an administrative associate in August 2022 after graduating from the University of North Carolina at Chapel Hill with a bachelor's degree in Public Policy and Education. Since then, Smith has successfully planned and executed major events, improved communication and coordination with student organization leaders, maintained excellent customer service both internally with staff and externally with students, and was elected to the UT Staff Council.
"(The 2023 Sunflower Ceremony) would not have happened but for the diligence, dedication, and attention to detail of Collyn Smith," Sam Jefferson '23, special assistant to Student Affairs and Admissions, wrote in his nomination letter, also pointing to the support Smith has provided to students, student organizations, faculty, and staff. "Whether it was as simple as directing students to appropriate resources or helping them in the full planning and execution of events to show off the best of the law school, Collyn showed up as only he can."
Smith expects to continue showing up while pursuing some ambitious life goals, including a master's degree in education, for which he is now beginning the application process, and further honing his skills in the office, especially by developing new ideas for how to help student organizations thrive.
Says Smith, "I'm eager to keep learning, keep growing, and keep getting better."