2023
Collyn Smith,
Student Affairs Senior Administrative Associate
The Student Affairs senior administrative associate was recognized by Texas Law for going above and beyond, always with a positive attitude. 
Past Winners
2022 – Yvette Alvarado, Associate Director of Development for Stewardship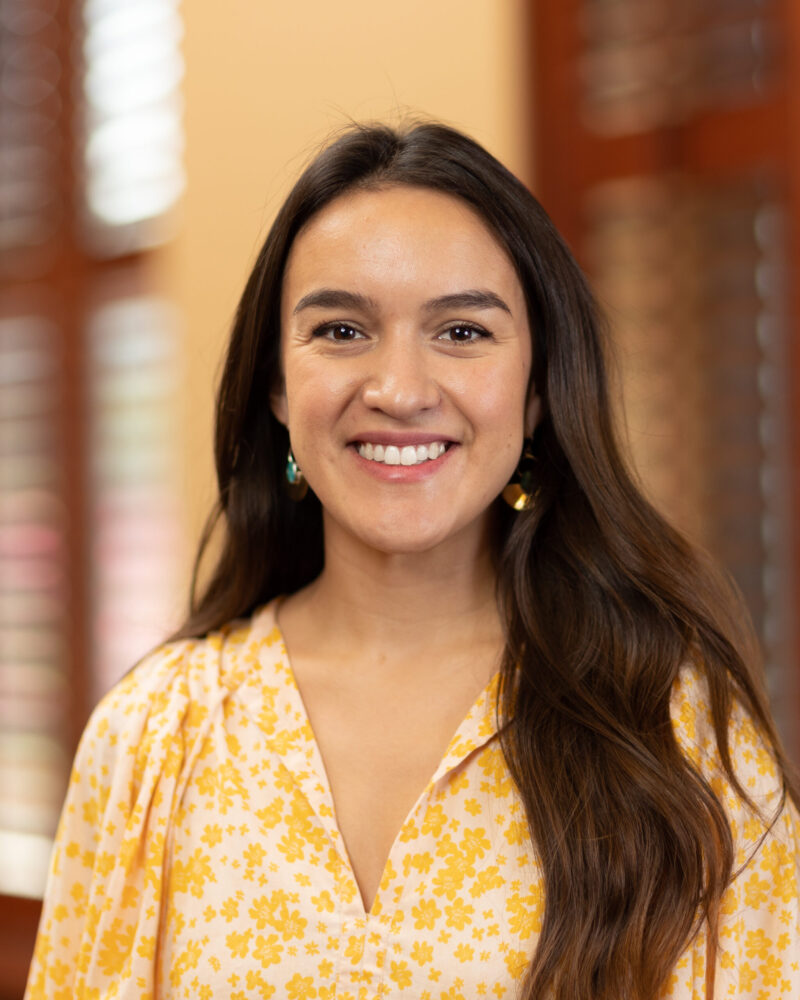 Yvette Alvarado received the 2022 employee of the year award for her hard work, dedication, and commitment to Texas Law throughout the year. Since joining the school in January of 2017, Yvette has worked diligently to enhance programmatic donor stewardship. She also serves a vital role with the Alumni Association Executive Committee (AAEC) and Texas Law alumni volunteers. In her position, Yvette collaborates with various stakeholders throughout the school to enhance alumni engagement and support future alumni. Some examples of this vital collaborative work include helping to create the cross-law school team awarding Suited for Success scholarships and working to ensure that disability scholarships were awarded.
Several nominators commented on Yvette's professionalism and positive attitude. One nominator states that you, "will not find a more friendly, pleasant, organized, responsive staff member at Texas Law." Despite Yvette's various responsibilities, one nominator noted that she is always willing to lend a hand and help out. Though often contributing to several simultaneous projects, one nominator reflects on her positive approach stating Yvette is always the "personification of service, gratitude, and grace". Several nominators consider Yvette, "the law school's biggest advocate." We are thrilled to congratulate Yvette on all she has done, and continues to do, for Texas Law.
2018 – Judy S. White, Faculty Assistant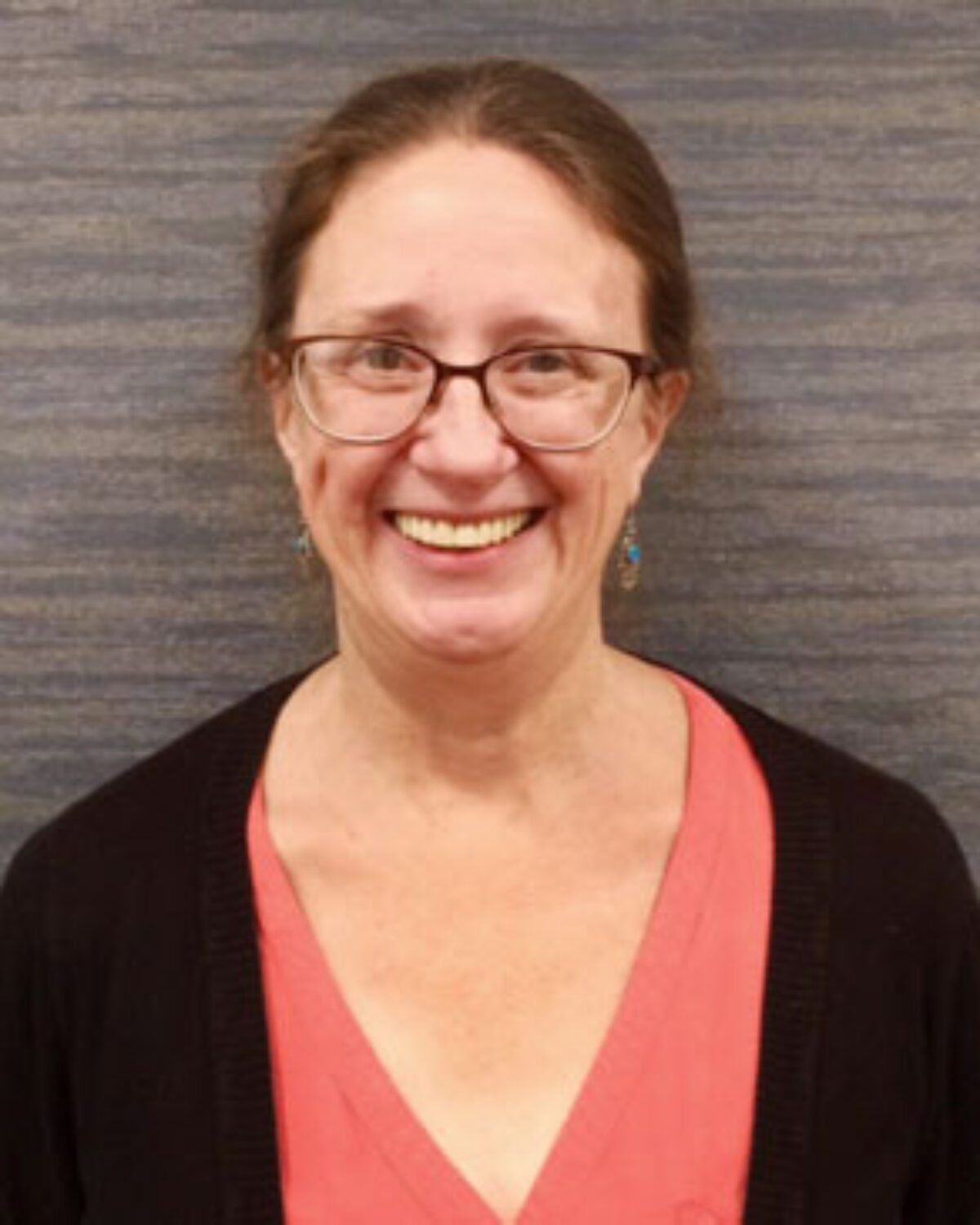 Judy White, 2018 Employee of the Year, received the honor for extraordinary service to the law school, her faculty and students, "managing all tasks with skill, grace and complete competence." Judy serves as faculty assistant for 8 full-time legal-writing instructors, in addition to assisting adjunct professors, and coordinating travel for mock trial and moot court teams.
One nomination stated "Judy manages all of these tasks with skill, grace, and complete competence. I never worry that something that I've assigned to Judy has fallen through the cracks. She also anticipates and resolves issues before they arise.. Judy is not satisfied to do something "the way we've always done it." Instead, she searches for better ways to serve the faculty and students. During the busiest times, Judy maintains complete grace and composure under pressure. She is also wonderful with the many students who rely on her throughout the semester."
Another nomination continued "A key University mission is serving students, and Judy enhances that mission in two ways. As assistant to the supervisor of interscholastic moot court, she coordinates and facilitates the travel, lodging, and expenses of our interscholastic moot court teams and their coaches. The law school's interscholastic moot court program was ranked number 17 in the nation in 2017-18 (https://www.law.uh.edu/blakely/mcnc/rankings.asp), and it is in no small measure because of Judy's tireless work and attention to detail. She also enhances that mission by ably serving the Beck Center faculty.
The Beck Center is well run, and it's mainly because of Judy White. Beck Center faculty can focus on teaching and serving students because Judy deftly and unobtrusively smooths over and works out every–and I mean every–administrative task and detail and headache. To administrative acumen she adds substance strength: she edits and proofreads document after document and she advises on everything from meeting agendas to food orders. To this faculty member, she is the Beck Center's secret weapon."
A final nomination stated "As the faculty assistant for everyone in the Beck Center, Judy has responsibility for final memos and briefs from all 307 students in the 1L class. Judy also arranges major Beck Center events, including the Hutcheson Moot Court competition and the Beck luncheon. On top of that, Judy handles travel and reimbursements for all of our moot-court teams and coaches. Despite this enormous work load, Judy goes out of her way to do even more. One great example from this year: Judy befriended a transfer student who didn't know anyone at the law school. Because she was a friendly face, he would stop by and visit with Judy regularly. Judy's blend of efficiency and kindness is a great service to the University.
Judy keeps a careful eye on finances. She identified cost savings by inspecting travel reimbursement requests from practicing lawyers not accustomed to our limits and by reviewing the Hutcheson and Beck event arrangements and noting potential cuts. She also noticed a mistake in engraving on awards we distributed and negotiated a reduced price from our vendor. Excess will not get past Judy's eagle eyes.
Judy also works with practicing attorneys who coach our moot-court teams. This is a delicate balance, as these lawyers are volunteers who dedicate many hours to the University, but who still must comply with UT policies. Judy's good sense is invaluable in navigating these relationships.
The Beck Center benefits daily from Judy's efficient handling of her many tasks. She juggles an enormous workload without making anyone feel neglected. She represents the University well when interacting with 1Ls, moot-court team members, and volunteer attorneys. When I thanked Judy at the annual Beck event, there wasn't just perfunctory applause. There was actual whooping and hollering."
Congratulations Judy White, our 2017-2018 Employee of the Year.
Sarah R. Sedgwick, Clinical Program Coordinator

Congratulations Sarah Sedgwick, who received recognition for her contributions "to bring the Pro Bono Program from a small piece of the Texas Law student experience to an engaging and robust free legal service provider that most law students now volunteer with while they attend Texas Law. We would not be able to offer these service opportunities to students at the scale we currently do if not for the fact that Sarah has stepped up again and again whenever we've had an opportunity to grow. She has absorbed most of the logistical consequences of that growth, and always has done so happily and without missing a beat. Sarah is an indispensable part of the free legal services the pro bono program provides."
In addition, Sarah was recognized for an amazing job supporting the Judicial Internship Program, managing logistical responsibilities for two winter break service trips, Pro Bono in January and the Immigrant Family Detention Service Trip. "Sarah doesn't have a "down" season. When pro bono slows down over the summer, the judicial internship has its busiest season. She manages a totally different set of deadlines and responsibilities with her usual efficiency and cheerfulness."
2017 – Shirley Cannon, Student Financial Aid Officer III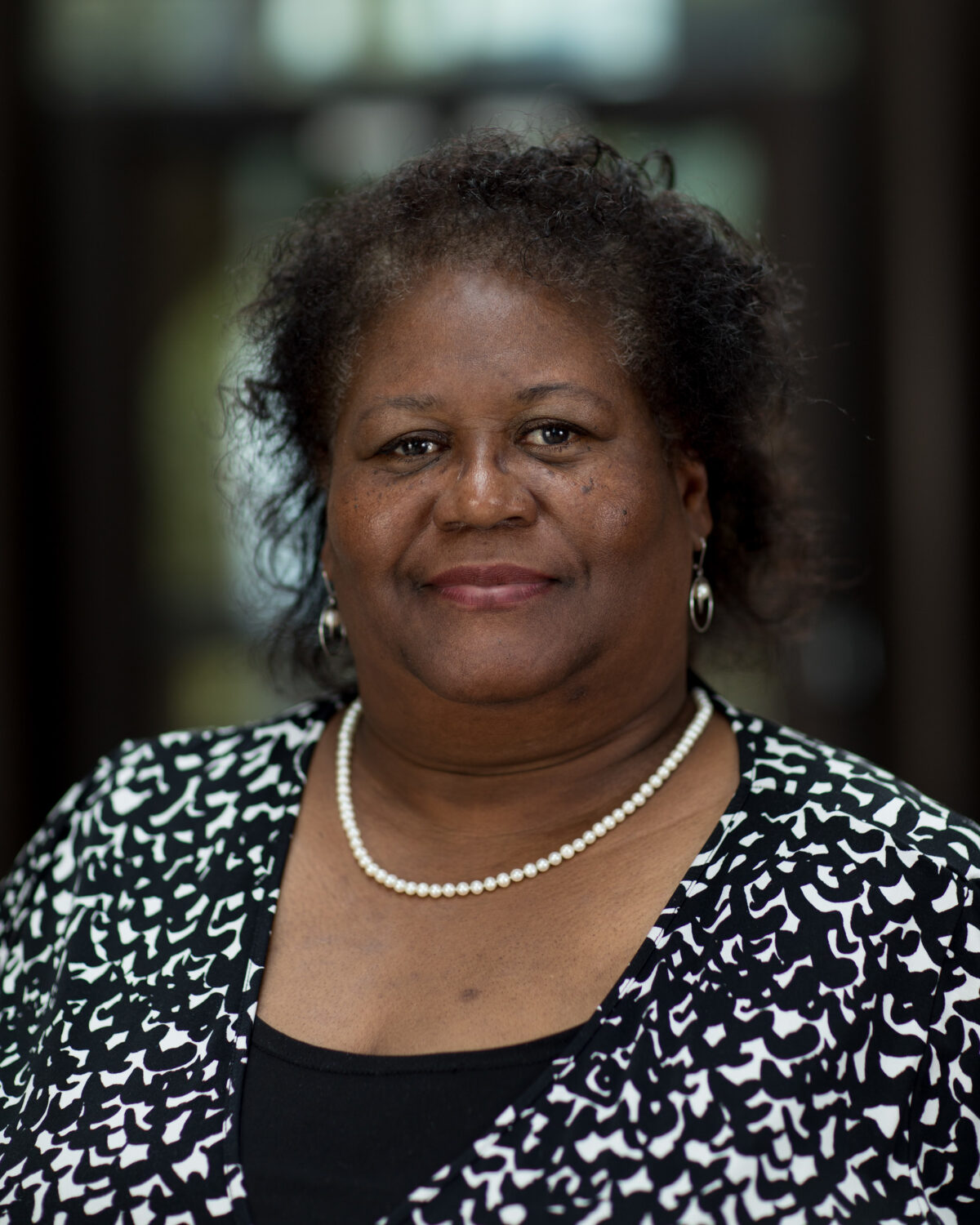 Shirley Cannon, 2017 Employee of the Year, was recognized for her expertise, excellent service, dedication and dependability as the Student Financial Aid Officer for the School of Law.
Her supervisor's nomination in part stated "she is an excellent ambassador of the law school to the Office of Financial Aid and the Office of Accounting. It was through her training, guidance and patience that I became an expert in not only federal financial aid but university fiscal processes and procedures within accounting and development compliance." Shirley's expertise has also been an asset of newer staff members in Admissions, Accounting, as well as Financial Aid. The nomination further cited admiration of Shirley's ability to form relationships with anyone. "Anytime someone comes into our office, she always greets them with a very friendly introduction and alleviates anxiety and nerves quickly with visitors and admitted students. All too often, loud laughter is sure to follow as she always finds common ground with guests and integrates her sense of humor and communication style to provide excellent service. She uses these same talents and abilities to nurture relationships with fellow staff members. She is often here late to finish tasks that must be done to assist in bringing in a new class."
Other nominations stated "I have found her to be an intelligent, dependable, and collegial colleague. I have observed first-hand how she establishes strong relationships with our students in providing them with financial aid counseling — an area which can often be stressful, confusing, and at times overwhelming for students. She helps our law school fulfill its mission of being the best place in the world to be a law student." "I have known Shirley for 18 years. She is still dedicated to her job as a financial aid counselor today as she was when we first worked together. In that role, she definitely supports the university's practices, procedures and policies while also helping students finance their legal education. Shirley is and always has been willing to help out with any project. Awarding scholarships is one of the most tasking jobs as a financial aid counselor here at Texas Law. She does it by herself now and it once was a job for four people. She is very deserving of this award."
Andy D. Martinez, Radio TV Film Specialist V, LTS Media Services

Congratulations Andy Martinez who received recognition for improving morale in the workplace by supplying solutions, answers and expertise for Media Services. Andy is known for promptly keeping appointments, providing courteous assistance and keeping an ever present positive attitude for the many tasks he is asked to perform.

Marsha K. Moyer, Faculty Assistant

Congratulations Marsha Moyer who was recognized as an invaluable asset, consistently going above and beyond to assist faculty. She provided creative solutions for her professor's classes which were effective, efficient, and seamless. Her work allowed the instructors in the class to focus on making the class experience fantastic.

Angel Leffingwell, Faculty Assistant

Congratulations Angel Leffingwell recognized for providing first rate expertise to assure conferences run smoothly, attention to detail and readiness to go above and beyond. Angel consistently provides exemplary support for her faculty.
2016 – Adam Norwood, Senior Web Developer/Senior Web Strategist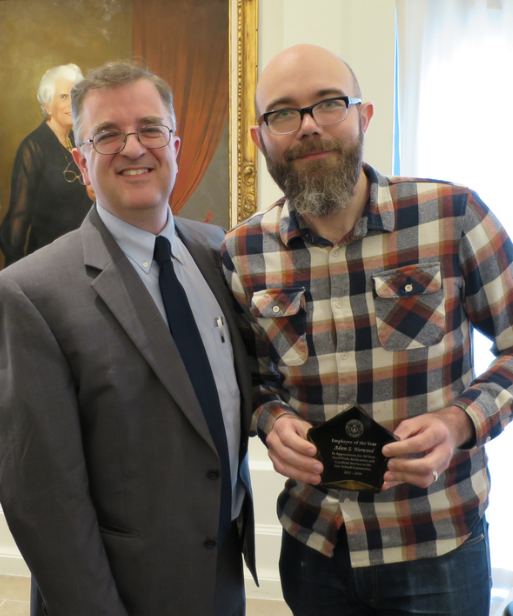 Our 2016 Employee of the Year, Adam Norwood, was selected for his vast array of skills and expertise demonstrated daily through his work in Law School Technology Services. It is an honor to recognize Adam for embodying the Law School principles.
His nomination in part, stated "Taking into account Adam's technical expertise, his attention to detail, the contributions he makes to the Law School and to main campus initiatives, the skills to mentor and teach, and his ability to listen and relate to whomever the audience is, makes Adam a prime example of law school excellence.
The law school went through some large changes in regards to web presence, web applications, and our general IT environment. The first large project to mention is the change to web hosting environment. In a nutshell, we moved our entire website from one environment to a new, shinier model. The change, however, was not just flipping a light switch. There was a new set of standards and updates in the environment that would affect current content and applications. Adam's part on this new environment, on the UT Campus level, Adam was an active participant and strong influence on the initial defining of this new environment. He helped design the technical specifications, worked with other campus contacts to test the new environment and created much of the initial documentation that the university uses for informational purposes. After the environment was finalized, the law school then needed to move applications and the website to this new environment. Adam led our project to migrate our applications. His skills, knowledge and patience brought organization, clarity and priority for our transition. As the implementation began for other departments, Adam also became a resource for them as they transitioned to this new environment. This project was very successful and on a very large stage, though mostly behind the scenes.
A second large project led by Adam was to move our entire Law School website from a static HTML site to a Content Management System (CMS). This multi-year project was a very difficult task as it takes much coordination and communication to be successful. During the transition to WordPress, Adam built, created and studied the tool to allow us to have our site jump through hoops and has it doing things it was not designed to do. Some of the tools and add-ons that Adam has created are also benefitting other departments on the UT campus. One truly beneficial add-on from Adam is the ability to restrict access to WordPress pages on our website by EID. With the selection of one box on the update page, a content provider can secure the display without having to call on the LTS department to make it so. This and other tools that Adam created have put so much more power into the hands of the Law School staff. The CMS project and the UT Web project have been hugely successful and beneficial to the law school and Adam has been largely responsible for their success."
One of the biggest benefits of having Adam on the LTS team is his continual pursuit to make things better, and then to share that information. Beyond the Law School, Adam served on the AIC, WITI and UT Web committees; was an organizer for WebPub lunches, and was added to an ITS Development Tools committee. He is widely respected by the UT community and is sought after for his knowledge on a multitude of subjects. Congratulations Adam Norwood, our 2015-2016 Employee of the Year.
Katherine (Katie) Deetjen, Clerkship Administrator

Congratulations to Katie Deetjen who was recognized as a self-starter, respected by all who come into contact with her. She was nominated for transforming the law schools Judicial Clerkship Program.

Diana Y. Garcia, Senior Program Coordinator, Continuing Legal Education

We congratulate Diana Garcia who was recognized for giving 110% to her job and maintaining grace and composure through the stress of managing CLE conferences. Diana's work load nearly doubled due to short staffing; she showed great poise and professionalism at every conference for which she was in charge.

Ana L. McPherson, Clinical Administrator

Ana was recognized for her innovation going above and beyond her regular job tasks. Under Ana's administration the clinic moved from paper to an electronic file system, everything is well organized and easy to find. She is further recognized for her intuitive assistance with a trial, student attorneys and clients. Congratulations Ana.
2015 – Abigail (Abby) Hemphill, Development Associate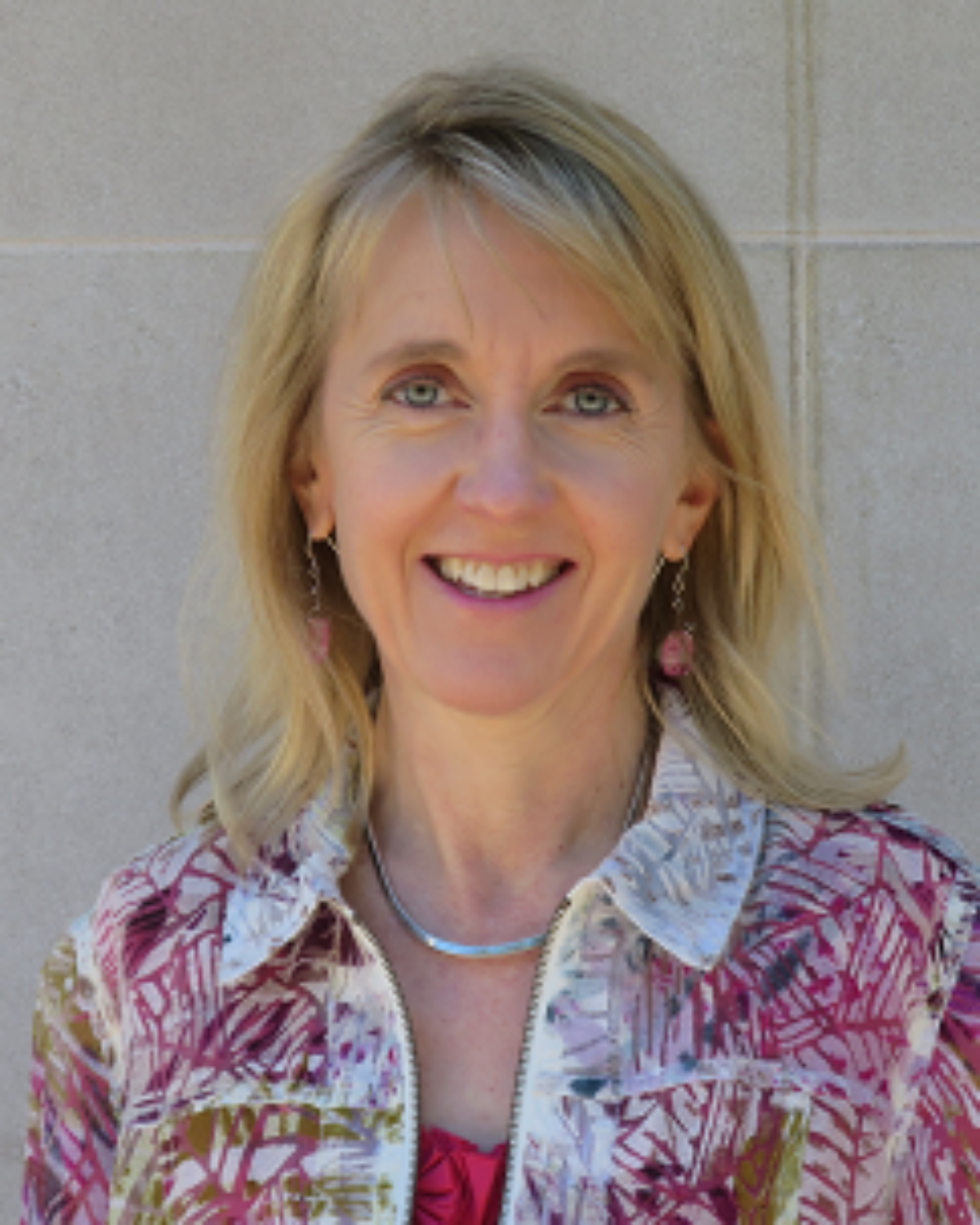 Our 2015 Employee of the Year, Abigail Hemphill, is respected for her work ethic and willingness to take on any task necessary for the success of her department, Center for Women in Law (CWIL). Her contributions to the law school are "immeasurable". She is self-starting, proactive and has shown great initiative in finding new and better ways to do things.
In part her nomination stated "It is hard to overstate the enormous role that Abby played in ensuring the great success of CWIL's [2014] Summit. Over a period of many months, she worked tirelessly to make sure that all details were attended to, ranging from coordinating sponsorships and speaker logistics to communications, hotel accommodations, gift bags, and an unlimited list of all other items necessary to produce a 300-person conference that was, by all accounts, a spectacular success. And she did all of this with constant grace and good humor".
Abby was also recognized as a team player, the nomination stated "She stayed late and worked on weekends (without complaint) to help manage two additional events (on top of her Development Assistant and Summit duties) when CWIL's administrator left unexpectedly. She took on new duties, working with people from across the law school to learn the correct procedures to complete these new tasks. Abby handled these increased pressures with a smile on her face and a cooperative attitude. She is always willing to assist other members of the CWIL team".
Abby's relentless focus to detail combined with the capacity to step back and make insightful big picture suggestions'; tireless work ethic and overall support earned the respect of her colleagues and law school alumni. Congratulations Abigail Hemphill, our 2014-2015 Employee of the Year.
2014 – Sonja Lane, Administrative Services Officer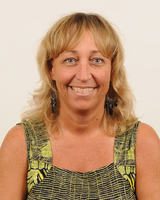 Our 2014 Employee of the Year, Sonja, is a valued employee who has worked in various roles at UT since May of 1992. In her current role, she oversees accounting matters for the Law School and is well respected across the Law School community for her hard work, organizational skills and her ability to get things done. Her exceptional people skills have stood out as she handles a multitude of accounting-related matters that are often time sensitive in nature.
As her nomination stated, "Sonja is one of the most knowledgeable and accessible people at the Law School. Her understanding of University policy and procedures is encyclopedic and she seems to know everyone and everything at UT. She is unfailingly cheerful and pitches in to help with tasks ranging from complex accounting questions to office furniture assembly. She's not only a reliable fixture in the dean's office — the entire Law School benefits from her expertise and good nature."
"Sonja is always willing to help, and always willing to take time to make sure things are done right the first time." Although many requests do not fall within her official duties and responsibilities, Sonja is always willing to come to the rescue, and she does it with a big, friendly smile.
Sonja's contributions to the law school are innumerable and immeasurable. Congratulations to Sonja Lane, our 2013-14 Employee of the Year!
2013 – William "Billy" Chandler, Rapoport Center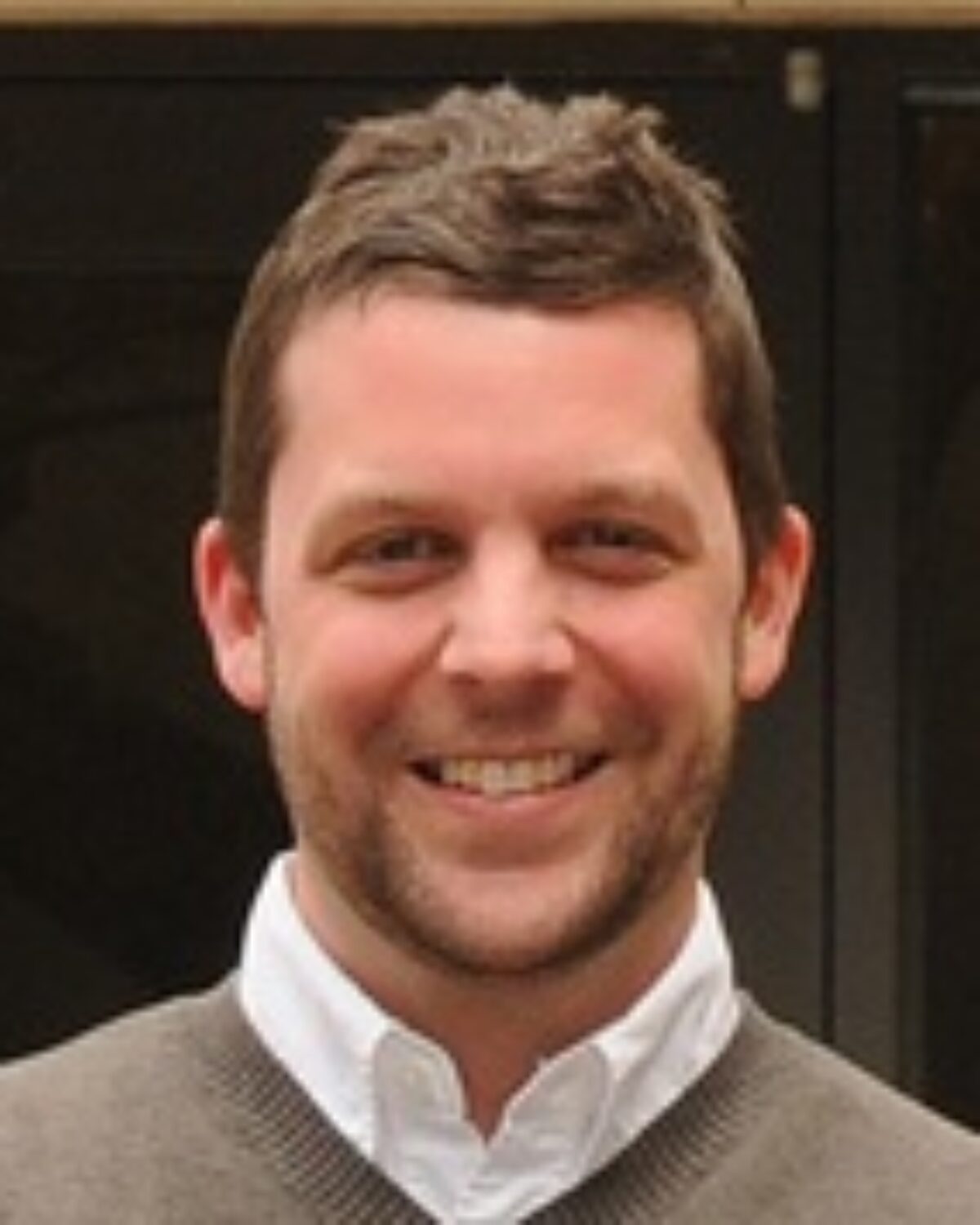 The 2013 Employee of the Year has an extensive repertoire of skills, talents, and affinities that he brings to the law school each and every day. It is a great honor to recognize Billy Chandler of the Rapoport Center as our 2013 Employee of the Year. He is being recognized for his proactive leadership, teamwork, and enthusiastic service to the law school community.
From his extraordinary job in planning, editing, and coordinating the publication of the Rapoport Center's Annual Review, through managing the Center's annual speakers' series, to coordinating the Center's annual conferences, Billy Chandler runs the Center with enthusiasm and spot-on efficiency. His dedication and commitment are crucial to the success of the Rapoport Center's mission.
In addition, he works tirelessly with the center's scholars and interns, encouraging and inspiring them through arranging discussions of human rights topics, helping them to manage their workloads, and engaging them in the work of the Center. He takes the lead in coordinating the visits of eminent scholars from around the country, orchestrating seamlessly all aspects of their travels. Last minute curve balls — and there are plenty — are handled smoothly and efficiently.
Yet it is his genuine and caring persona that has endeared him to his colleagues and earned him the respect of the students and faculty who work with the Center. Congratulations William Chandler, our 2012-13 Employee of the Year.