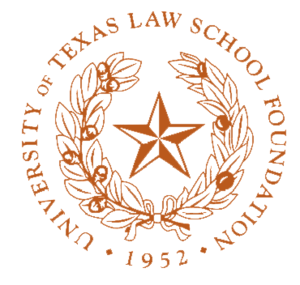 The University of Texas Law School Foundation was established in 1952. It is an educational foundation, the sole purpose of which is to support The University of Texas School of Law. The Law School Foundation manages many of the endowments and privately-sponsored funds that support the Law School.
The Foundation provides essential support to many aspects of the Law School's operation, particularly in our efforts to build a great faculty and provide a great education to our students while charging lower tuition than our peers. We at the Law School are deeply grateful for the time and talent that our amazing alumni have contributed to make the Law School Foundation such a success.
By agreement between The University of Texas and the Foundation, the Foundation's office is located in the Law School and from time to time it utilizes the services of Law School staff for which the Foundation pays an annual agreed upon amount. The Foundation also employs its own Executive Director and accounting staff and is managed by an independent Board of Trustees.
The Foundation is a 501(c)3 charitable organization, and contributions to the Foundation are used solely for the benefit of the Law School.
For more information, or to contact the Law School Foundation directly, visit the Foundation's website.