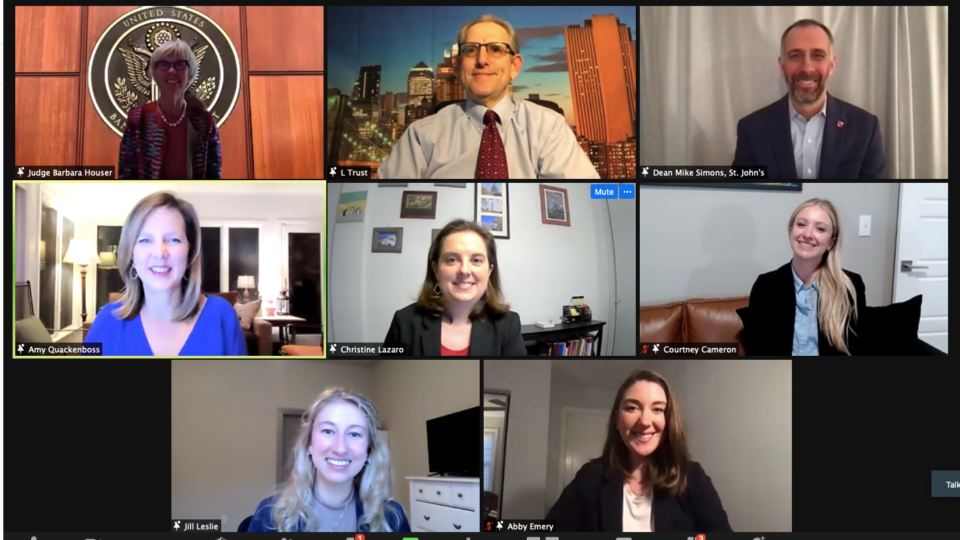 Texas Law Team Takes Second at National Duberstein Bankruptcy Moot Court Competition
Texas Law students took second place at the 29th annual Conrad B. Duberstein Bankruptcy Moot Court Competition, hosted by St. John's University and the American Bankruptcy Institute, Feb. 27 – March 1, 2021. 
The Duberstein Bankruptcy Moot Court Competition is widely recognized as one of the nation's preeminent moot court competitions. The second place team and winners of the Outstanding Brief are 3L Jill Leslie, 3L Courtney Cameron, and 2L Abigail Emery. In addition to this accolade, Emery won Best Advocate. The team was coached by Debbie Langehennig '88, Jay Ong, Evan Atkinson, Sophia Makris '17, Hannah Roblyer '17 and former Duberstein champions Brian Cumings '12 and Jameson Watts.
Pictured above: Texas Law students Jill Leslie, Abigail Emery, and Courtney Cameron receive word of placing second at the Conrad B. Duberstein Bankruptcy Moot Court Competition on Monday, March 1, 2021.
"We saw a great performance from this exceptional team of students, especially in a virtual competition year," remarked Langehennig. In addition to the competition taking place online, the team pushed through the adversity of the Texas winter storm hitting just a week prior to competing.
An Impressive Record for Texas Law
The annual Duberstein Competition, the only national moot court competition devoted entirely to bankruptcy law and one of the longest-running moot court competitions in the country, involves a substantial commitment from students and their coaches. That commitment has produced great results year after year, competing most years against 54-60 teams and this year against 35 teams. Since 2010, Texas Law has twice won the national championship, placed three times in the top two spots, and placed nine times in the top four. "What a record! And against many teams, including top schools," said faculty advisor, professor Jay Westbrook, "the constants are two dedicated and talented coaches."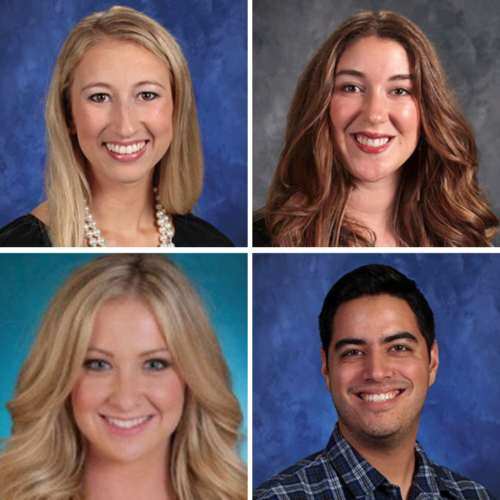 From Regional to Nationals
Prior to participating in the national competition, Texas Law teams also placed second and third place in the regional moot court Elliott Cup Competition. The event includes law schools throughout Texas's Fifth Circuit and is designed to serve as a formal practice competition for law school teams that will compete in the national Duberstein Moot Court Competition.
Team winners were Abigail Emery and 3L Aaron Lozano in the second place, and Jill Leslie and Courtney Cameron in third place. Individual winners were Emery as first place Advocate and Leslie as second place Advocate. 
The Elliott Cup is sponsored by the Bankruptcy Section of the State Bar of Texas and is named in honor of the late Joseph C. Elliott, U.S. Bankruptcy Judge for the Western District of Texas.
Learn more about Texas Law's interscholastic moot court program.