Meet the Constitutional Studies Program's Inaugural Class of Senior Research Fellows
Texas Law's Program on Constitutional Studies is pleased to welcome its inaugural, international class of Senior Research Fellows in Constitutional Studies. Each has been selected for their impactful and innovative ideas and advocacy in constitutional studies.
The 2022 Fellows are Julie Suk from Fordham University (USA), Cynthia Barrow-Giles from The University of the West Indies (Barbados), Jaclyn Neo from the National University of Singapore (Singapore), Francisca Pou Giménez from the Instituto de Investigaciones Jurídicas (Mexico), and Hoi Kong from The University of British Columbia (Canada).
The five fellows will participate in Texas Law's scholarly activities and present their work in the Constitutional Studies stream of lectures, panels, and seminars. The duration of the fellowship is three years.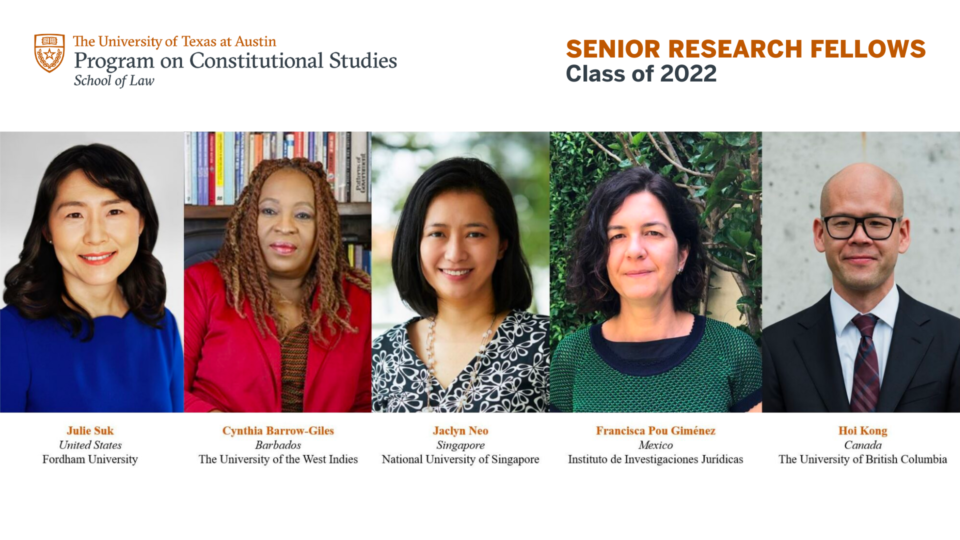 The Program on Constitutional Studies, directed by Professor Richard Albert, is the world's leading center for the study of constitutionalism. It brings together scholars collectively peerless in international stature and global impact on our understanding of constitutions. The Program develops initiatives to support students and faculty at the Law School, and shares its expertise with the larger world abroad.
"We hope this fellowship program will plant the seeds for future discussions, scholarship exchanges, and new collaborations," said Albert. "Each of the fellows will enrich our community, and help make the world's best constitutional studies faculty even better."
The group held an initial meeting on Friday, January 28, to discuss their current research and future plans. Dean Ward Farnsworth and Texas Law professors Ran Hirschl and Sanford Levinson joined the discussion and offered words of welcome to the fellows.