Texas Law Team Reaches Finals, Awarded "Best Brief" at Admiralty Moot Court Competition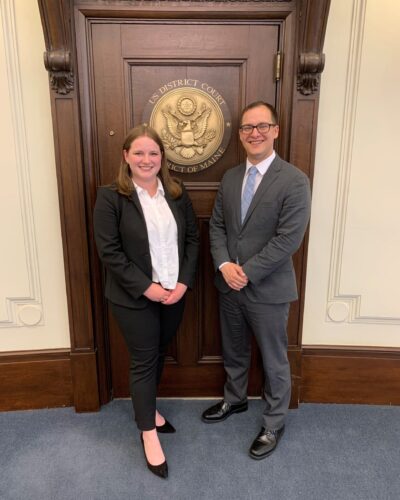 Texas Law students Zachary Badore (2L) and Anna Kate Benedict (1L) reached the final round and were awarded "Best Brief" at the 29th Annual Judge John R. Brown Admiralty Moot Court Competition. The team of Mason Currah (3L) and Olivia Horton (2L) also represented Texas Law at the competition, which was co-hosted by Texas Law and the University of Maine School Law. Both Texas Law teams were coached by Assistant Attorney General Ben Walton.
This year's event featured its largest-ever field with 32 teams competing in Portland, Maine, March 31-April 2. The Judge John R. Brown Admiralty Moot Court Competition is an interscholastic appellate advocacy competition that is jointly sponsored by The University of Texas School of Law and a local host law school. It is named in honor of The Honorable John R. Brown, who served on the United States Court of Appeals for the Fifth Circuit as one of the nation's most prominent admiralty judges from 1955 until his death in 1993.
Professor Michael Sturley, who holds the Fannie Coplin Regents Chair at Texas Law, coordinated the competition with the help of Texas Law students Mackenzie Aden (3L) and Jordan Hyden (1L). Funding for this competition was provided by the Houston law firm of Royston, Rayzor, Vickery & Williams L.L.P. (where Judge Brown practiced from 1932 to 1955) – and the Maritime Law Association of the United States.
Mock trial competitions are offered through Texas Law's trial advocacy program, which provides opportunities for students to put their talent and skills to work against teams representing top law schools across the country.