The women of Texas Law have been ground-breakers, leaders, and high achievers throughout our history, including several alumnae we recognize in honor of Women's History Month. Reflecting on how their experience at Texas Law helped lead them to success in their lives and careers, read on to get to know Linda Addison '75, Brittany Castillo '13, Iman Houston Farrior '08, the Hon. Chari L. Kelly '02, and the Hon. Oshea Denise Spencer '97.
During the month of March, UT Austin is spotlighting campus events, books, stories, art exhibitions, and more that celebrate the impact of women on campus and in our world. Read more about how UT is Celebrating the History and Impact of Women.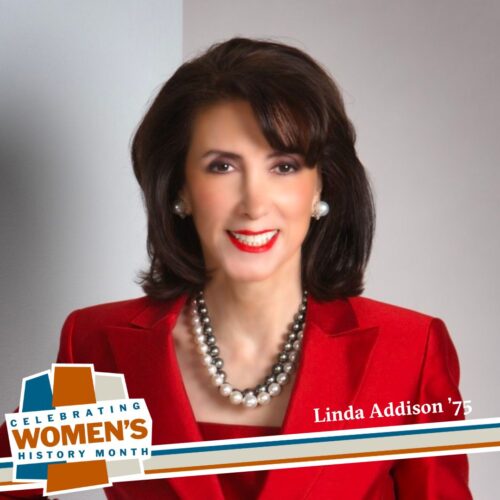 Linda Addison '75, Retired Managing Partner, Norton Rose Fulbright; Independent Director

Addison is past U.S. managing partner, chair of the U.S. Management Committee, and global board member of Norton Rose Fulbright. She has served as lead counsel for some of the world's leading global companies on their most significant matters. Addison is currently lead independent director of Globe Life Inc., an S&P 500 company, and an independent director of KPMG LLP. Addison is founding president of the Center for Women in Law. The American Bar Association awarded her its Margaret Brent Award, its highest recognition for women who have achieved professional excellence and paved the way for other women lawyers. Linda was named one of the "100 Most Influential Lawyers in America" by the National Law Journal, one of the "50 Most Powerful Women in New York" by Crain's New York Business, an Outstanding Alumna of the School of Law, and a Distinguished Alumna of the University of Texas. She serves on the board of Catalyst and M.D. Anderson Board of Visitors, is a senior trustee of the University of Texas Law School Foundation, and is a member of the Council on Foreign Relations.
"Texas Law taught me skills that enabled me to build a successful law practice and ultimately to run a large global law firm.  It taught me critical thinking and contributed to my becoming a lifelong learner, which is required not only for a long career in the law, but also to create a second career, in my case as a corporate board member."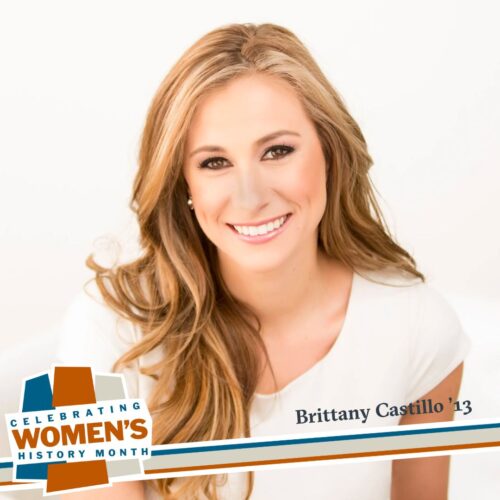 Brittany Perkins Castillo '13, Chief Executive Officer, Ashbritt Family of Companies
Brittany Perkins Castillo is chief executive officer at AshBritt Family of Companies, a government solutions provider specializing in emergency management and logistics. As CEO, Castillo led AshBritt's operations following events including Hurricanes Harvey, Irma, Ian, the 2017 U.S. Army Corps of Engineers wildfire mission in northern California, the COVID-19 pandemic where AshBritt administered more than 1.5 million vaccines, and various humanitarian crises. Castillo is a vocal advocate for supporting and mentoring women and frequently speaks about the need for equity and diversity in government contracting, operations, and emergency management. She recently launched WTFem.org, a repository to help advance women in these fields. Castllo is chair of the Pace Center for Girls Board of Trustees, a member of the Board of Counselors for Equal Justice Works, and a member of the board of directors of the AshBritt Foundation and 4Girls Foundation.
"The relationships established at Texas Law provide an invaluable network. I lean on and learn from the UT Law community often in my role, and I look for opportunities to do more work with alumni."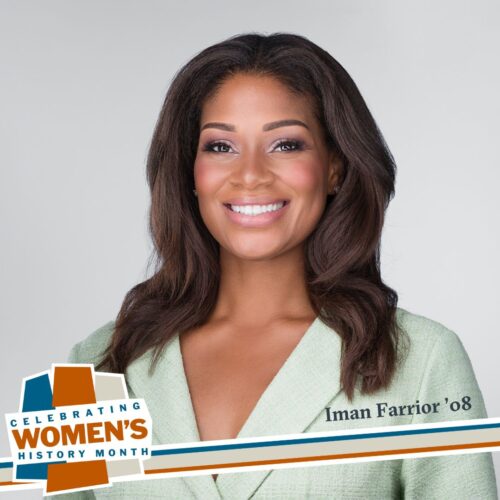 Iman Houston Farrior '08, TV Business Affairs Executive, Creative Artists Agency
Iman Farrior has a unique background that spans positions with a leading entertainment agency, a real estate tech company, a global energy company, a boutique consulting firm, and an AmLaw 100 law firm. For nearly 20 years, Farrior has been a trusted advisor to global organizations and businesses on subjects as varied as contract law, negotiation, startup investment, business strategy and operations, regulatory compliance, and real estate. She is currently a TV business affairs executive at Creative Artists Agency and the co-founder of starriorworld.com. Farrior is a licensed attorney and licensed real estate broker in both California and Texas. She also is an L.A. Opera Ambassador and sits on the Board of Directors of 826LA, a non-profit organization dedicated to supporting young students with their creative and expository writing skills, and to helping teachers inspire their students to write. In addition to her law degree, Farrior holds a bachelor's degree in Management and Business Law from Tulane University, where she played D-I volleyball, and an MBA from Rice University.
"My experience at Texas Law equipped me with such a profoundly solid foundation in business law that I have been able to seamlessly transition across multiple industries with complete confidence throughout my career."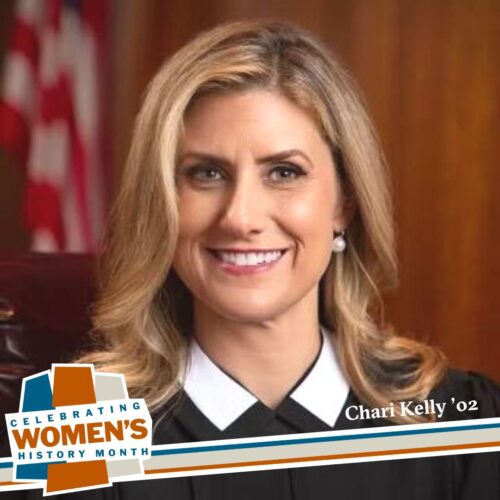 The Hon. Chari L. Kelly '02, Justice, Third Court of Appeals; Adjunct Professor

Justice Chari L. Kelly is a justice of the Texas Third District Court of Appeals. A U.S. Army veteran and former paratrooper, Kelly was a captain in the Judge Advocate General's Corps where she served as a trial defense counsel. Before her election to the Texas Third Court of Appeals in November 2018, Justice Kelly served as an assistant district attorney and during her career, tried more than 35 jury trials, including aggravated sexual assault, murder, and kidnapping. She has also served as an adjunct professor at the University of Texas School of Law for more than 10 years and currently is leading the skills component of the Advocacy Survey course. Kelly serves on the Area Alumni Association Executive Committee, is a former Austin Young Lawyers Association president, and is the current Austin Bar Association president-elect. While a student at Texas Law, she competed with the Interscholastic Mock Trial team and was as a member of The Review of Litigation.
"UT Law helped prepare me to be a fearless advocate. When I crossed the stage at the Sunflower Ceremony, I truly felt courtroom ready. The knowledge, skills, and confidence instilled in me by my many trial advocacy mentors and instructors ensured that I was primed for that first jury trial as a young attorney — and thankfully so, as I tried my first case just a few months later!"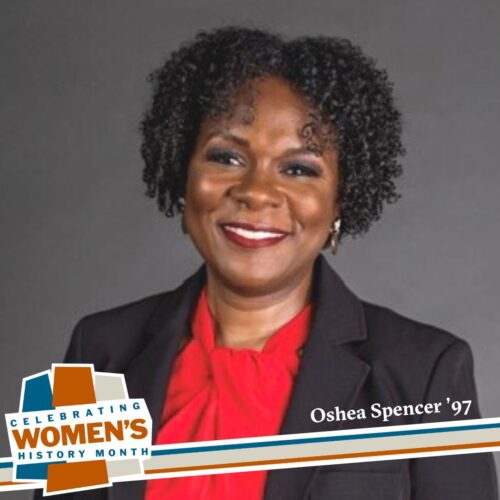 The Hon. Oshea Spencer '97, Immigration Judge
Oshea Denise Spencer was appointed as a United States immigration judge in October 2018. She began this role in the New York City Immigration Court, then returned to Texas and currently presides over immigration hearings in Houston. A strong proponent of public interest work, her legal career has spanned various areas within the public sector. Judge Spencer was previously an assistant district attorney in both Bronx County, N.Y., and in Fort Bend County, Texas, as well as a director for a non-profit organization and an associate municipal court judge. During her eight-year tenure as a child abuse prosecutor, she coordinated the Fort Bend County Child Fatality Review Team and was awarded the "Champion for Children" Award by Child Advocates of Fort Bend. Judge Spencer is passionate about mentoring, and her mentoring experience during the coronavirus pandemic has been featured by MENTOR.  She is a member of the University of Texas School of Law Alumni Association Executive Committee, and a mentor for the University of Texas School of Law Pipeline Program.
"Texas Law prepared me for the work that I do now by providing the support I needed to pursue my interest in public service. The law school provided a public interest fellowship, which allowed me to work for an organization that did not have the funding to pay for a summer law clerk. The law school's demonstrated commitment to public interest work reinforced my belief in the value of a career in government and public service."