Texas Law Students Win National Transactional Law Competition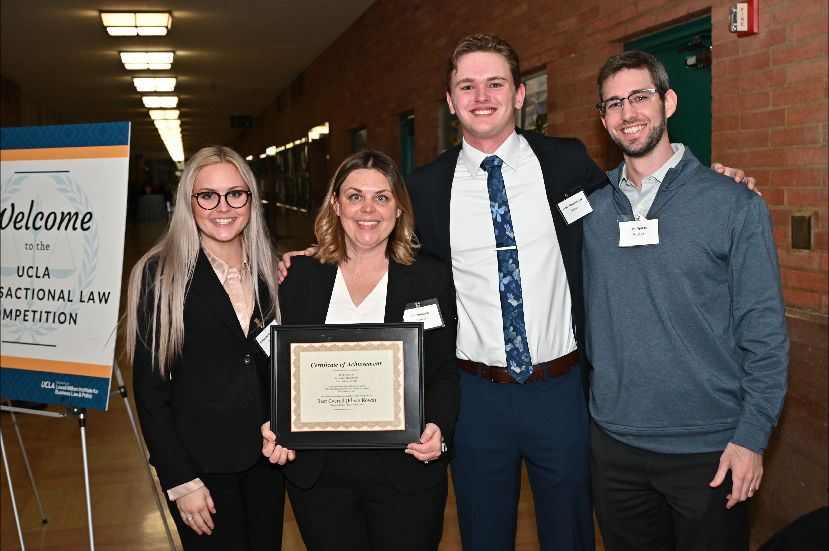 The Texas Law team of 2Ls Erin Johnson and Katherine Rossmiller and 1L Evan Schneeberger took the top prize at the 2023 UCLA Transactional Law Competition, held at the UCLA School of Law on March 3. This year's event marked a return to in-person competition for the venerable tournament after several years of online events.
The victory also continued what has been a strong season for Texas Law advocacy teams, who have thus far notched five regional and national team wins, and seven individual honors.
UCLA's competition, which is hosted by that school's Lowell Milken Institute for Business Law and Policy, features nearly 30 teams of three law students, each representing either the buyer or seller in a simulated complex business transaction. Johnson, Rossmiller, and Schneeberger were randomly assigned the "sell" side of a transaction. In advance of the event, they were required to submit an initial draft stock purchase agreement and review another team's draft agreement. Then on the day of the competition, students drafted portions of a proposed agreement and negotiated terms with an opposing team over the course of two rounds.
Johnson credited the depth and diversity of the team for their success.
"Each teammate brought a diverse perspective based on courses and prior experiences," she said. "We shared our knowledge and learned what each of us has learned separately in Negotiations, M&A, Corporate Governance, Tax, and Transactions."
She found the entire process invaluable. "This competition enriched my Texas Law experience, challenging me to work outside of my comfort zone and to recognize my strengths along the way."
A second Texas Law team — 2Ls Hope Bauman and Kristal Bird and 1L Glen Thomas — also competed, with both teams being coached by Sam Spiers '17, an associate at White & Case in Houston. For Spiers, who was involved in the transactional skills program as a Texas Law student, it was a phenomenal opportunity to give back to his alma mater.
"Coaching these teams was a wonderful experience, especially because of the particular students I had the opportunity to work with," said Spiers. "They put in a tremendous amount of time and effort, and I'm glad to see that it paid off."
Spiers noted the commitment the school makes to students and the winning mindset it instills. "Texas Law's continued commitment to building a transactional program has not only allowed students to compete (and win) in competitions across the country each year but also provides them with substantive experience that they can take with them post-graduation. I can't wait to see what next year brings."
The transactional skills program has been providing opportunities for students to participate in competitions with the support of practitioner-coaches for the past 10 years. In addition to external competitions, Texas Law hosts the annual Texas Transactional Skills Intramural event, with participation of more than 100 students. Transactional law is one of several specialty areas in which Texas Law students can compete as part of the school's advocacy program.
Johnson summed up the value of the experience at the national competition. "This has been the highlight of my law school career so far," she noted. "I honestly cannot recommend a better experience for those who are looking to get a feel for what a transactional lawyer does. I know I'll be able to hit the ground running as a first-year associate, largely in part due to the skills developed through this program."
Elrod '23 and Welch '24 Repeat as Regional Winners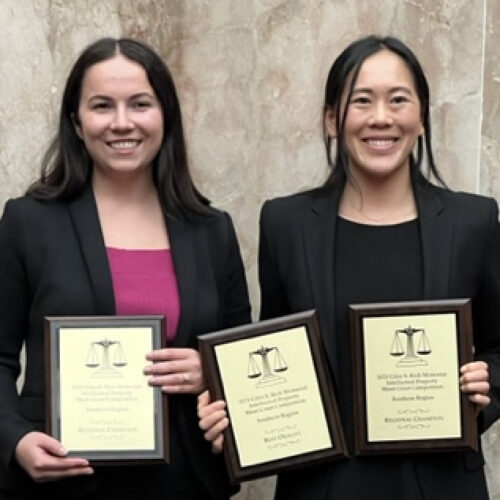 Meanwhile, in Houston, the dynamic duo of Elizabeth Elrod '23 and Paige Welch '24 won the regional tournament of the Giles Sutherland Rich Memorial Moot Court. The teammates also won the intellectual property tournament's award for Best Appellee Brief, while Welch secured the individual honor of the award for Best Advocate. They now advance to the national finals of the competition, which will be held in Washington, D.C., from April 12-14.
For Elrod and Welch, their victory is a triumphant return to the Giles Sutherland Rich Memorial competition; they won this same regional event last year.
The team is coached by one of Texas Law's long-time Advocacy Program adjuncts, Peter McCabe, and program alumnus John Williams '19.