On a day when thunderstorms threatened but never materialized, the mood was sunny and joyful inside UT Austin's Gregory Gym as Texas Law celebrated the J.D. and LL.M. Classes of 2023 on Saturday, May 6.
The school's annual Sunflower Ceremony, continuing a tradition that dates back the beginning of the 20th century, brought together 292 graduates and more than 2000 family and friends for a two-hour presentation with spirited reminiscences, inspiring speeches, moving moments, and an awe-inspiring volume of confetti.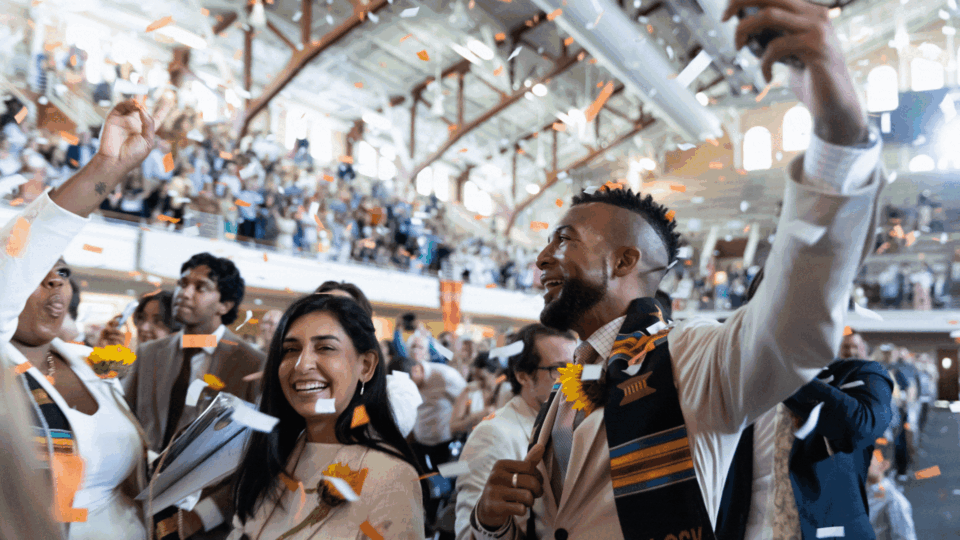 The signature elements of the law school's distinctive commencement exercises—summer suits for the new graduates and attending faculty instead of the usual, heavy academic regalia, and a veritable sea of sunflowers—were on full display as the participants proceeded into the venue in two columns, "Pomp and Circumstance" blasting throughout the hall.
The gathering was formally opened by Dean Bobby Chesney, presiding over his first Sunflower Ceremony as dean and the de facto master of ceremonies.
"We are here to mark a great milestone in your lives," began Chesney. "And an unusual one: This is the first time and, alas, likely the last time, the entire Class of 2023 will be gathered in one place, at one time."
It was a reference to the unusual, disrupted circumstances faced by the Class of 2023 when they began their law school career in August 2020, at the height of the global COVID-19 pandemic.
Still, noted Chesney, in the 1000 days that elapsed between law school orientation and commencement day, the graduates "acquired superpowers— to see what others cannot see, hear what others cannot hear, and understand what others cannot understand. You can solve problems that others think have no solution. You can achieve things—for yourselves, for your clients, for your communities, for society—that some people think are impossible."
"You can achieve things—for yourselves, for your clients, for your communities, for society—that some people think are impossible."

— Dean Bobby Chesney
The message throughout the day was clear: despite the challenges faced by the Class of 2023—or perhaps because of them—they are resilient, resourceful, and uncommonly well prepared to tackle their futures.
"Use your abilities wisely, generously, with grace, to find ways to give back to the society that made your education possible," the dean added.
Chesney also welcomed the graduates to their new role as Texas Law alumni, one of the largest law school alumni networks in the nation, with more than 25,000 members.
"It's the end of one kind of relationship you've had with this school… and the start of a new one," said Chesney. "So don't be a stranger! Come back when you can and be sure to share your wisdom and powers with those students soon to be following in your footsteps."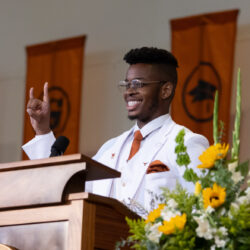 After leading the students in a rousing ovation for the family and friends in attendance, thanking them for their ceaseless support of the graduates during the rigors of law school and summer law jobs, Chesney ceded the podium to the Class of 2023's Permanent Class President Jason Onyediri.
Onyediri recalled the inspiring words he and his classmates heard upon their arrival to Texas Law for their 1L year, from then-dean Ward Farnsworth. "He said, 'The world needs you. It needs you urgently. And it urgently needs you to be great lawyers.' Those words have stuck with me since… and we got to work!"
Onyediri, who served as editor in chief of the Texas Law Review, was sure to not only dwell on the hard work of law school, but the great fun and camaraderie he and his classmates created and enjoyed throughout their three years together.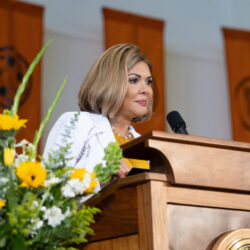 The crowd then heard from the day's convocation speaker, The Hon. Eva Guzman, a former Texas Supreme Court Justice and now a partner at the Houston law firm of Wright, Close & Barger.
Guzman posed timeless and powerful questions to graduating students: "Are you ready to write your story?" asked Guzman. "How will you fill the pages? Will your stories be about winning? Fame and fortune? Prestige and power? I hope you'll aim higher. I hope you'll go beyond the trappings of success to find significance in the high calling of our noble profession. You will accomplish more if you love what you do. Do find your Passion!"
"I hope you'll go beyond the trappings of success to find significance in the high calling of our noble profession. You will accomplish more if you love what you do. Do find your Passion!"

— The Hon. Eva Guzman, Convocation Speaker
The crowd was rapt and moved by the autobiographical touches of Guzman's speech.
"I'm a big-city Latina who grew up in Houston's East End, the middle of seven children whose immigrant parents had a grade-school education," she said. "As a child, I saw firsthand the value of a strong work ethic. Like my brothers and sisters, I landed my first job at an early age, working in a drapery factory after school. The factory owners thought I was 16 and I thought $2.00 an hour was a great wage!"
After the laughter at that observation begin to fade, Guzman brought many to tears. "Despite their lack of a formal education," she recalled, "my parents knew the value of education in a country teeming with opportunity. And, they spurred in us a drive to move ahead by excelling in school and eventually saw all seven of their children graduate from college."
The moment then arrived for the graduates themselves to take center stage. As their names were called out, with noticeable pride, by a roster of Texas Law faculty, the 20 Masters of Law recipients and 272 Juris Doctor recipients walked the stage, one at a time, each receiving a sunflower, a and warm greeting from a gantlet of faculty and associate deans lined along the stage. After that, they had a handshake and a photo with the dean.
A highlight of the Sunflower Ceremony every year are the young children so many new graduates bring with them to the stage, sharing their special moment. "It's wonderful, and deeply moving," said Elizabeth Bangs, dean of students of one of the key members of the stage party distributing sunflowers. "It symbolizes of why all of us—faculty, staff, deans, and students—do this work at all: the future!"
The Class of 2023 is an accomplished and active group. Collectively, this year's graduates gave 18,200 hours of pro bono service during law school. More than two-thirds of them participated in a clinic or internship during their 2L or 3L years, and many participated in competitions, including many national championship-winning trail advocacy contests.
The ceremony, which was livestreamed and watched by more than 1,400 viewers through Texas Law's YouTube channel, is available for viewing at Sunflower Ceremony 2023 – Livestream – YouTube.
For additional reading on this year's Sunflower Ceremony and the Class of 2023, see our article on career plans for select Class of 2023 members, and our articles with the full transcripts and videos of remarks from Class President Jason Onyediri's and Justice Eva Guzman.
Watch Sunflower Ceremony Videos
View Sunflower Ceremony Photos on Flickr