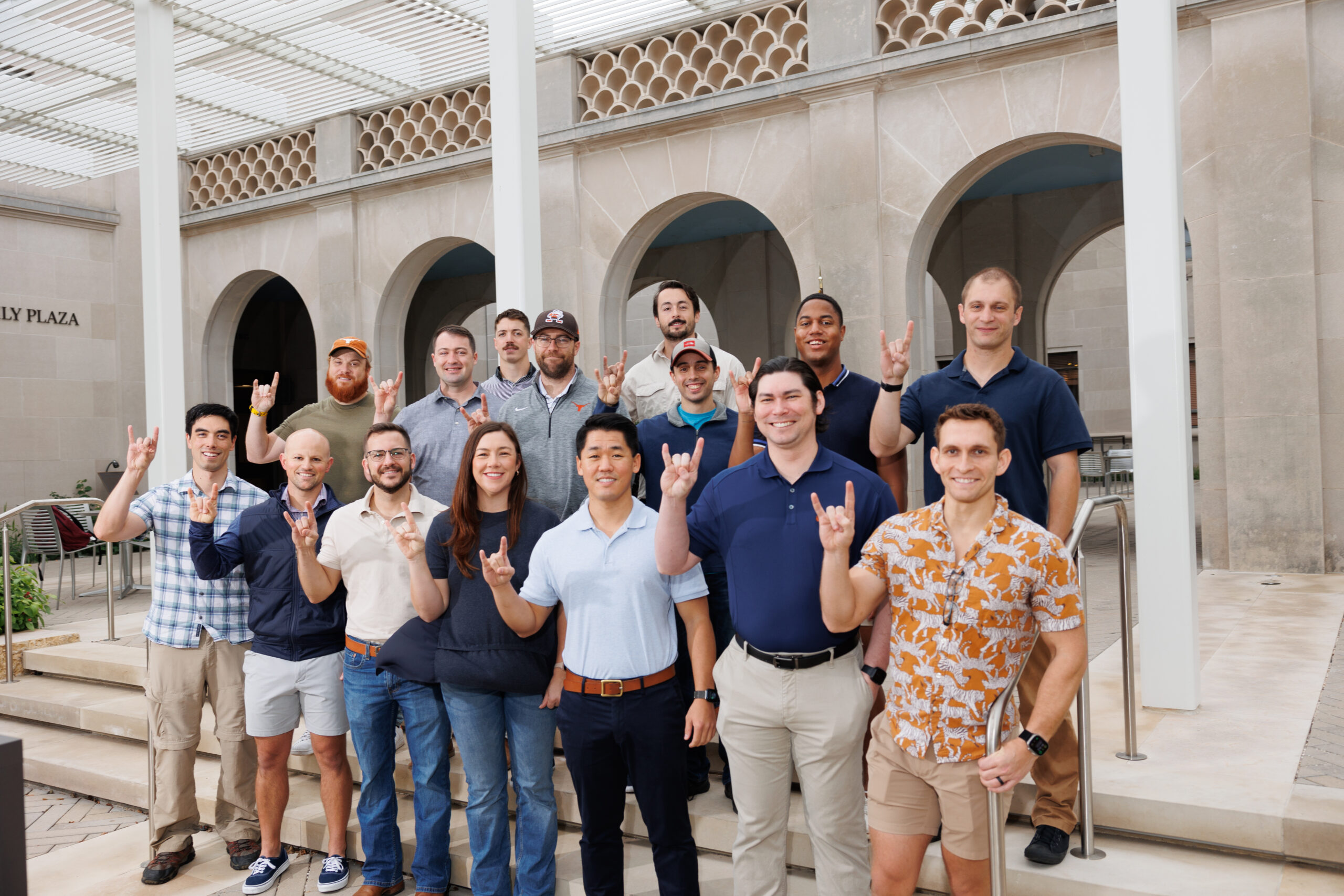 Only months before attending Texas Law, Josh Davis '21 was piloting a Black Hawk helicopter in Afghanistan.
So, when the former Army aviation officer arrived on campus, he sought out other students who shared his military background.
For Davis—and many other current and former Texas Law military members—the law school's supportive community and its active Texas Law Veterans Association are among the reasons they enroll. "One of the reasons why I was so thankful for TLVA was there were people who could relate to my experiences," says Davis.
"I was able to reach out to other veterans within the law school community. They were my first points of contact," says Davis, now an attorney at law with Rick Davis & Associates in Bryan, Texas.
The school's community of veterans and current military members continues to grow. In 2023, the 1L class welcomed the largest number of veterans on record. The reason for that increase? "Texas Law is an amazing community that provides a great education and support to help veterans transition into civilian life and the legal profession," says TLVA President Tom Rielly '25, a former Army captain and armor officer. "The state of Texas has amazing veterans' benefits and UT has a robust and helpful student veterans services office. Austin is a fun, dynamic city, and Texas has a robust, growing legal market that is a great place to start one's legal career."
Those state benefits include the Hazelwood Act, which provides qualified veterans, spouses, and dependent children with an education benefit of up to 150 hours of tuition exemption at public institutions of higher education in Texas. Students may also use the nationwide Post 9/11 GI Bill or other Texas Law veteran education benefits. At the law school, the financial aid team is equipped to handle military-specific issues.
School leadership says military background is highly valuable. "Veterans come into the application process with skills that easily translate into a positive law school experience. Leadership, professional judgment, and teamwork are qualities that we look for in all candidates, however, veteran applicants have an inherent advantage because their military experience will often equip them with those skillsets," says Mathiew Le, the law school's assistant dean of admissions and financial aid. "In the classroom, this means an enriched learning environment, particularly for our non-veteran community, and from the employment perspective, better opportunities."
Veterans Association
Students can find an instant peer group when they arrive on campus. TLVA provides a tight-knit community for current or former members of the armed forces as well as those affiliated with the military.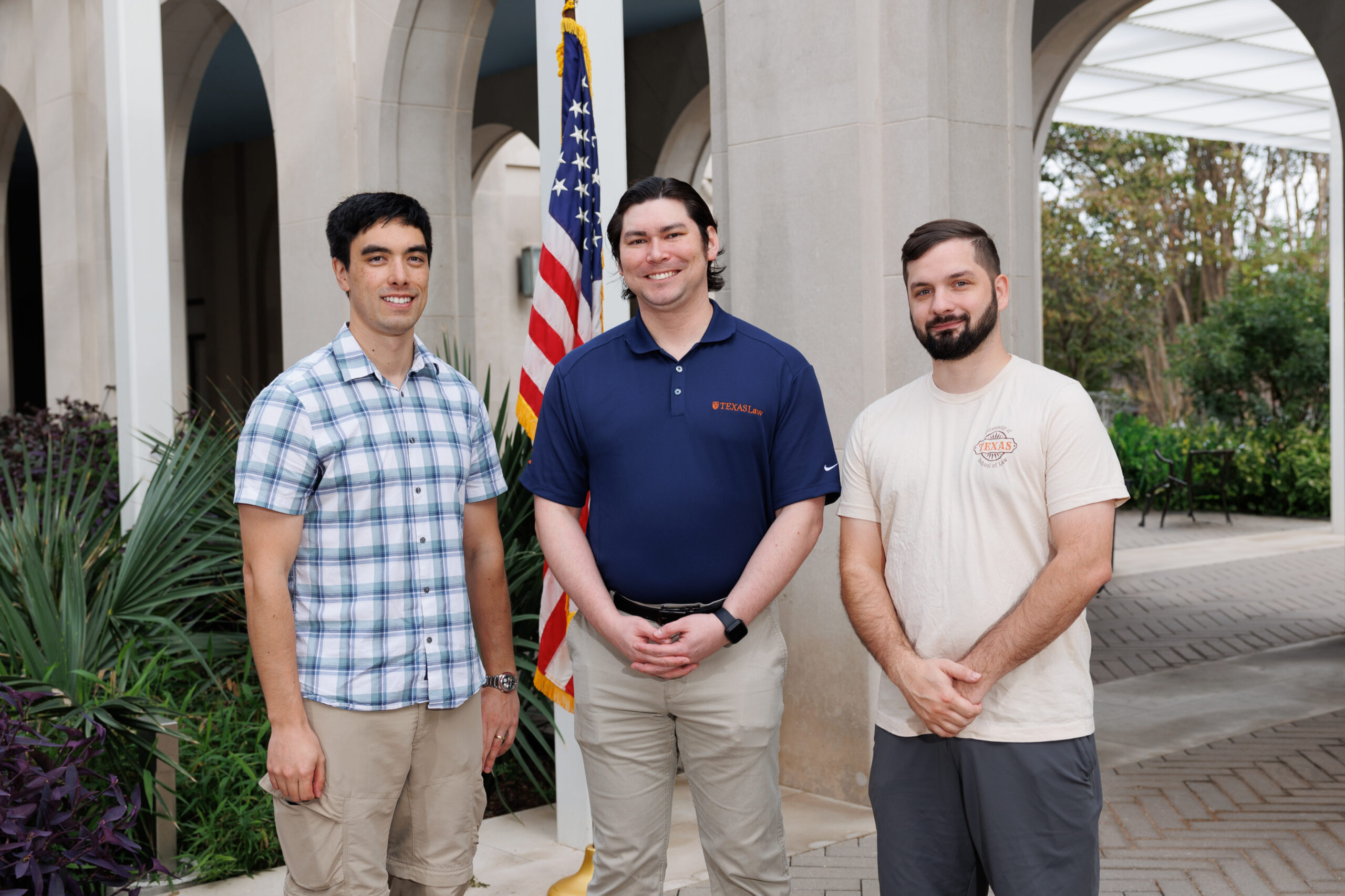 Currently, TLVA has 21 members, representing all branches of the military excluding Space Force and the Coast Guard. Meet-ups offer the chance for members to build friendships—and enjoy a shared sense of humor. "The connections with fellow veteran students are immediate," says Megan Ezekannagha '26. "Our weekly coffees are a great time to connect and support each other." 
TLVA also hosts panels that outline how to transition from student to lawyer. Private networking and events for TLVA members and national law firms create opportunities for interviews and job offers, says TLVA member and former president David Kopp '24. "These connections have proven instrumental in helping veterans secure employment," he says.
TLVA also works with other law student orgs to promote and share military and veteran-related legal issues, as well as co-hosting networking events with fellow veteran affinity groups across the university, including at the McCombs School of Business. Additionally, members help out in their wider community, through activities such as volunteering at veterans legal advice clinics run by the Austin Bar Association at the Austin VA Clinic as well as for the Mithoff Program's internal Deported Veterans Project.
Rielly notes that The University of Texas at Austin was recently ranked best university in the state for veterans by U.S. News & World Report­, providing an excellent structure to support veterans, with TLVA adding an additional element of outreach. At the law school, Rielly also points to the Society Program, which he described as unique to Texas Law, for creating a sense of community starting from the 1L year.
Strauss Center
TLVA co-sponsors events for its members in partnership with the law school's Robert Strauss Center for International Security and Law, which integrates expertise from across the university, as well as from the private and public sectors, in pursuit of practical solutions to emerging national and international challenges. One recent event featured Col. Chris Ford, the staff judge advocate (general counsel) for the Army Futures Command, and his senior staff at a private lunch for TLVA members.
More broadly, Strauss Center offerings appeal to military members and veterans, says Director Adam Klein. "We have a real focus on not just national security generally, but also programming that relates to hard security and defense," he says. "That's something many law [schools] and many policy schools don't prioritize, but we do."
Within Texas Law, the Strauss Center sponsors a cybersecurity concentration for the LLM degree, providing law students with a sophisticated understanding of the legal, policy, and technical architectures associated with cybersecurity. And the center's National Security Law Fellows program—one of the nation's premier national security law programs—includes a number of current and former military members, as well as future Judge Advocate General's Corps enlistee, the Army's corps of attorneys.
All this means that the law school opens careers pathways into national security and U.S. government service in the law, such as the intelligence community, Department of Defense, Department of Justice, and prosecutorial work. Many students who have military backgrounds find a mission-oriented career very appealing, Klein explains.
Visiting speakers can answer questions for law students about how to land these sought after positions and what they are like day-to-day. "We give them private access to the people who are in those jobs currently and who have done those jobs at the highest levels," Klein says.
Strauss Center courses include strong offerings on national security law and general courses on counterterrorism, law of armed conflict, and military justice. And there's a cybersecurity curriculum, related to cybersecurity and use of force. "We have a really rich curriculum on national security law topics that would not be equaled by many other schools," says Klein.
There are also unique opportunities for law students to become involved with projects on behalf of the university's Applied Research Labs, which does exclusive research for the U.S. government, DOD, and the intelligence community—much of it classified. Students may provide their policy and legal input. At the moment, two cyber JAG students—one Army, one Navy—are working on a project on the rules of engagement for autonomous vehicles. "We're able to get our students involved in actual research for the U.S. government on defense and intelligence applications," Klein says.
'Fell in Love with Texas'
In addition, the school's Lone Star State location helps when attracting veterans.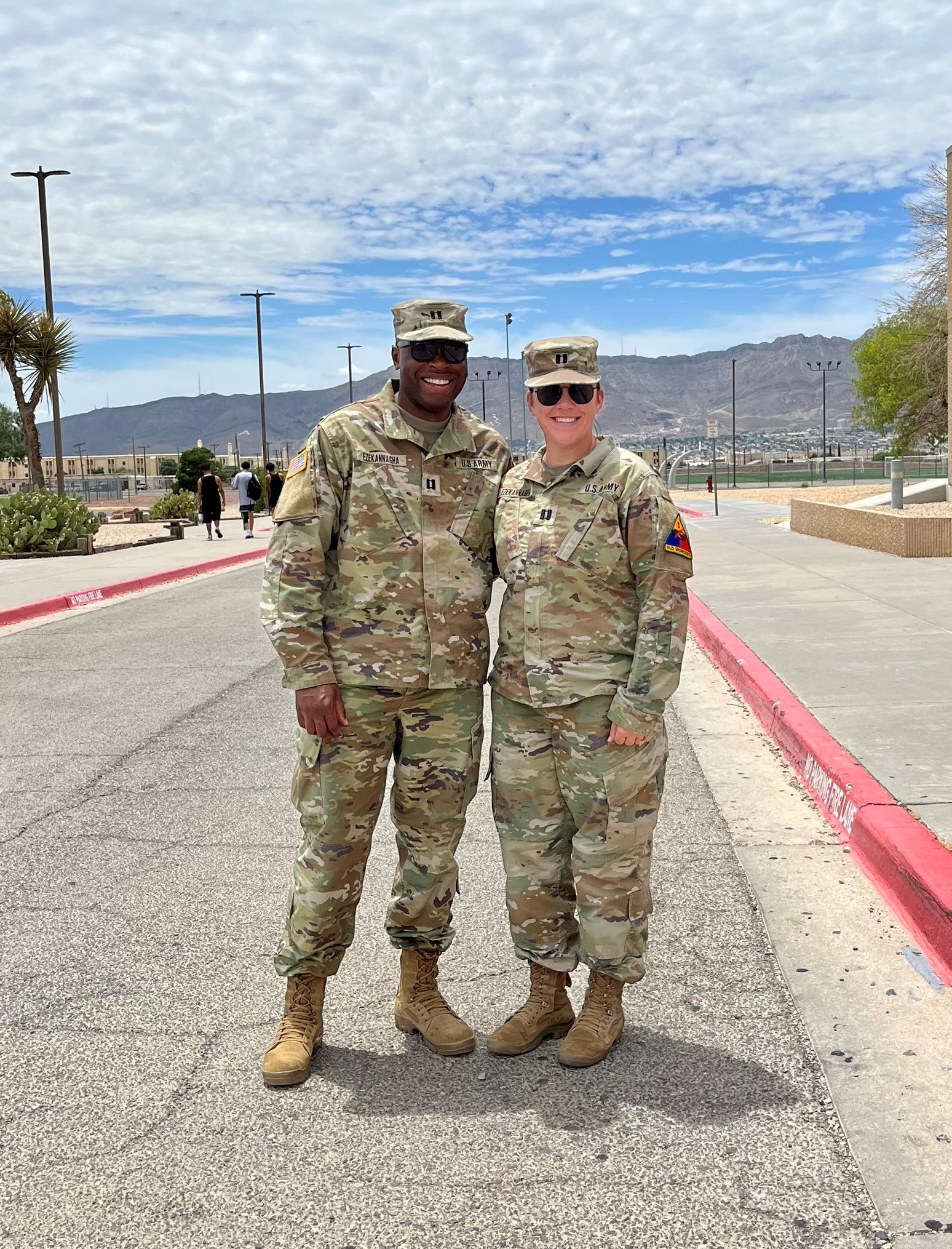 Ezekannagha was stationed in El Paso after marrying her husband (Chiazo Ezekannagha, Texas McCombs MBA '25). The couple "fell in love with Texas," she says. "Texas Law was always our No. 1 choice when we started applying to law and business schools. The opportunity to live and study in the growing capital city provides both of us many professional opportunities and a great community for us to raise our kids," says Ezekannagha, who was an Army field artillery officer (captain), now serving as in the same role and rank in the Texas National Guard. 
Ezekannagha notes that one of her first and closest friends in their 1L section is Chloe Cropper '26 who is on an education delay from the Army and will start her career as a JAG officer after graduation. "Developing that relationship is special since I am at the end of my active duty career as hers is beginning," says Ezekannagha, explaining the two share a bond in part due to both being commissioned through the ROTC.
"I consider her a friend first, but there is also a mentorship element to our relationship since she is junior in rank to me," Ezekannagha says.
Such mentorship is important. "From job hunting to exams prep, the personalization of TLVA's mentorship is indispensable for law school and beyond," says TLVA Treasurer James Ticknor '25, a former staff sergeant in the Air Force. He notes that Vannevar Taylor '24, the organization's previous treasurer, helped Ticknor land his own summer job with Kirkland & Ellis in Houston—and the two even shared an office.
Connections Continue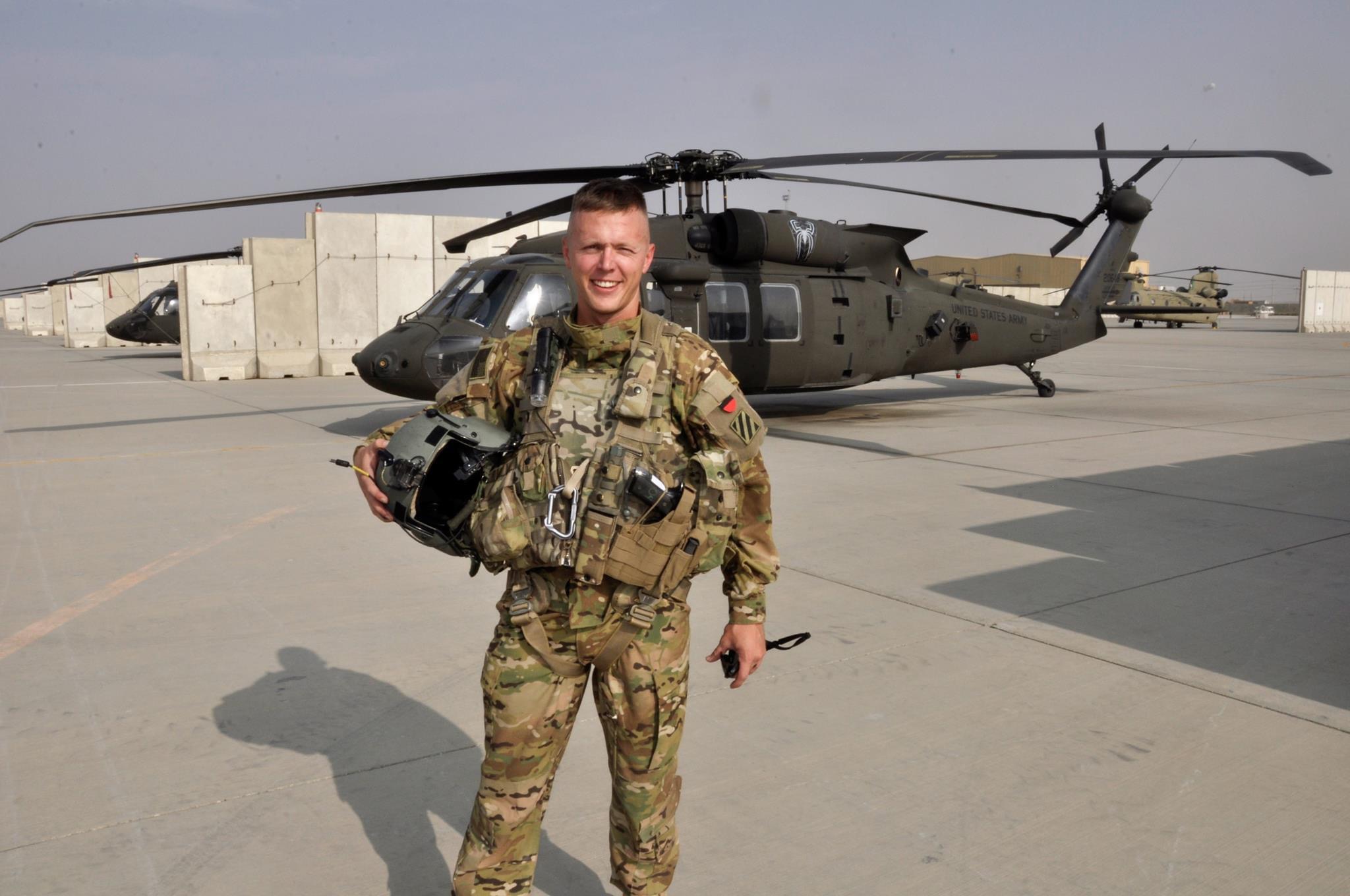 Importantly, the sense of community doesn't end at the edge of the Forty Acres. Texas Law alumni like Davis continue to give back.
That's because Davis says he can never forget the lengths Texas Law went to for him. While serving in Afghanistan, he applied to the Funded Legal Education Program, where the Army selects up to 25 officers to branch transfer into the JAG Corps. (Each year, Dean Bobby Chesney emails all FLEP selectees nationwide to encourage them to enroll at Texas Law.) But the next step was getting accepted to law school, while facing some challenges. "It was very hard to break away in the evenings, facing two different time zones, and trying to get all my applications in," Davis says. "I was very thankful for my wife helping me, and UT went above and beyond."
When Davis was accepted and arrived on campus, he got involved. Davis became TLVA's public relations director, leading the organization alongside fellow alum Kyle Ryman '20. (Ryman spotlights Texas Law student veterans on his LinkedIn page.)
"I wanted to be a part of this organization and make sure that all Texas Law veterans know they're included and have valuable experience. I really wanted to be an advocate for people," Davis says.
Since graduating, Davis has been working with Ryman, Alex Clark '19, and Miguel Ortiz '19 on creating an eventual TLVA alumni group 501(c)(3) nonprofit, with the goal of providing scholarships to Texas Law students and paying for bar exam study courses. "We want to be a touchpoint and resource for any veteran who graduated from Texas Law; have a strong, established network; and provide for students," he says. 
Swearing in by the Governor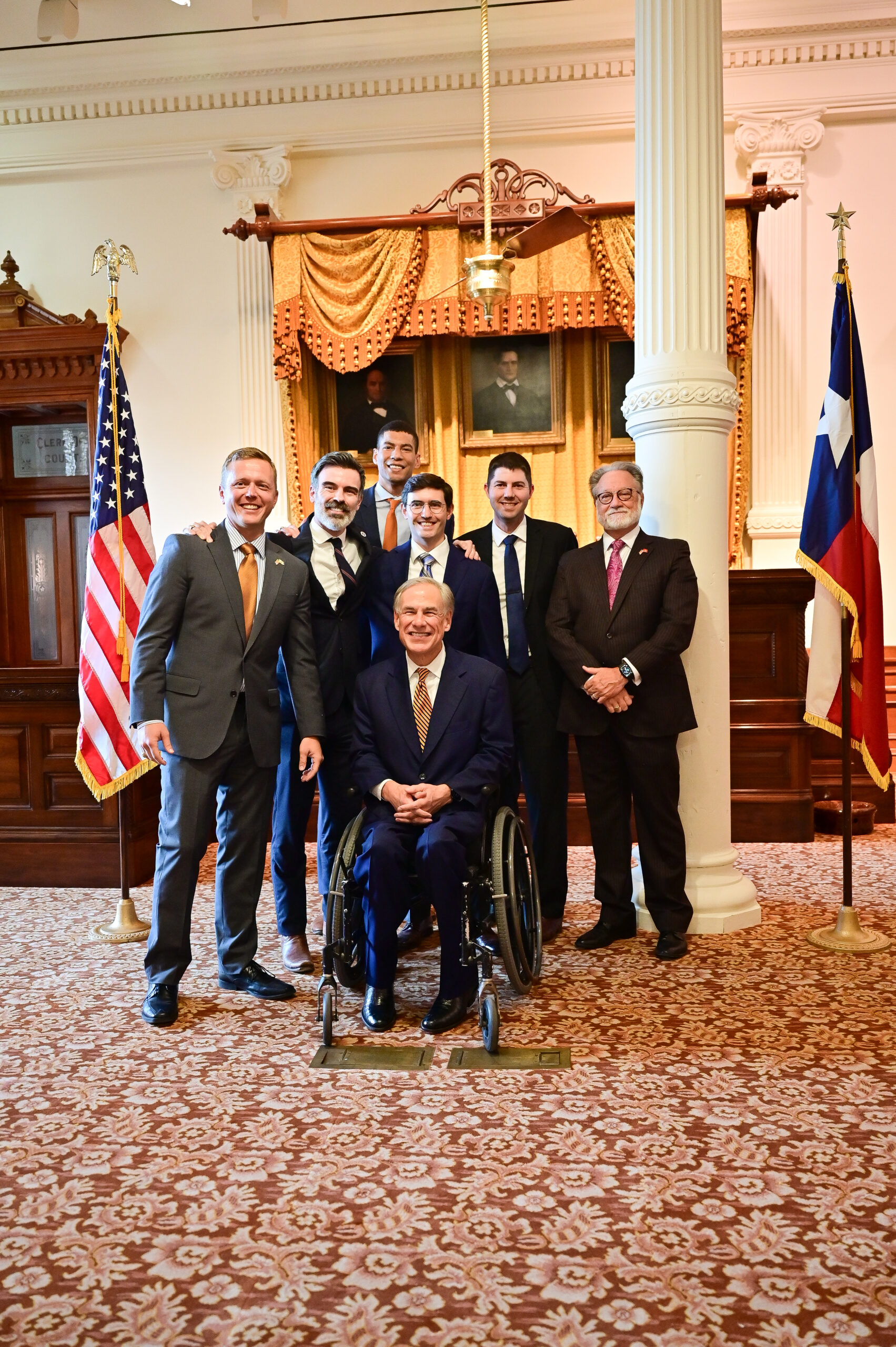 That's not Davis's only effort. Through a connection to retired Texas Supreme Court Justice Craig Enoch, who served on the bench with Governor Greg Abbott when he was a state supreme court justice, Davis was able to establish an annual ceremony where the state's governor swears in veterans who are joining the Texas Bar.
The ceremony is now in its third year, with about 10 veterans participating annually. As the lead planner, Davis also works with Texas Law alums Wesley Hunnell '20, Sean Sheehy '21, Ryman, Ortiz, and Clark.
Davis also communicates with the school's dean, who sends an email to fellow Texas law school deans to inform their student veterans about the opportunity. Then, Davis creates a full operations order to let the governor's staff know he's planned everything and all they need to do is agree, so that the event can happen again the next year, too.
"When I reach out to the governor's office, it's always on behalf of TLVA," Davis says. "I'll say, 'Hey, we're a Texas Law alumni organization, but we're setting this up for all veterans.' That helps build some camaraderie amongst the other law schools in Texas as well."
He's not stopping anytime soon. "As long as I'm still drawing breath," says Davis, "I'm going to keep trying to promote Texas Law and veterans."
Additional reporting by Dale Whitaker