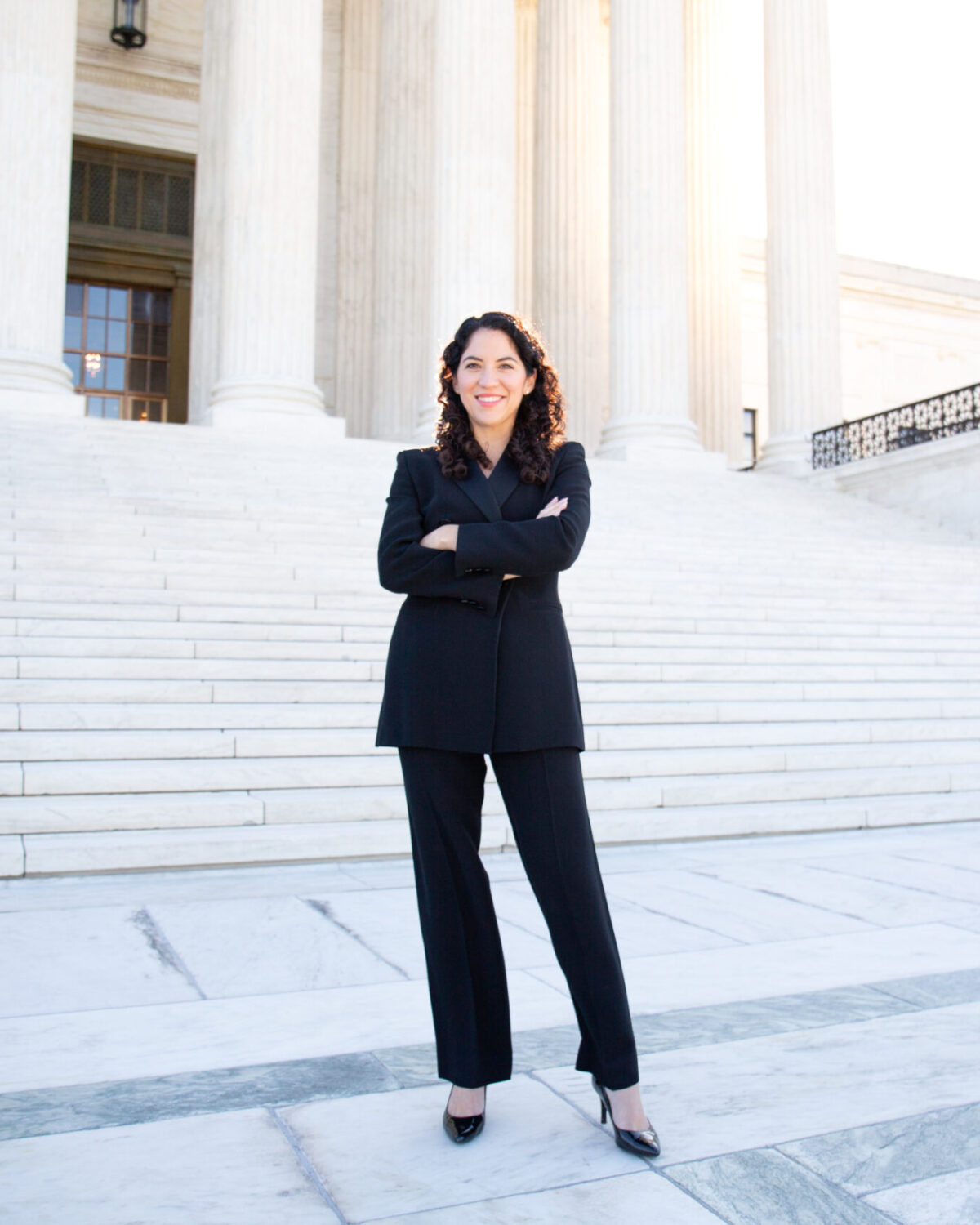 In July 2022, Alejandra Ávila '14 began one of the most coveted jobs in the American legal profession: a clerkship at the Supreme Court of the United States.
"Walking those hallways felt surreal," says Ávila, who was one of four lawyers clerking for Justice Sonia Sotomayor during the October 2022 Term. "It's a tremendous privilege to clerk at the highest court in the land and, to me personally, it was the greatest honor to clerk for Justice Sotomayor."
Ávila was the 39th Texas Law graduate to clerk at the Supreme Court, and the first to do so for Justice Sotomayor.
"Justice Sotomayor is an exceptional jurist and person, and I feel incredibly fortunate to have learned so much from her and to call her a mentor," adds Ávila.
Clinics of Choice
For Ávila, Texas Law's clinics and public interest programming were foundational to her law school journey, and to preparing her for professional success. "I joined the clinical space as fast as I could, and that allowed me to put classroom theory into practice early on in my career," recalls Ávila. "I was able to interact with clients, appear in court, work with experts, conduct research, and file briefs. I was able to use my skills to help real people solve real problems."
Her clinics of choice were the Immigration Clinic and Transnational Worker Rights Clinic. As an advanced student in the former, she was part of a group of clinical students who persuaded an immigration judge to grant asylum to a Mexican family fleeing persecution.
"I am so proud that an Immigration Clinic alum has made her mark at the highest court of the land," enthuses Denise Gilman, co-director of the clinic and one of Ávila's professors. Adds Gilman, "Alejandra was always committed to understanding the law in practice and not just in theory, a quality she shares with Justice Sotomayor. This clerkship was a perfect match."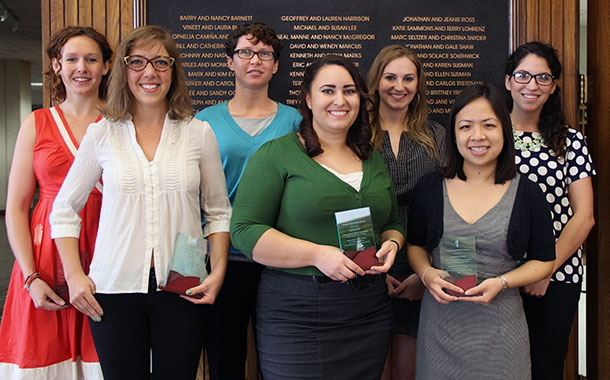 As a law student, Ávila also volunteered hundreds of hours on pro bono projects and remembers spending her winter break as a 1L assisting underserved communities in the Texas colonias—housing settlements located near the Texas-Mexico border that lack reliable plumbing and electricity—as a participant in the school's annual Pro Bono in January trip.
From the get-go in law school, Ávila was an enthusiastic student leader, throwing herself into roles in several student organizations, including the Human Rights Law Society and the Public Interest Law Association. Her commitment both in and outside the classroom led to her receiving the Justice Center Graduating Student Award, which recognizes extraordinary contributions to public service during a student's law school career.
All of Ávila's school experiences helped sharpen her career ambitions. "I knew early on that I wanted to be a litigator, and that to be a good litigator, you have to be a good writer and you have to understand how courts work," Ávila says. So, she focused on landing judicial internships and improving her writing skills.
Ávila interned at the Texas Supreme Court, the Inter-American Court of Human Rights, and at a U.S. immigration court. She also interned at the White House, where she conducted legislative research in the Office of Legislative Affairs. "I was very intentional as a student about exploring different opportunities inside and outside the law school," observes Ávila. "That helped me figure out my strengths, my weaknesses, and my interests."
She urges current law students to be intentional about opportunities: "Throw your hat in the ring and do not let others pigeonhole you."
Winning a Fellowship
The clerkship with Justice Sotomayor was the culmination of a long trajectory that began with those public interest opportunities at the law school.
After graduating from Texas Law, Ávila became the first alum to receive the prestigious Fried Frank Civil Rights Fellowship, a four-year program that helps new lawyers bridge the gap between private practice and public interest law. As a fellow, Ávila spent two years as a litigator in the respected international firm's New York office, and later joined the Mexican American Legal Defense and Educational Fund as a staff attorney in San Antonio. At MALDEF, she worked on a variety of high-profile civil rights cases, litigating issues of first impression ranging from education to voting rights law. Ávila later joined the litigation boutique of Kellogg, Hansen, Todd, Figel & Frederick PLLC in Washington, D.C., where she represented plaintiffs and defendants.
Throughout her years in private practice, Ávila continued to stay engaged with pro bono work. "There is always a way to volunteer your time and provide quality representation to those who cannot afford it, and pro bono work provides great professional opportunities to young attorneys," says Ávila. She has provided legal representation to indigent criminal defendants, individuals facing eviction, asylum seekers, and domestic abuse survivors.
Ávila says she appreciates the law school supporting her service to others, a longstanding and closely held personal value. "Texas Law is a top public law school in the South, so it services a number of communities in need," Ávila notes. "I have always thought it is important for the law school to continue to promote and facilitate careers in public service."
Before her experience at the Supreme Court, Ávila clerked twice—first for Judge Micaela Alvarez of the U.S. District Court for the Southern District of Texas and then for Chief Judge Mary Murguia of the U.S. Court of Appeals for the 9th Circuit, two of the busiest courts in the country. She says her experience working both at the trial and circuit levels prepared her for her daily tasks under Justice Sotomayor.
"Judge Murguia and Judge Alvarez have gifted me invaluable mentorship and encouragement," says Ávila. "I would not have clerked at the Supreme Court were it not for them."
From Mexico to South Texas to Austin
As the first Hispanic Texas Law graduate to clerk on the Supreme Court, Ávila thinks often about her background as a Texas Law alumna, as a Texan, and as a proud Mexican American. While a student at the law school, she was heavily involved with—and served as a leader of—the Chicano/Hispanic/Latino Law Students Association, known as CHLLSA, one of Texas Law's oldest and most active student organizations. "In CHLLSA I found a community of students with similar lived experiences," reflects Ávila. "It was a vital support network for me, especially as a 1L student. Some of the people I met then continue to be my best friends today."
Ávila was born and raised in Mexico but moved to South Texas in high school. The first in her family to pursue an education in the United States, Ávila graduated at the top of her class from Texas A&M International University, a Hispanic-serving institution in Laredo. "Like a lot of South Texas kids, it was my dream to graduate from Texas Law," says Ávila. "To this day, my parents proudly wear the Longhorn gear everywhere they go."
Her story resonates deeply with Dean Bobby Chesney, who was an associate dean for academic affairs and professor when Ávila was a student. "At Texas Law, we are in the business of creating world-class opportunities for our students, and throwing open the doors to access," says Chesney. "Alejandra's success embodies that mission, and we are incredibly proud of her."
For her part, Ávila feels a debt of gratitude to many of her Texas Law professors. She credits the support from Professors Jennifer Laurin and Joseph Fishkin, for whom she served as a research assistant on issues of constitutional law, civil rights, and employment discrimination, as preparing her for the opportunity to clerk at the Supreme Court.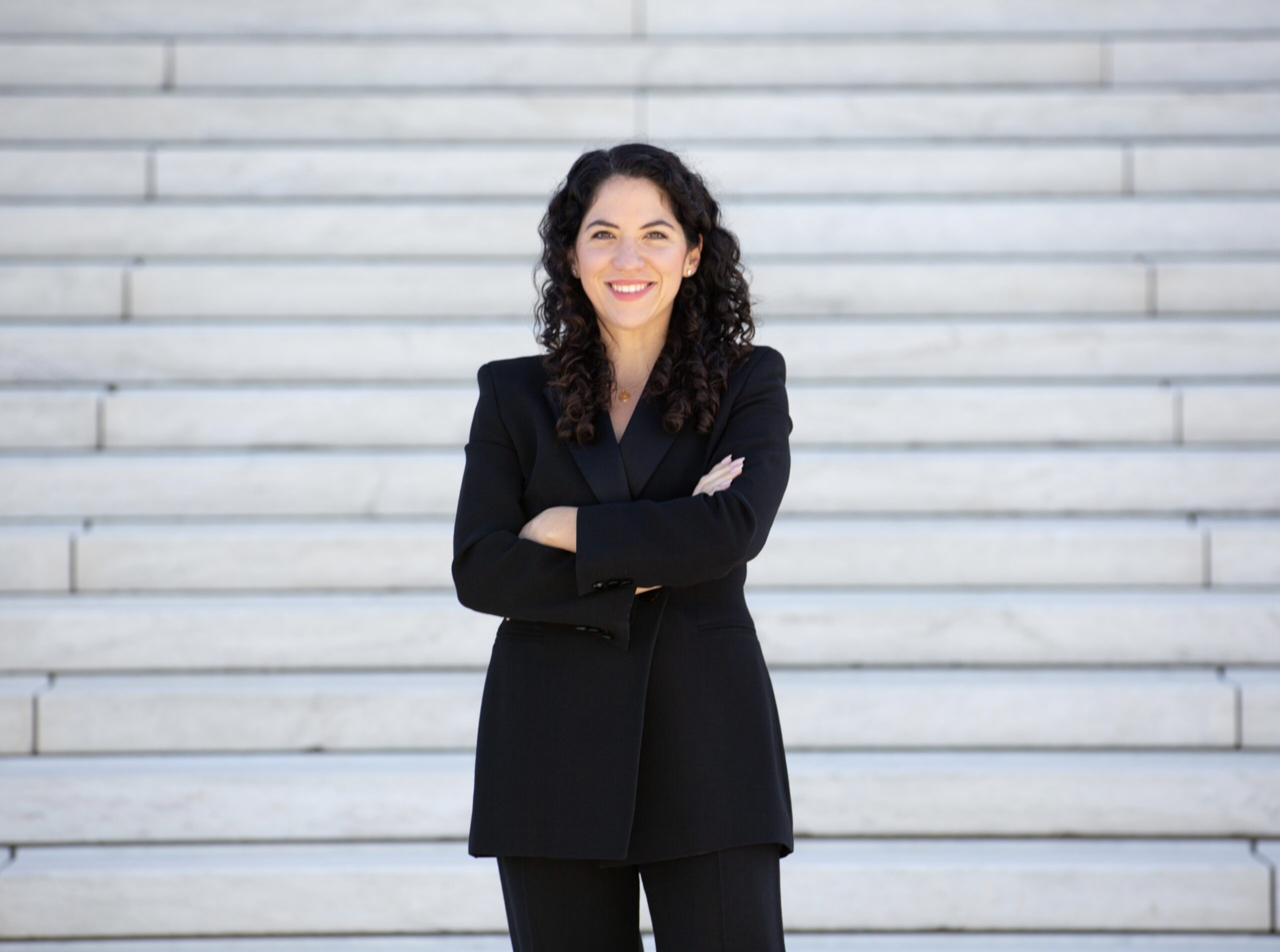 And she is especially grateful to Professor Barbara Hines , who supervised Ávila's work in the Immigration Clinic. "The first day of class, she said to us, 'If you are here to get an easy grade, this is not the place for you. Here, we work hard, and we win cases.' And I remember thinking, 'I am in the right room.'"
Hines was not wrong, adds Ávila. "The clinic was very challenging, but it is probably where I learned the most as a Texas Law student."
On the Horizon
U.S. Supreme Court clerkships are notoriously difficult to obtain, are highly coveted, and can yield vast career opportunities. So, what's next for Ávila?
Well, first, travel. After a relentless and steady drumbeat of increasingly demanding and high-stakes positions, the new Supreme Court alumna is glad to have spent some time seeing the world during the summer and early fall. Only this winter does Ávila expect to return to private practice in Washington, D.C.
As for further down the road, she is leaving her options open. No doubt, those options will be plentiful and rewarding.