Dear friends,
It's been an incredible year at Texas Law, culminating in the graduation this month of the Class of 2023. Please read on for a snapshot of the highlights as we continue on the road to becoming the very best public law school in the nation!
Hook 'em!
Bobby Chesney
Dean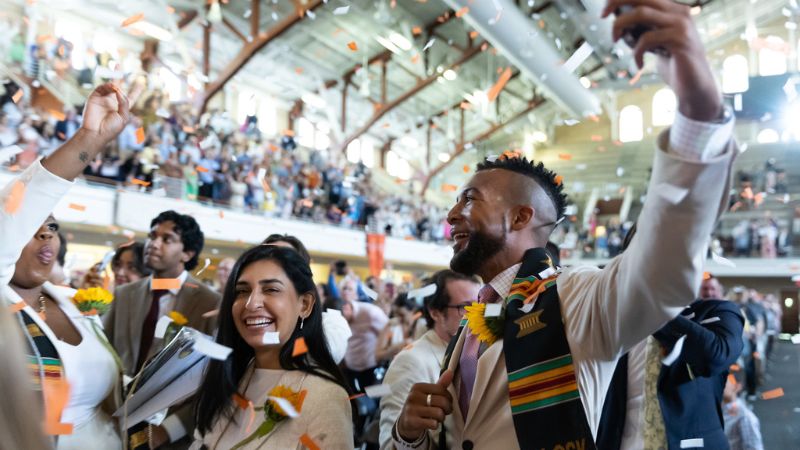 It was a great year for our students.
On May 6, we celebrated our 140th graduation at the 2023 Sunflower Ceremony, with more than 2000 family and friends joining our graduates and faculty for a day of inspiring speeches, heartfelt reminiscences, and an awe-inspiring volume of confetti. The members of the Class of '23 are heading to amazing careers and impactful lives.
Meanwhile, the Class of '22 reported superb post-graduate numbers, including 95% total employment, high bar passage numbers, and a huge year for clerkships. In fact, Texas Law is in the top ten of all law schools for federal clerkships, including two Supreme Court clerkships: Alejandra Avila for Justice Sotomayor this term, and Reid Coleman for Justice Thomas next term.
It was a banner year for our surging trial advocacy program, with five team championships and more than a dozen individual trophies. It was a successful year for our many clinics too, with first-time student advocates winning huge, and hugely important, trials for their clients. And it was an inspiring year for public service, with record numbers of students taking on public service fellowships and pro bono projects.
Student organizations had a huge year. To name just a few, our Federalist Society chapter hosted the national student convention, GRITS (Getting Radical in the South) hosted its sixth annual conference, and the Texas Law Business Society hosted their wildly successful Transactional Skills Competition.
In summary, our students are amazing. We spotlight them constantly, and you should read about every one of them!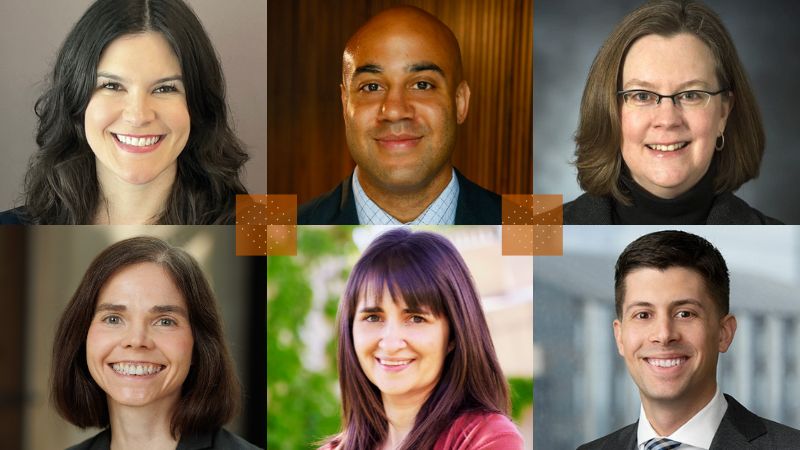 It was a great year for our faculty.
For starters, we were thrilled to add four faculty members this year: Tara Grove, an expert on the constitution and the courts, focused on the federal judiciary and the constitutional separation of powers; Maria Ponomarenko, an expert on administrative law and criminal procedure, with scholarship focused on government agencies that fall beyond the reach of traditional administrative law, such as policing and local administrative agencies; Lia Sifuentes Davis '11, who supervised the voting rights team at Disability Rights Texas and who now leads our Civil Rights Clinic; and John Greil, a seasoned litigator in private practice who now serves as a clinical professor in our Law and Religion Clinic as well as being associated with our Bech-Loughlin First Amendment Center (led by Professor Steve Collis). In a time of intense focus on first amendment and free speech issues in our country, I'm proud we have a respected and impactful center devoted to these core liberties.
We're also growing our scholarly ranks by at least two in the coming year: Kristin Hickman, a leading authority in the fields of tax administration, administrative law, and statutory interpretation will join us from the University of Minnesota, and Joshua Sellers, whose principal areas of research and teaching are election law, legislation and regulation, constitutional law, and civil procedure, will come to us from Arizona State University. Welcome, all!
You may have seen that Steve Vladeck has a new book out on the Supreme Court's so-called Shadow Docket. Steve will be all over television, newspapers, and the internet discussing the book in the weeks ahead, so keep your eyes peeled. You can also watch Steve's conversation about the book with The Hon. Gregg Costa '99, former judge of the 5th Circuit, at this year's Alumni Weekend.
Tom McGarity published his book, The Demolition Agenda, and Steve Collis saw the publication of his book, Praying with the Enemy, both to rave reviews. Willy Forbath published The Anti-Oligarchy Constitution (co-written with former Texas Law faculty member Joseph Fishkin), with the book leading to long essays in The Atlantic, The Washington Post, and The New Republic, as well as a fascinating series of conferences at Georgetown, Columbia, and Berkeley. My predecessor Ward Farnsworth released The Socratic Method: A Practitioner's Handbook, a marvelous book about where the method came from, and how to carry it out. And speaking of books on legal thought and teaching, we just celebrated the posthumous release of the final book by our beloved former dean and president, Bill Powers: Sharpening the Legal Mind (a project that was completed with loving care by our colleague John Deigh).
There's no end to the exciting and meaningful work our faculty are doing, whether it's a first-of-its-kind academic conference on multidistrict litigation, organized by Lynn Baker, Teddy Rave, and Charlie Silver; or the innovative, interdisciplinary courses designed by Mechele Dickerson; or the international service of Richard Albert, who convened the Global Summit on Constitutionalism for more than 200 people from over 40 countries at Texas Law this March, and who is now serving on Jamaica's Constitution Reform Committee as that country moves from a constitutional monarchy to a republic; or delivering the prestigious Hugo L. Black Lecture, as David Rabban recently did.
Of course, the end of the school year brings bittersweet news, too: faculty retirements. I'm sorry to have to report that Bob Bone, Michael Churgin, Calvin Johnson, Andrew Kull, Scott McCown, and Mary Crouter are all retiring from Texas Law after many years of incredible service. We wish them nothing but the best in their retirement!
I must also report the sad news that in just the past month, we have lost two Texas Law faculty legends: Sir Basil Markesinis and George Dix. I know everyone joins me in sending heartfelt condolences to their families, and former students and colleagues.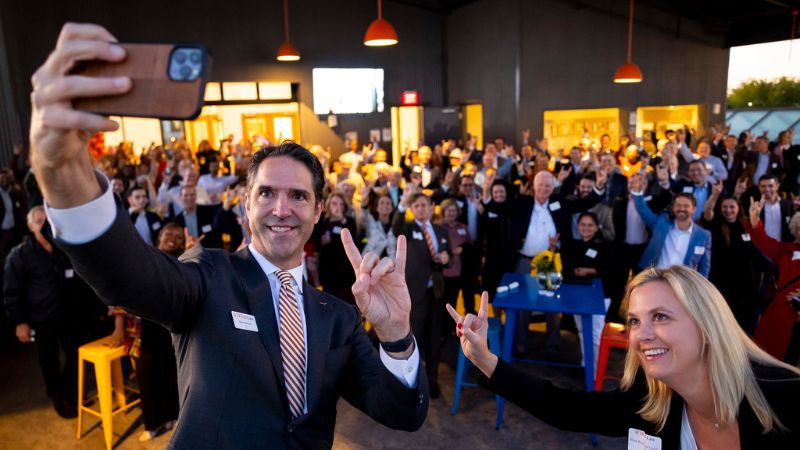 It's been an incredible year for alumni engagement.
As a member of the Texas Law community since 2008, I have long known that alumni are the secret weapon of this place. No one has a community as successful and engaged as ours, and so upon becoming dean I wanted to hit the road and meet with as many of them as possible, in as many places as possible. Hence, Texas Law on Tour. When the dust settles, the tour will have covered 16 cities (eight in Texas, seven elsewhere in the United States, and one stop in London!). It looks like I'll have had the chance to see over 1600 alumni this way, and every second of it has been wonderful. These nights are a blast!
Of course, I also love it when alumni come home to Austin. Nearly 700 alumni and their guests came back to the law school last month for Alumni Weekend, two days of special events, school tours, family activities, and parties for honored classes. Make sure to come join us the next year!
As part of the weekend, the alumni association hosted its annual Alumni Awards dinner. It was a glorious night as we celebrated four amazing award winners as well as our Mentor of the Year: The Hon. Marilyn Aboussie '74, The Hon. Ronald Kirk '79, Barry Smitherman '84, Sandra Gonzalez '09, and Kris Kennedy '95. I am so grateful to Demetrius McDaniel '90, our outgoing alumni association president, for emceeing the dinner and much else besides—and I'm thrilled to welcome Blair Loocke '06 as the new association president, starting this September.
Another landmark alumni occasion this year was the Virgil C. Lott Medal ceremony in February, with the honor going to our outstanding graduate DeMetris Sampson '80. That was an incredible evening, saluting DeMetris, the Lott family, and an important part of the law school's history.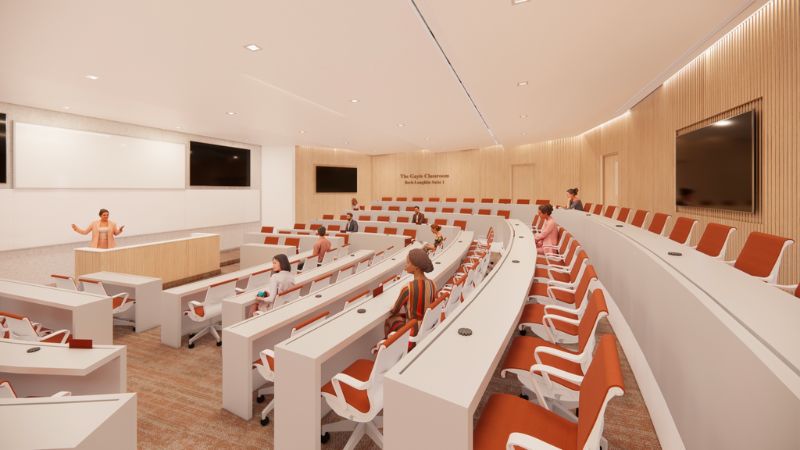 The law school is more beautiful than ever—and getting better still.
It's been a remarkable year for alumni philanthropy. You probably know about our new Dee J. Kelly Courtyard and Patman Family Plaza, but just in case not: I cannot overstate how transformative those spaces are for the student experience at the law school. Every day, from my office window, I see and hear firsthand the joyous activity as scores of students assemble for study groups, lunch, and an endless parade of student group events.
Next up for renovation are the big 1L classrooms and the hallway they share. Every alum can appreciate the need for renovation there. Well, thanks to an extraordinary gift from Doug Bech '70 and Sam Loughlin '98, that's about to change. We are transforming the classrooms and hallway, with vastly improved lighting, seating, and state-of-the art teaching technology. The classrooms will be amazing, and the hallway will be a far warmer and more interesting place (including seating, video displays highlighting events upcoming at the law school, and a marquee honoring the Bech-Loughlin First Amendment Center). Sam and Doug's commitment to this is inspiring. They are doing something truly wonderful!
Of course, smaller classes deserve first-class spaces too, and now they have them thanks to the recent renovation of most of the classrooms on the 3rd floor of Townes Hall. It is so great seeing our students take full advantage of these spaces for class, study groups, and organizational gatherings.
None of these improvements would have been possible without alumni philanthropy, but that's not the only way that alumni are making a direct difference in the future of the school. Scholarships continue to be a top priority, and this was a very good year on that score. Philanthropy also has made possible one of our most important initiatives, the Pipeline Program. In fact, we just completed the inaugural year of that program, with a pipeline cohort of 30 aspiring lawyers (of whom at least eight will be starting at Texas Law next fall, five of them on full scholarship). These future alumni are incredible. Thank you to our Pipeline Program supporters!
Please don't take my word for it on all the wonderful things happening at your law school—come see for yourself! This fall, you'll want to be sure to come to the 25th (!) annual Rodriguez Family Barbecue and Texas Law Tailgate Extravaganza, on November 4. And save the date now for the next Alumni Weekend, too: April 12 & 13, 2024.

Here's the bottom line: at Texas Law, we bring talented people to a unique place for transformative purpose. The highlights above just scratch the surface of that talent and transformation. Thank you again for all you do to be part of our excellence!
HOOK 'EM!